Does America Want Kavanaugh on Supreme Court? Support Hits Historic Low: Poll
A growing number of Americans do not want to see Judge Brett Kavanaugh appointed to the Supreme Court, according to a new Reuters-Ipsos poll released Wednesday.
The poll was conducted between September 11 and 17–meaning it began shortly before news of sexual assault allegations against Kavanaugh emerged and ended just as Palo Alto University professor Christine Blasey Ford came forward as the accuser.
Ford has alleged that Kavanaugh sexually assaulted her at a summer house party in 1982, when both were in high school.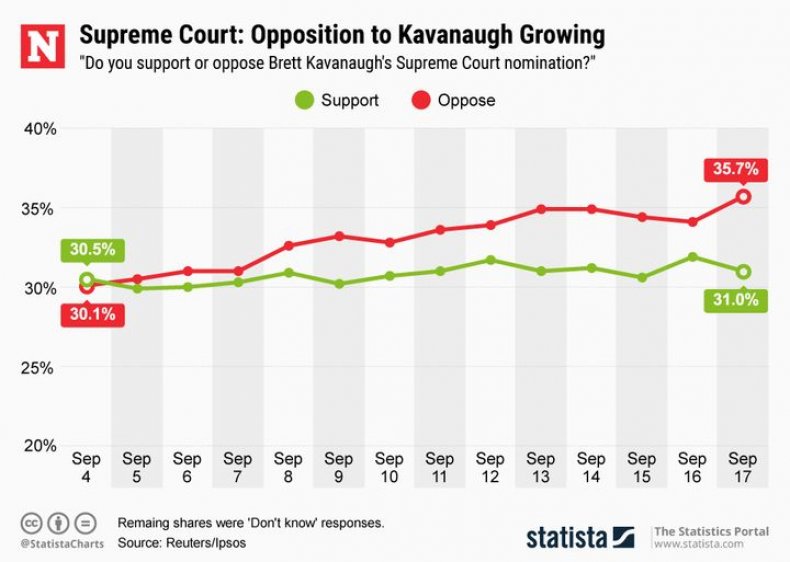 The Reuters-Ipsos poll found that 36 percent of respondents were against the Senate's confirming Trump's Supreme Court pick, a six-point increase from a similar poll taken last month.
About 31 percent of Americans said they were in favor of Kavanaugh's confirmation.
Analysis of support for Kavanaugh, illustrated by Statista, found that opposition to the judge's confirmation had grown steadily from September 4 to September 17, surging from 30.5 percent to 35.7 percent.
Read more: Even Donald Trump's Approval Rating Is Higher Than Support for Brett Kavanaugh to Supreme Court: Poll
In the meantime, support for the judge has seen a small increase, from 30.1 percent on September 4 to 31 percent on September 17.
More women were found to have opposed Kavanaugh's nomination in the Reuters/Ipsos poll (33 percent), a 7 percentage point rise from a month earlier.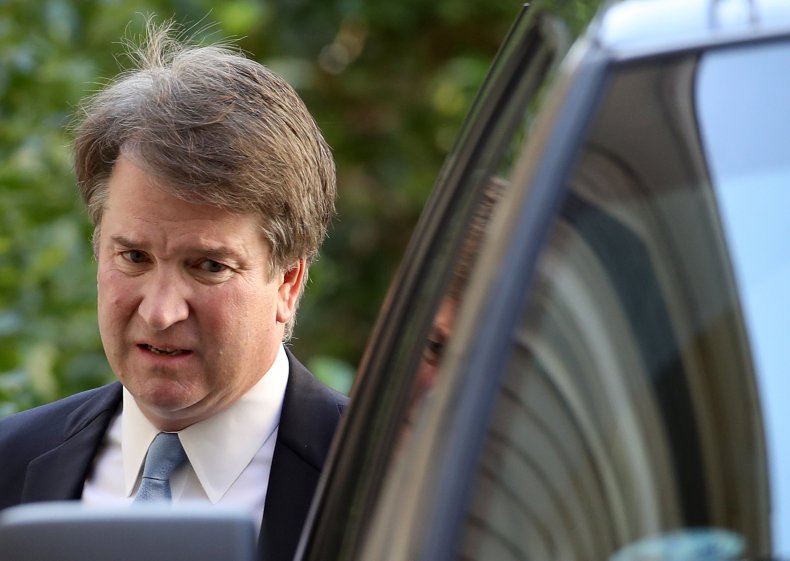 It is unclear how much of an impact the sexual assault allegation against Kavanaugh has had on the poll results.
One survey participant, identified as Bonnie Mann, 29, said that for her, Kavanaugh's nomination "was already a 'no,'" but after the allegation, "it's a stronger 'no.'"
Kavanaugh has denied the sexual assault allegation, calling it "completely false."
Both he and Ford were slated to testify before the Senate Judiciary Committee on Monday, before a vote on the Kavanaugh's nomination could be held.
But Ford's lawyers have requested that the FBI launch an investigation into their client's claims before she testifies before the Senate Judiciary Committee, and it's not clear whether the hearing will take place.
Senate Judiciary Chairman Chuck Grassley has given Ford's legal team until 10 a.m. on Friday to respond to the request to testify before the committee.
If she refuses to speak with the committee before an FBI investigation, then the Monday hearing will likely be called off and a vote will take place toward the end of next week.