Does Home Insurance Cover the Cost of Hurricane Damage?
As Hurricane Ian rampages through Florida, homeowners may be concerned about the state of their properties and how they can afford any repairs in the coming months.
Around 95 percent of households have some form of homeowners insurance in the U.S. However, estimates suggest that around 60 percent are underinsured, leaving millions at risk if something goes wrong.
However, the average homeowners insurance policy is not likely to cover every aspect of hurricane damage, and with the cost of storm damage ranging anywhere from $350 to $50,000, it's essential your home is sufficiently covered.
It's imperative for homeowners who live in areas prone to flooding and wind damage to ensure they have the most concrete insurance policy possible.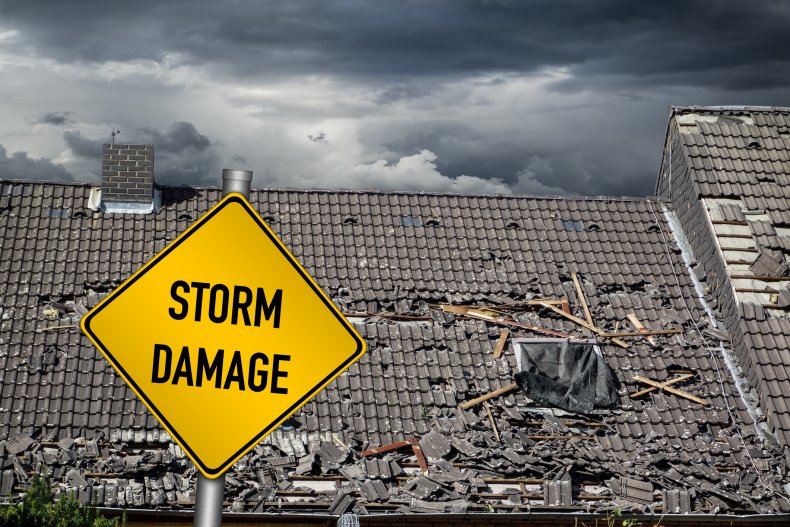 The average annual home insurance policy in Florida comes to just under $1,500 annually. With the addition of hurricane insurance, that sum increases to an average of $2,179.
This could sound like a lot to pay for something you may not need, but figures show the average cost of storm damage as a result of hurricanes was just over $32,000 in Tampa.
The average homeowner could be left with bills of up to tens of thousands of dollars if you find your home needs to be repaired following a storm.
What is hurricane insurance?
Homeowners insurance typically covers damage sustained from everyday hazards.
Most standard policies include coverage of four essential areas: the structure of your home; your personal belongings; liability protection; and additional living expenses if something goes wrong.
While most insurance policies cover damage from hurricanes as standard, specific policies may have clauses that leave you unable to make a claim if your home is damaged due to flooding relating to the storm. You can check your policies' terms and conditions to know exactly what you are covered for.
It is not a legal requirement to have home insurance coverage in Florida, but is often required by the lender you used when buying your property to ensure your investment is protected.
What does hurricane insurance not cover?
For your hurricane insurance to kick in, the National Hurricane Center must issue a hurricane watch or warning prior to the damage made to your property.
Unfortunately, storm surges and flash flooding—which often accompany hurricanes and major storms—aren't necessarily covered in your insurance.
The Florida Office of Insurance Regulation (FLOIR) encourages residents to consider flood insurance in addition to a typical home insurance policy, to help you stay protected against any type of damage.
The most common natural disaster in the U.S. is flooding, which is why it's important to consider a flood policy even if you don't live in a high-risk area.
Hurricane insurance also doesn't cover vehicles, so you would need to ensure your automobile insurance covers against this type of damage.
You also won't be covered for evacuation costs unless there is storm damage to your home that would typically be covered by your insurance.
How much does hurricane insurance cost?
A typical hurricane insurance policy costs around $1,400 per year. However, this can vary depending on the size, location, and value of your property.
There are ways to reduce your home insurance policy, such as installing flooding prevention and wind barriers where possible.
One of the main upgrades to prevent wind damage, particularly in hurricane-prone areas, is storm-safe windows: impact-resistant glass and roll-down shutters, for example, that could help protect your belongings and reduce your premiums.
Insurers can also offer several types of discounts for roof upgrades to protect against lightning and hail.
Making overall improvements to the security of your home and shopping around when your insurance is up for renewal can help keep the cost of your premiums down.