Video of Florida Man Swimming Inside His Flooded Home Viewed 1M Times
Footage of a Florida man swimming in a home that had been flooded by Hurricane Ian, against public health advice, has gone viral on social media.
The video, filmed in Naples Park, depicts a man swimming across a room, with household objects floating in the background, to reach a staircase.
Posted on Twitter by hurricane specialist Zach Covey, who warned the behavior is not safe, the 11-second clip has been viewed more than 1.1 million times.
Covey wrote: "Hurricane #Ian brings catastrophic storm surge to Naples, Florida with water moving into houses. Social media channels show residents SWIMMING in the surge in their houses.
"DO NOT DO THIS. You don't know what may be in this water, including chemicals!"
Hurricane Ian crashed into Florida's west coast on Wednesday afternoon as a Category 4 hurricane with maximum sustained wind speeds of 150 miles per hour.
Naples Park, Collier County, took a big hit, with a reporter from Naples Daily News noting the central Airport-Pulling Road had flooded, whilst Davis Boulevard was left impassable by fallen trees.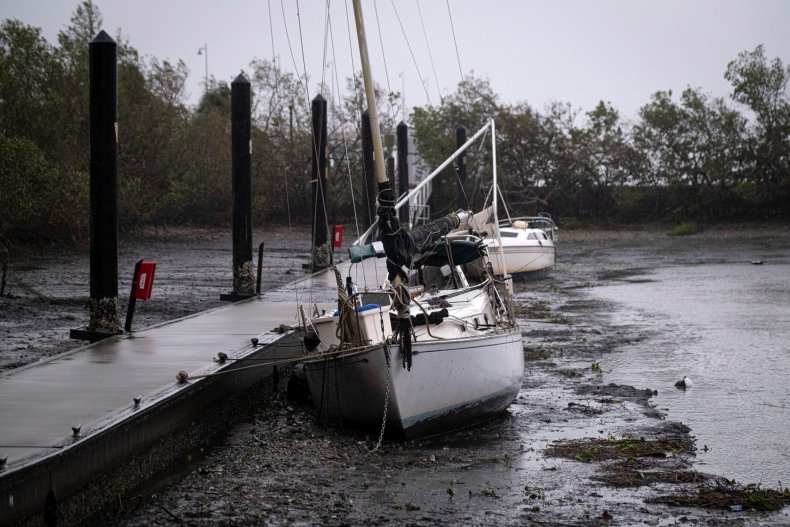 On Wednesday evening the Collier County Sheriff's Office (CCSO) announced it was in "triage mode," with those reporting non-life-threatening emergencies potentially having to wait for water levels to recede.
On Facebook, the sheriff's office said: "We are in call triage mode. We are getting a significant number of calls of people trapped by water in their homes.
"Some are reporting life threatening medical emergencies in deep water. We will get to them first. Some are reporting water coming into their house but not life threatening. They will have to wait. Possibly until the water recedes."
The CCSO posted another update on Thursday morning, saying residents face a "hard day" as the full extent of hurricane damage becomes clear.
The sheriff's office said: "For those out of town and are worried about family and loved ones: we have limited power, virtually no cell service and no internet. This is especially the case in the coastal area where the surge came in."
Hurricane Ian is continuing its way across Florida, though by Thursday morning it had been downgraded to a Category 1 storm, with maximum sustained wind speeds of around 75 miles per hour, according to the National Hurricane Center (NHC).
On Wednesday evening, the federal agency warned: "Hurricane-force winds, especially in gusts, will continue to spread across central Florida near the core of Ian through early Thursday. Hurricane conditions are expected along the east-central Florida coast overnight through early Thursday."
Flooding is expected across "northern Florida, southeastern Georgia and eastern South Carolina" from Thursday until the weekend, according to an NHC warning. This includes a threat from "life-threatening storm surges" on Thursday and Friday.
Across Florida an estimated 2.3 million people were without power on Thursday morning.
Florida Governor Ron DeSantis has said he is "cautiously optimistic" Florida will receive additional support from President Joe Biden to help recover from the hurricane.
SUBSCRIBE TO THE PARTING SHOT WITH H. ALAN SCOTT
ON APPLE PODCASTS OR SPOTIFY