Ron DeSantis Says He's 'Optimistic' Biden Will Help Him Over Hurricane Ian
Florida Governor Ron DeSantis has said he's "cautiously optimistic" that President Joe Biden will provide assistance to his state to deal with the impact of Hurricane Ian.
DeSantis, a Republican, spoke to Fox News' Tucker Carlson on Wednesday following a phone call with the president and said he believed the Biden administration would help.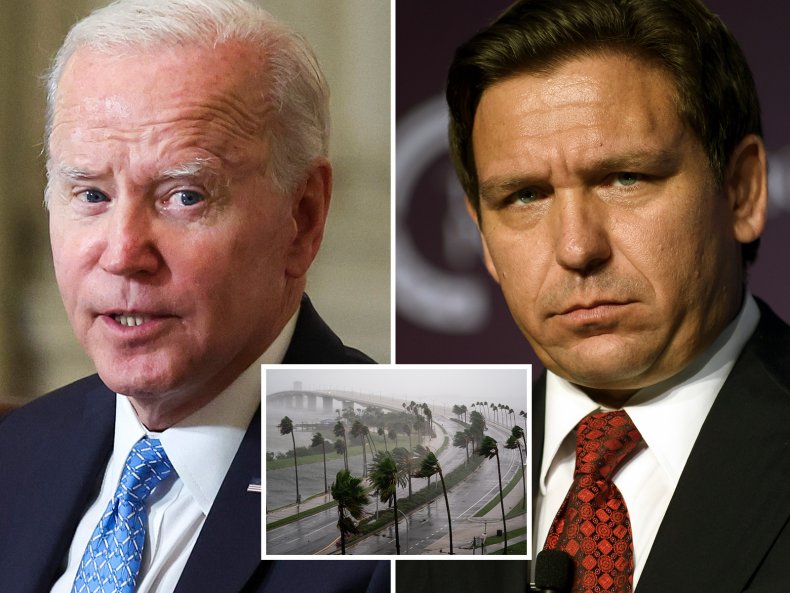 Hurricane Ian hit the Florida coast on Wednesday as a Category 4 hurricane with winds of 150mph and left more than 2 million residents without power, as the state plans rescues once it is safe to carry them out.
Carlson said that states generally always receive federal aid when a natural disaster hits and asked DeSantis: "Given how politicized things are at the moment, are you confident you're gonna get the federal support Florida needs?"
"So, I actually spoke with the President, and he said he wants to be helpful," DeSantis said. "So, we did submit a request for reimbursement for the next 60 days at 100 percent. That's significant support, but it's a significant storm."
DeSantis was referring to Florida's application for federal assistance to deal with the disaster.
"We haven't heard back from him," the governor said. "But I'm actually cautiously optimistic that we do. As you say, Tucker, we live in a very politicized time."
Newsweek has asked the White House for comment.
DeSantis is widely considered a strong contender for the 2024 Republican presidential nomination, while Biden is expected to seek a second term.
The Florida governor has publicly clashed with the president in recent weeks over DeSantis' much-criticized decision to fly two planes carrying migrants to Martha's Vineyard, Massachusetts.
"But you know, when people are fighting for their lives, when their whole livelihood is at stake, when they've lost everything, if you can't put politics aside for that, then you're just not going to be able to," the governor said.
"So I'll work with anybody who wants to help the people of Southwest Florida and throughout our state," DeSantis added.
DeSantis and Biden spoke by phone on Wednesday before Hurricane Ian made landfall, and the president addressed the issue in comments during the White House conference on Hunger, Nutrition and Health.
"I made it clear to the governor and the mayors that the federal government is ready to help in every single way possible," Biden said. "We'll be there every step of the way."
The Biden administration has 1,300 federal response workers in Florida and has prepared 110,000 gallons of fuel and 18,000 pounds of propane. There are other measures, such as moving in generators and operating 300 ambulances.
Speaking on Fox News on Tuesday, DeSantis said he was "very thankful" for Biden's help, and the president spoke to three Florida mayors on Tuesday ahead of the hurricane's arrival.
"We all need to work together regardless of party lines. The Biden administration has approved our request for a pre-landfall declaration and did that very quickly. So we're thankful for that," DeSantis said on Tuesday.
Biden approved the declaration of an emergency in Florida on Sunday and authorized the Department of Homeland Security and its agency, the Federal Emergency Management Agency (FEMA), to co-ordinate disaster relief efforts.