'Does Not Get Paid Enough': Disney Worker Wrangles Snake in Tense Video
A video that has been viewed more than 2 million times since it was shared on TikTok on April 29 shows the standoff between a snake and an employee of Disney World in Orlando, Florida.
TikTok user Bren Ladd, known by her username @disney_with_bren, posted the video of the employee using a tool to try to relocate the slithering reptile, and commenters were impressed.
"He didn't make a res," read @disney_with_bren's video caption.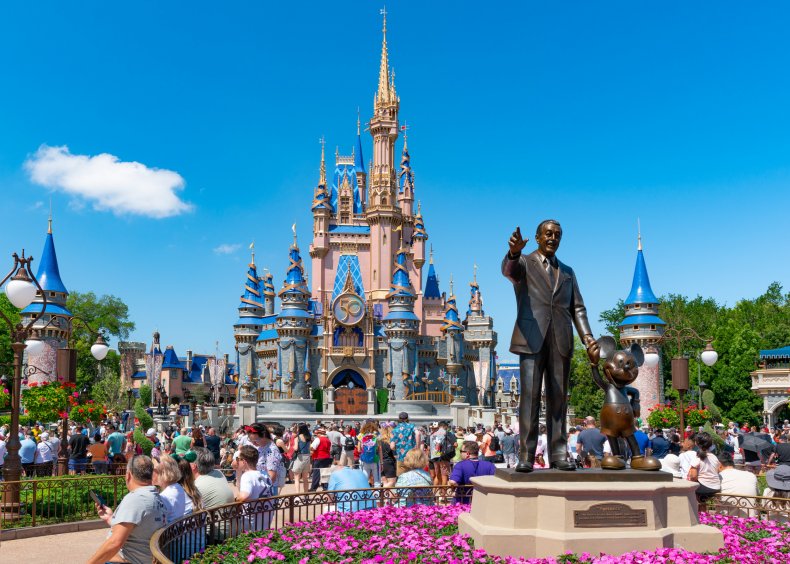 According to Wildlife Removal USA, there are several types of tools that can be used to safely remove a snake.
If someone is considering removing one on their own, they are encouraged to wear thick gloves and boots. Additionally, they can keep a sturdy bag with them to transport the snake elsewhere if needed.
Snake tongs can also be used when relocating the reptile. "This grabbing machine enables you to grasp a snake, hold it and move it safely and securely at a distance," the company's piece read. If you need to relocate a larger snake, Wildlife Removal USA recommends using snake hooks.
In the nine-second clip, the Disney employee is seen using a tool to pick up the snake, but the wriggling serpent manages to evade it. Meanwhile, another employee can be seen giving directions using his hands while keeping an eye on the snake.
A small group of people nearby watched as the employee tried to move it out of the way.
Ladd told Newsweek in an email that the video was taken just outside of the gates to Magic Kingdom.
"The cast member was amazing and did guide the snake back to the bushes soon after I stopped filming," she said.
While people gathered around, Ladd said they were not nervous, but curious.
TikTok viewers were blown away by the employee's willingness to relocate the snake on their own.
"Omgggggg she does not get paid enough lol I could never," a comment read.
"Disney employees literally know how to do everything," another TikTok user wrote.
One viewer was frustrated that an employee in a skirt was handling the snake because there may have been a risk that she would have been bitten.
"Why is that other guy flapping his hands like the snake [is] gonna listen," a viewer wondered.
A TikTok viewer wrote that they've seen snakes several times on the park's property, while another joked that the snake was simply hoping to have a fun day.
"He just wanted to have a magical Disney experience," they wrote.
A commenter suggested that the snake was likely a harmless garden snake, though Ladd told Newsweek that she was not entirely sure of the exact type.
"I personally have never seen a snake in Disney, but it is Florida, and lots of comments in the feed said they have seen many around the property," she said.
Several other viral videos have come out of Disney parks, including one that shows a young girl's sweet moment with Dora Milaje at the Avengers Campus in Disneyland. Meanwhile, a video went viral after it showed how the less attractive buildings throughout the parks "disappear." Additionally, another clip garnered attention when a woman detailed what it would be like to visit Disney World with her.
Update 5/16/22, 5:23 p.m. ET: This story has been updated with additional information.