Does Trump Support Roy Moore? White House Suggests President Believes Alabama Candidate's Accusers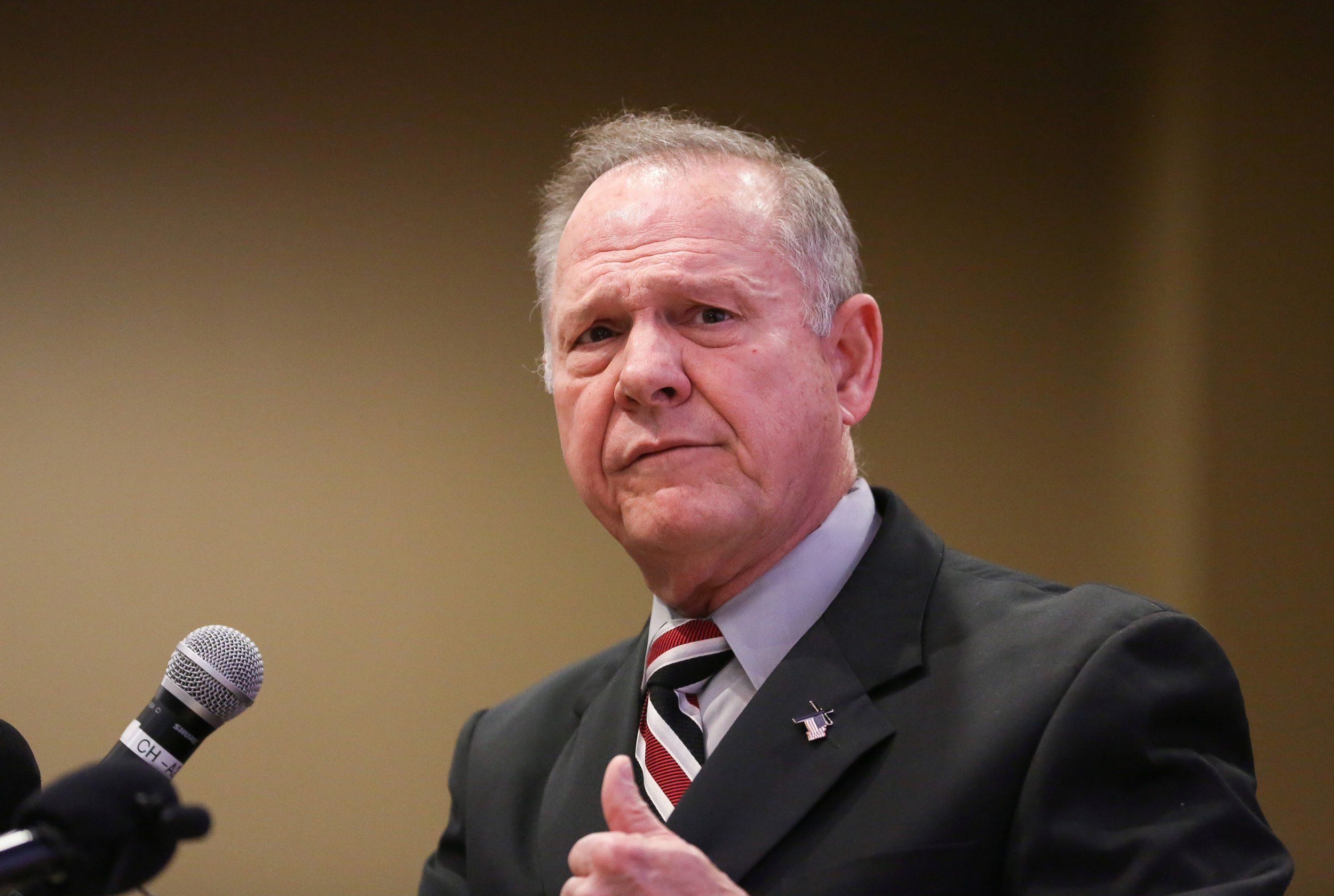 The White House suggested Sunday that President Donald Trump sides with the accusers of Alabama Senate candidate Roy Moore, even though Trump has kept quiet for weeks about the sexual misconduct allegations against the Republican contender.
White House Legislative Affairs Director Marc Short said that if Trump still stood with Moore, he would be actively campaigning for him ahead of next month's Alabama vote.
"If (Trump) did not believe that the women's accusations were credible, he would be down campaigning for Roy Moore," Short told ABC News' "This Week."
"He has not done that. He has concerns about the accusations…You should certainly be able to infer by the fact that he has not gone down to support Roy Moore his discomfort in doing so."
But Short stopped short of finally clarifying Trump's stance, and he repeated some of the same excuses Moore's defenders have been pushing for weeks.
Short said Trump "has concerns about the accusations" because they are "38 years old," which is not true for all of them.
"Roy Moore has been in public service for decades, and the accusations did not arise until a month before election," Short said. "So we are concerned about several aspects of the story."
Short would evaded repeated questions about whether Trump supports Moore, but he noted that the president has not endorsed Moore or done anything recently to boost his campaign. He said Alabama voters are the only ones to "know best what to do and the right decision to make here."
Nine women in the past three weeks have accused Moore of sexual harassment, assault or unwanted advances, with most saying the former judge made moves when they were teenagers and he was in his 30s. Trump has yet to speak directly about the allegations, even though he immediately took to Twitter last week to condemn Senator Al Franken (D-Minn.) after a radio anchor said Franken groped her in 2006.
Moore, 70, has denied all of the accusations, portrayed some of the women as liars and refused to step down. But more than 30 prominent Republicans, including Senate Majority Leader Mitch McConnell, have called for him to either quit or be expelled if he wins.
Moore will face off against Democratic candidate Doug Jones in a Dec. 12 special election.
Moore, who was already notorious for his anti-LGBT stances, was not Trump's first choice for the Senate seat. In the state's September primary, Trump had endorsed Senator Luther Strange, who took over this year after Trump tapped Alabama Senator Jeff Sessions to become his U.S. Attorney General. Moore, meanwhile, had the backing of Steve Bannon, the former Trump strategist who has vowed to wage "war" on the Republican establishment.
Even as Moore refuses to quit, his campaign appears to be crumbling. The latest polls show Jones has now pulled comfortably ahead in a state that traditionally leans rights.
Trump's stance on the Moore scandals could be complicated by his own history of allegations. About a dozen women have accused Trump of sexual assault or harassment, and one of them, Summer Zervos, is suing him for defamation. Trump has denied the accusations and suggested some of the women were not attractive enough for him to harass.
Trump's daughter Ivanka has said she believes Moore's accusers.