Republicans Demand Roy Moore Drop Out of Alabama Senate Race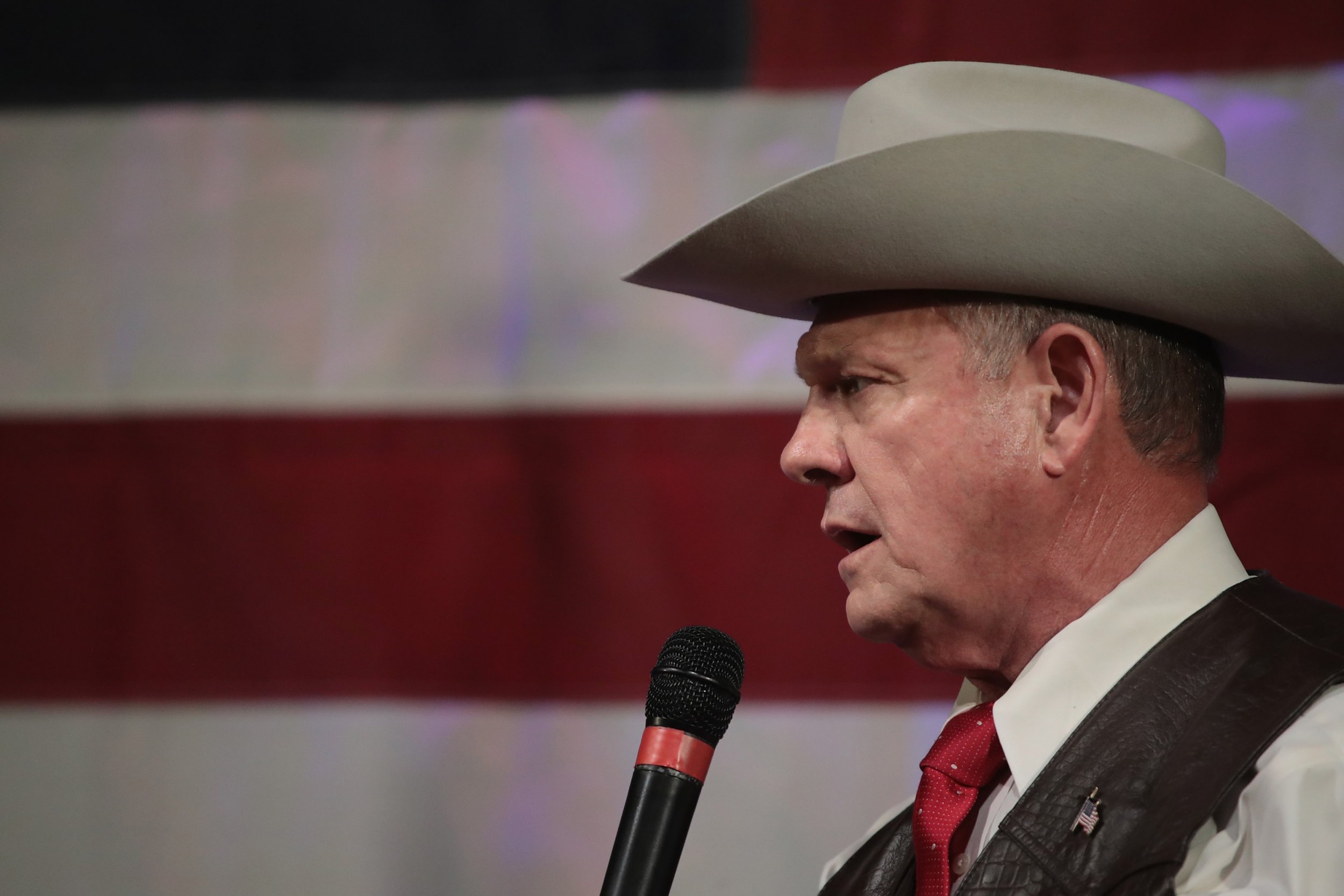 UPDATED | More than 30 prominent Republicans are demanding Roy Moore drop out of the Senate race in Alabama or face expulsion if elected, amid multiple accusations against him of underage sexual assault and predatory behavior toward children.
Voters, too, seem likely to turn against Moore: His poll numbers have fallen behind Democratic candidate Doug Jones, and a Politico/Morning Consult survey on Tuesday found 60 percent of Americans think Moore should end his campaign. But it's too late to take the 70-year-old former judge off the ballot, and Moore has denied all allegations while giving no sign he's planning an exit.
As Moore keeps campaigning and the controversy keeps escalating, these are the Republicans telling him to call it quits: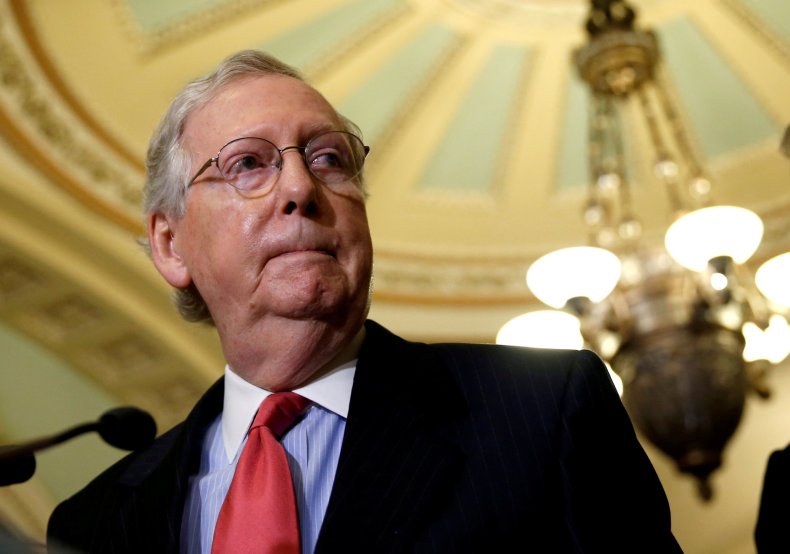 Senate Majority Leader Mitch McConnell of Kentucky
The leader of the chamber Moore is hoping to join said he believes the allegations against Moore and wants the candidate to quit. "I believe the women, yes," McConnell said. "I think he should step aside." McConnell is plotting how to keep Moore from office without handing the seat to Democrat challenger Doug Jones. The New York Times said the strategy could involve asking U.S. Attorney General Sessions, who has often clashed with Trump, to resume his old job as a U.S. Senator.
President Donald Trump and Vice President Mike Pence
A spokeswoman for Pence's office told CNN that the vice president "found the allegations in the story disturbing and believes, if true, this would disqualify anyone from serving in office." The statement echoes one given by White House press secretary Sarah Sanders Friday that "if these allegations are true" Trump believes Moore "will do the right thing and step aside."
Related: Trump Can't Get Roy Moore to Drop Out of Alabama Race, Top Campaign Official Says
House Speaker Paul Ryan​
The House leader told reporters that Moore "should step aside" from the Alabama race, adding that he believes the women who accused him of sexual assault. "Number one, these allegations are credible. Number two, if he cares about the values and people he claims to care about, then he should step aside," Ryan said Tuesday.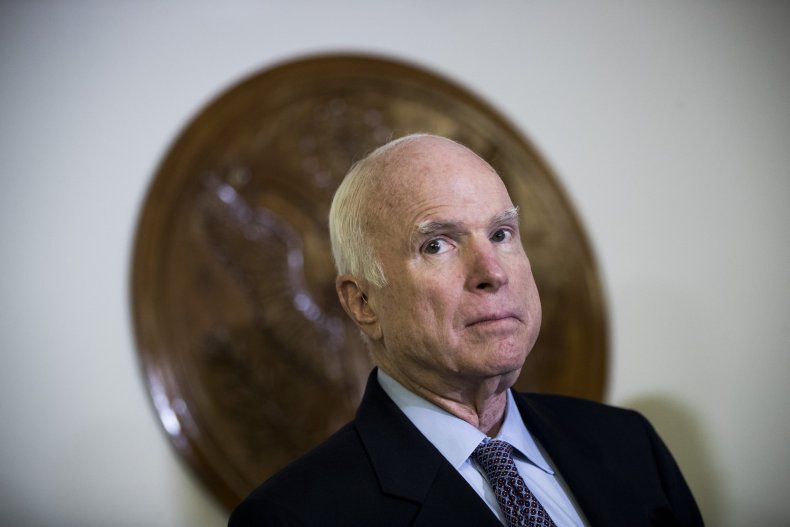 Arizona Senator John McCain
McCain is one of the few Republicans to call on Moore to drop out of the race without any qualification that the accusations need to be further proven. "The allegations against Roy Moore are deeply disturbing and disqualifying," McCain said in a statement. "He should immediately step aside and allow the people of Alabama to elect a candidate they can be proud of."
Colorado Senator Cory Gardner
The Senate GOP campaign chair said the Senate should vote to keep Moore away even if he is elected. "If he refuses to withdraw and wins, the Senate should vote to expel him, because he does not meet the ethical and moral requirements of the United States Senate," Gardner said in a statement. The move would make Moore, who is not yet elected, the 16th senator to face expulsion in the history of the chamber and the first since 1862. Expulsion requires a two-thirds majority vote.
Former Massachusetts Governor and presidential nominee Mitt Romney
The 2012 GOP nominee for president tweeted Friday that "innocent until proven guilty is for criminal convictions, not elections. I believe [accuser] Leigh Corfman. Her account is too serious to ignore. Moore is unfit for office and should step aside."
Florida Senator Marco Rubio
Rubio—a potential colleague of Moore—said the allegations are "deeply disturbing and, if true, disqualifying," according to The Miami Herald.
Former Florida Governor Jeb Bush
The former presidential candidate said, "I would," when asked if Moore should withdraw from the race.
Iowa Senator Chuck Grassley
Grassley, chair of the Senate Judiciary Committee, called for Moore to drop out. "He should step aside. The trouble is, if he agreed to step aside, his name is still on the ballot. People can still vote for him, and he could get elected," Grassley told KCCI-TV on November 10.
Maine Senator Susan Collins
Collins tweeted that after reading Moore's statement and listening to a radio interview in which he denied the allegations, she did not "find his denials to be convincing." She called for him to withdraw from the Senate race.
Pennsylvania Senator Pat Toomey
"I think the accusations have more credibility than the denial. I think it would be best if Roy would just step aside," Tooney said on NBC's Meet the Press.
South Carolina Senator Lindsey Graham
Graham posted on Twitter, "I believe Roy Moore would be doing himself, the state, the GOP, and the country a service by stepping aside" before warning, "If he continues, this will not end well for Mr. Moore."
Texas Senator Ted Cruz
Cruz said in a statement Monday, "As it stands, I can't urge the people of Alabama to support a campaign in the face of these charges, without a serious persuasive demonstration that the charges are not true."
Tennessee Senator Bob Corker
The Republican known for his war-of-tweets with Trump posted on Saturday, "Look, I'm sorry, but even before these reports surfaced, Roy Moore's nomination was a bridge too far."
Other Republican Senators who have called for Moore to step down if the allegations are true include Richard Shelby of Alabama, Dan Sullivan of Alaska, David Perdue of Georgia, Jim Risch of Idaho, Joni Ernst of Iowa, Pat Roberts of Kansas, Thom Tillis of North Carolina, John Hoeven of North Dakota, Rob Portman of Ohio, Jim Inhofe of Oklahoma, James Lankford of Oklahoma, Tim Scott of South Carolina, Ron Johnson of Wisconsin, John Barrasso of Wyoming and Mike Enzi of Wyoming. Senate President Pro Tempore Orrin Hatch of Utah did not explicitly call for Moore to quit but told Alabama voters to instead choose Luther Strange, the candidate Moore defeated in a runoff primary, through a write-in campaign.
The Republicans from the House of Representatives who have called on Moore to withdraw from the race include Representatives Adam Kinzinger of Illinois, Barbara Comstock of Virginia, Mike Lee of Utah, Charlie Dent of Pennsylvania, Tom Cole of Oklahoma, Barbara Comstock of Virginia and Mark Meadows of North Carolina.
This article has been updated to include comments from House Speaker Paul Ryan.