Trump Can't Get Roy Moore to Drop Out of Alabama Race, Top Campaign Official Says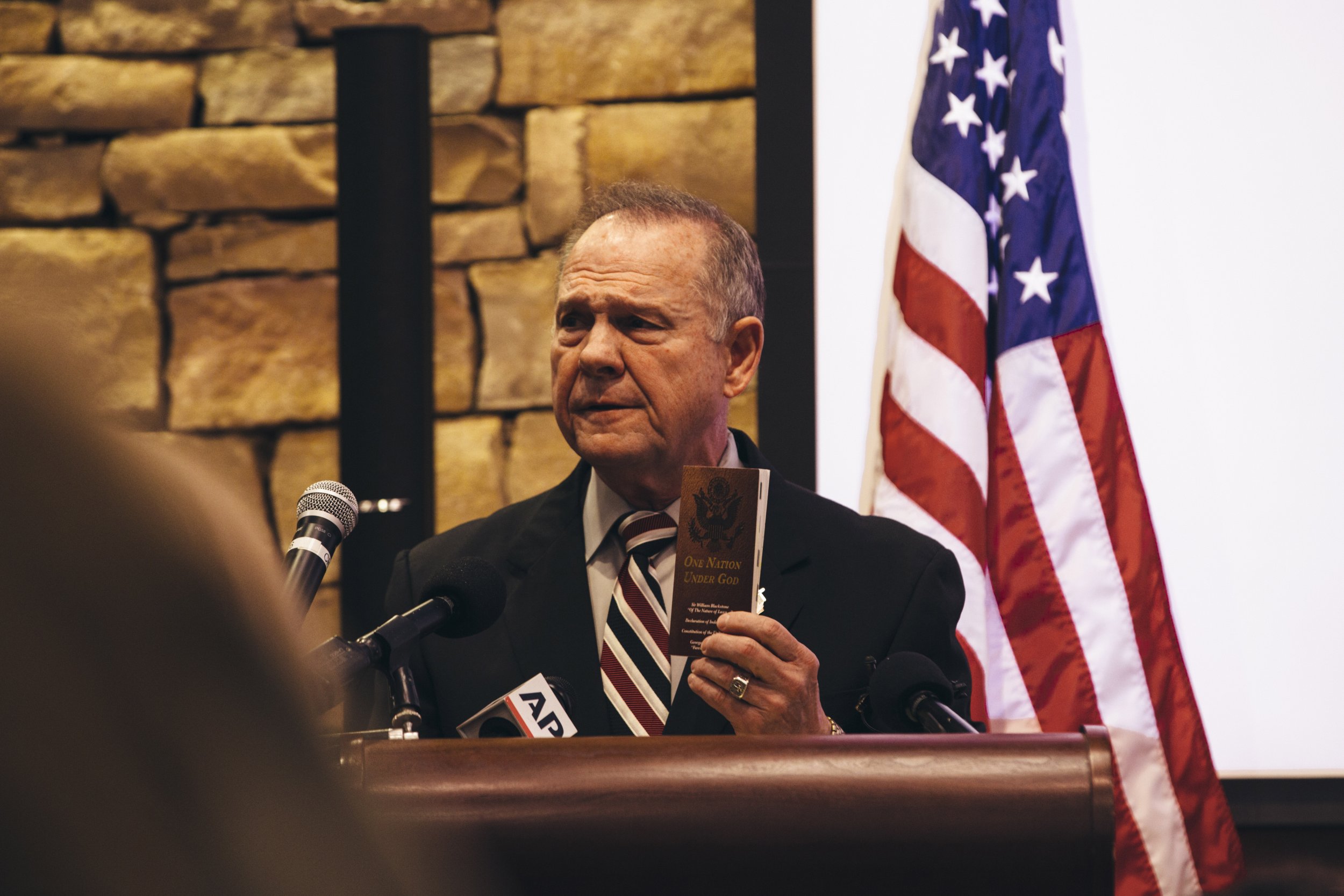 Not a soul, not even Republican President Donald Trump, can convince embattled candidate Roy Moore to drop out of the race for Alabama's vacant U.S. Senate seat.
Moore has faced significant backlash and cries from Republicans across the country to bow out of the race, which was viewed as a formality in the very "red" state, in the midst of accusations of sexual assault of four underage girls when he was in his 30s.
But the 70-year-old Moore denied the accusers' claims while lashing out at the media, and a top member of his campaign stated there was no way his candidate would exit the race, even if the head of his party asked.
"No. Nothing is getting him out. He's not going anywhere," Brett Doster, a senior Moore campaign adviser, told ABC News on Sunday night.
Indeed, Trump has not explicitly called for Moore to drop out, but he also never backed Moore during the GOP's runoff in September. Trump originally put his support before Luther Strange, who could be a write-in candidate for the December 12 election despite his loss to Moore.
The president, smack in the middle of his trip around Asia, "does not believe we can allow a mere allegation" to "destroy a person's life," but also said it would be "right" to "step aside" should the allegations prove true, a White House spokeswoman said of Trump according to The Washington Post.
One day after the accusations came out, the National Republican Senatorial Committee tore up its fundraising agreement with Moore.
In turn, Moore emailed supporters for "emergency" campaign contributions Thursday and blasted the "Obama-Clinton machine's liberal media lapdogs" for the accusations.
In statements made to the media, Moore's story and denials haven't added up. He spoke Friday on Fox News host Sean Hannity's radio show—the first interview given after the allegations were published by the Post—and confirmed he knew some of his accusers.
"I don't remember specific dates," Moore said when asked if he went on a date with an accuser. "I do not, and I don't remember if it was that time or later. But I do not remember that."
Hannity followed up for Moore to clarify if he knew the accuser, Debbie Wesson Gibson, or dated her.
"No, but I don't remember going out on dates," Moore responded. "I knew her as a friend. If we did go out on dates then we did. But I do not remember that."
Moore, the former head of Alabama's state Supreme Court, faces accusations of inappropriate sexual conduct with four young teenage girls, with one of the accusers, Leigh Corfman, as young as 14 back in 1979.