Dog Asking Owner to Let Him out Makes Hilarious U-Turn After Noticing Rain
Rescue dog Taco Paul loves to go outside and play, but his hilarious reaction to less-than-ideal weather conditions has been captured on camera by his owner.
Amber Joseph from Conroe, Texas has been the owner of Chihuahua mix Taco Paul for five years. Found as a stray, he had an unusual journey to becoming part of his family.
"Taco was a stray my sister found outside a tattoo shop," Joseph told Newsweek. "She asked me if I could keep him temporarily while she found a home for him, since she already had several pets of her own."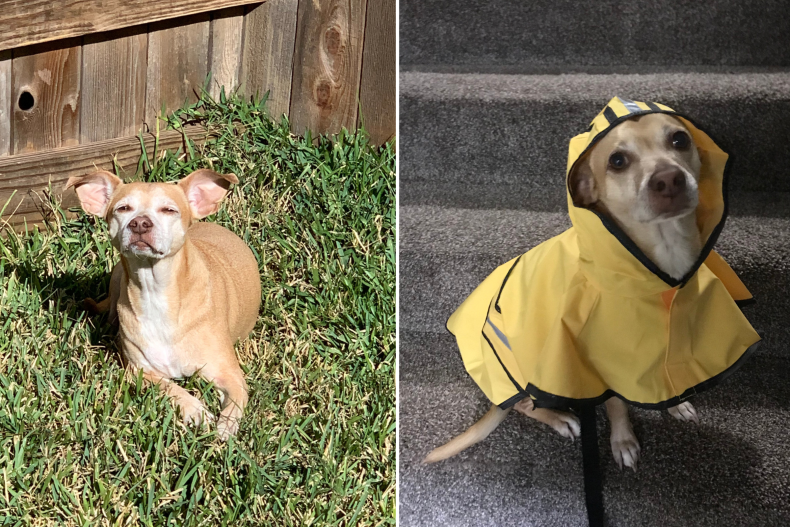 However, when they took Taco to the vet to be checked over, they discovered that he had a microchip and owner.
"After speaking with his owner, she told me that this was his third time running away from home, and she hates to see her little kids crying and sad when this happens," said Joseph. "She told me that I could keep him if I wanted to. I asked her for more info about him, his age, his likes. She told me his name was 'Mr. Paul.' My sister had already given him the name 'Taco,' so I decided to combine the two and name him Taco Paul."
Taco Paul now lives happily with his owner, who says that he has lots of passions in life.
"He loves to eat," said Joseph. "His favorite snacks are cheese, carrots and apples. He also loves to be outside. He loves sunbathing and will fall asleep basking in the sun. He likes to chase tennis balls and play with his favorite stuffed toy Mr Llama."
However, as the hilarious footage proves, the dog is not a fan of the rain. "Taco always tries to avoid the rain... and all weather for that matter," said Joseph. "He does the same U-turn when he hears the water turn on for bath time."
When Joseph does try to take Taco for his daily walk in the rain, he isn't keen on that either: "He will always try to seek cover," she said. "When we lived in apartments, on our walks, he would pull me to every porch we passed so that he could be protected from the rain."
To help Taco feel more comfortable with changing weather, Joseph even tried to buy him a rain coat, but he wasn't very keen on that, either.
"He still tries to seek cover or go back inside," said the owner. "He doesn't like anything touching his feet, so we haven't tried rain boots."
As well as his reaction to the rain, Taco always makes his owner smile and laugh: "He's so sure of himself and if he doesn't like something, he will let you know," Joseph said. "When he realizes it's time for me to trim his nails, he will tuck all four of his paws tight under his body so I can't get to them. Taco always makes me laugh.
"He has a super-calm demeanor overall, loves to take in the sun and will fall asleep anywhere," Joseph added. "Whenever I'm anxious, I think of him and try to channel my 'inner Taco' and relax."