Dog the Bounty Hunter Thinks Brian Laundrie Is Still Alive: 'He's a Survivalist'
Dog the Bounty Hunter thinks Brian Laundrie is still alive due to him being a "survivalist" and having experience with the outdoors. The 23-year-old has been missing since September 17, when his family reported his disappearance to law enforcement.
Reality television star Duane "Dog the Bounty Hunter" Chapman has been leading a high-profile search for Laundrie in Florida. However, even with law enforcement, marines, Navy seals and a K-9 unit on the hunt, Laundrie is yet to be found.
"I would assume he is alive. Not alive and doing well, but he's alive," Chapman said in the latest update on the search.
Speaking to TMZ, Chapman said he believes that Laundrie is not suicidal and that he is well-equipped to surviving in the wilderness.
"There's no evidence of him being suicidal like that anywhere, and he didn't say that to anyone," Chapman explained.
"And if you go to his Instagram pages and look at what kind of person he really is—and the books that he reads, and especially his very favorite books—that's not books for suicidal people."
Laundrie vanished after he returned home alone from a cross-country trip. He had been traveling with his girlfriend Gabby Petito, 22, whose remains were found in Wyoming on September 19. Officials ruled her death was due to homicide. Named as a person of interest in Petito's disappearance, a nationwide manhunt for Laundrie was sparked in late September.
Chapman and his team have been searching islands near Fort De Soto Park in Pinellas County, Florida and the professional bounty hunter believes Laundrie has been hiding in the Everglades.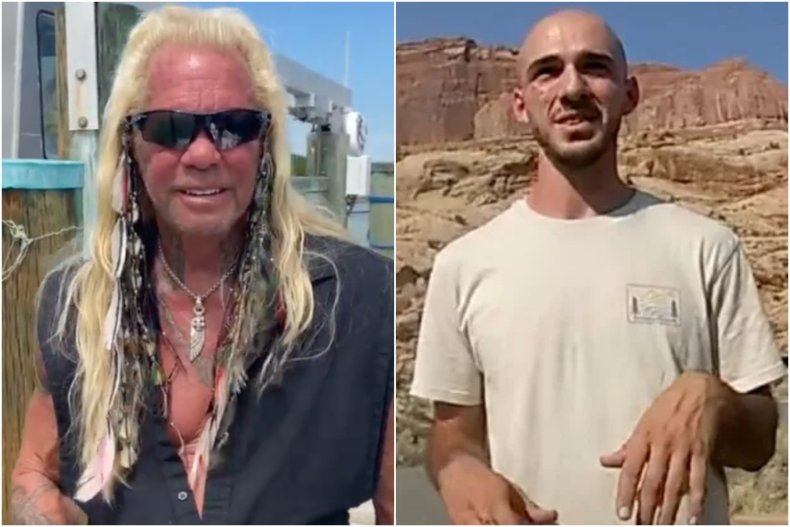 "He's a survivalist, he's been on the Appalachian mountains for two months at a time by himself," Chapman said.
"Is he here right now? I'm not sure. Was he here a few days ago? Absolutely. But he could have got out during the night, and he would have to have help, I guess it might be from close to a family member and, you know, he's taken off somewhere else.
"I do not believe that he's in Mexico or Brazil. I've been to Mexico and if they know you're wanted and you're a Caucasian American, they're gonna turn you in for the reward."
On Sunday night, Chapman and his team confirmed that they turned over evidence to authorities.
"Dog has turned over evidence to the authorities including items found on one of the islands near Fort De Soto Park. It is his hope that DNA can be assessed to prove Laundries' presence," his team said in a statement.
Meanwhile, Chapman said that the search is becoming more dangerous.
"Tracking a fugitive is a marathon, not a sprint," a spokesperson for Chapman's team said in a statement to Newsweek.
"We are continuing to search for Brian Laundrie. The longer he is on the run, the more dangerous this becomes."
Chapman has an anonymous tip line at 833-TELL-DOG for people who do not want to contact the authorities directly.
Anyone with information on Laundrie's whereabouts is asked to contact the FBI at 1-800-CALL-FBI or 303-629-7171.