Dog the Bounty Hunter Turns Over Brian Laundrie Evidence to Authorities
Dog the Bounty Hunter's hunt for Brian Laundrie remains ongoing as his team confirms they have handed evidence over to authorities.
The reality television star has been on the search for the boyfriend of the late Gabby Petito who vanished after he returned from their cross-country trip alone in September.
Two days after Laundrie's family reported him missing, Petito's remains were discovered in Teton County, Wyoming. He has been named a person of interest in the case.
The nationwide manhunt has seen Dog, whose real name is Duane Chapman, become a prominent figure in the search.
Chapman contracted a private search-and-rescue K-9 team to aid in his search of an island called Egmont Key, which is off the coast of St. Petersburg, Florida.
The search has been centered around Florida's Fort De Soto Park in Pinellas County.
As of Sunday night, a member of Chapman's team confirmed to Newsweek that evidence has been handed over to authorities with the hope that DNA testing proves Laundrie's presence.
"Dog has turned over evidence to the authorities including items found on one of the islands near Fort De Soto Park. It is his hope that DNA can be assessed to prove Laundries' presence," his team said in a statement.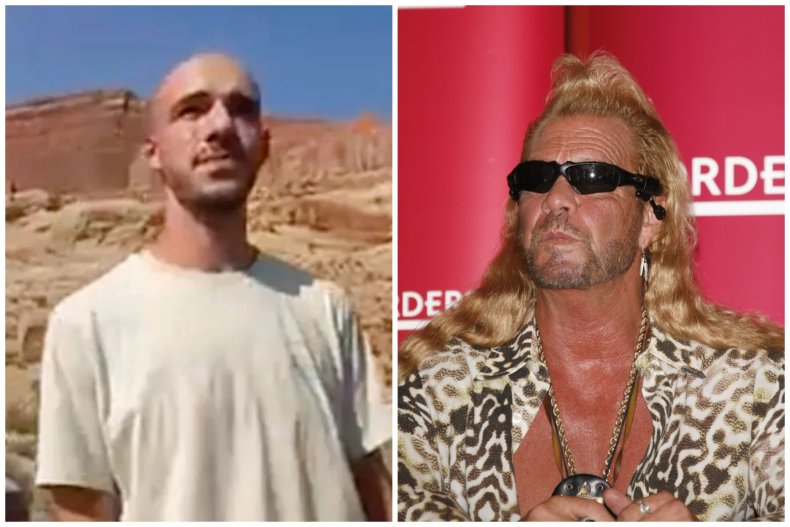 "In addition, he has had multiple conversations with law enforcement."
Chapman is keen to show his cooperation with law enforcement and has confirmed that an off-duty officer has been embedded in his team the past few days.
"The team is now assessing evidence and evaluating next steps," the statement states.
He also confirmed that former Navy SEALS and Marines are assisting his search.
The latest updates come as Chapman has added money toward the reward for any information leading to Laundrie's arrest.
On Wednesday, the team discovered a used campsite and a discarded can of Monster soda.
The team confirmed to Newsweek on Friday that $10,000 has been added to the reward money, which was $170,000 before the contribution. Most of the contributions were donated by private individuals supporting Gabby Petito's family.
Chapman also recently received a tip that placed Laundrie's sister Cassie in Fort De Soto Park, on September 6, contradicting her previous statement in which she said had not spoken to her brother since he returned home from his trip with Petito.
Chapman and his team have been criticized for their involvement in the search but the reality televisions star has denied he is looking for publicity.
"Whenever there is a case like this, people naturally send him messages and info because of his past track record as a bounty hunter," his spokesperson previously told Newsweek. "He and his wife, Francie, have been working tirelessly on all the leads pouring in and are glad to be able to help in some small way in the hopes that Brian Laundrie can be located."
Chapman has an anonymous tip line at 833-TELL-DOG for people who do not want to contact the authorities directly.
Anyone with information on Laundrie's whereabouts is asked to contact the FBI at 1-800-CALL-FBI or 303-629-7171.