Internet in Stitches at Dad Wearing 'Cone of Shame' in Solidarity With Dog
If you have a pet, you'll probably be familiar with them needing a recovery collar—but one pet owner has gone the extra mile to help his pup feel better in a hilarious viral video.
Shared on Tuesday on TikTok by user Alex – who runs the account good.boy.ollie – the video that now has over 1 million views and more than 175,000 likes has left viewers in stitches.
With the caption: "Is it just my dad?" the video pans into a room to show a man sitting with his dog on the sofa—both wearing an after-surgery cone on their heads. The text overlay on the video reads: "Not my dad wearing a cone to make my dog feel less lonely after his surgery," followed by: "I swear it's always the dads who didn't want a dog that end up loving them most."
Ollie, the seven-year-old Labrador, lives in Berkshire, England, with his family. Alex told Newsweek: "He was wearing a cone because he had a lump surgically removed from his eyelid and tested. He has healed well and had the all-clear, but needed to wear the cone to protect his eyelid whilst the stitches healed."
Preventing Infections
VCA Animal Hospitals say that the Elizabethan collar (also known as an E-collar or the cone of shame) are plastic or fabric hoods that are placed around the head to prevent an animal from licking at a surgery site, wound or dressing. VCA Animal Hospitals said: "It is natural for dogs to lick their wounds, but this can seriously delay healing and result in infection or injury. It is important that a protective collar is used, especially when the dog is unattended and could inadvertently injure himself."
Delighted by the video, TikTokers took to the comments to express their love for Ollie and his supportive dad.
"We are in this together, he said," wrote one commenter. While another user wrote: "This is so great! Made my day how wholesome your dad is."
Another commenter joked: "What's he going to do to make the dog feel less lonely when you have the dog castrated!" One TikToker wrote: "Oh no. They are both wearing the cone of shame."
The bond between dogs and their owners is nothing new. According to research by scientists at the University of Veterinary Medicine in Vienna, dogs have been closely associated with humans for more than 15,000 years and are so well adapted to living with humans that in many cases their human families replace the need for connection with other dogs.
"My dad's the kind of dad who likes to make everyone laugh," said Alex: "I'm not sure if he put the cone on to make my family laugh, or genuinely to make Ollie feel better. Either way, Ollie seemed happier in his cone and it gave all of us a big laugh."
"This is hilarious," said one comment on the video. "Just shows how much your dad truly loves his baby."
Meanwhile, other commenters agreed that it is always the dad who objected to getting the dog that loves them the most. "That's my dad," wrote one commenter. "He didn't want a dog but now he's his one and only."
"My dad loves that so many people have seen his video," Alex said. "He's not embarrassed at all, he says he's pleased it's given so many people a reason to smile."
Watch this viral video from 2021 when one dog had a hilarious "brain shutdown" as a vet put on his recovery cone.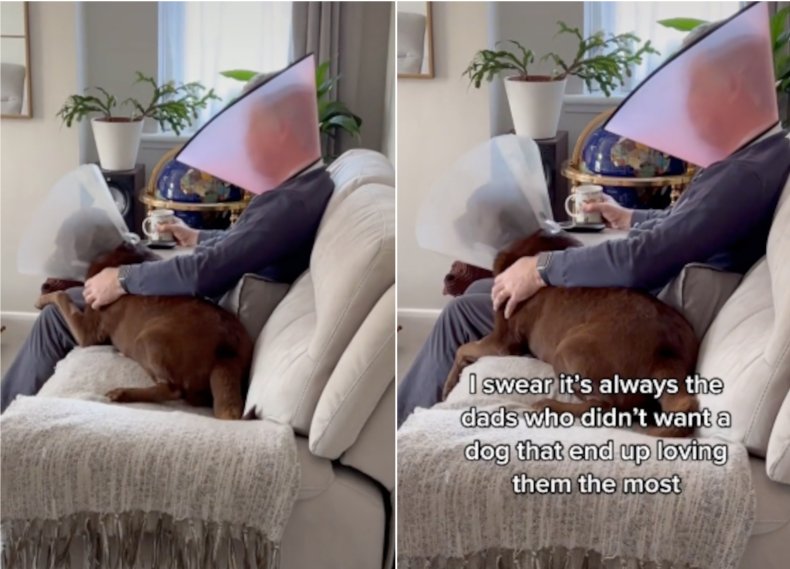 UPDATE 03/28/22 at 3:57 a.m. ET: This article was updated to include new pictures, video and comment from the original poster, Alex.