Man's Reunion With Dog After 6 Months Apart Delights Viewers: 'That Tail'
A video of a dog being reunited with its owner after six months apart has delighted TikTok viewers, receiving nearly 150,000 views.
In the clip posted by Rita Mimoso, 25, and captioned "that tail," a beautiful large dog named Rocky can be seen on a leash in an airport. The pet suddenly recognizes the man and enthusiastically jumps up to lick his face, tail wagging furiously, while people in the background smile and watch.
One TikToker commented: "Love how this interaction makes everyone around you smile. We don't need that much to be happy. We often forget that."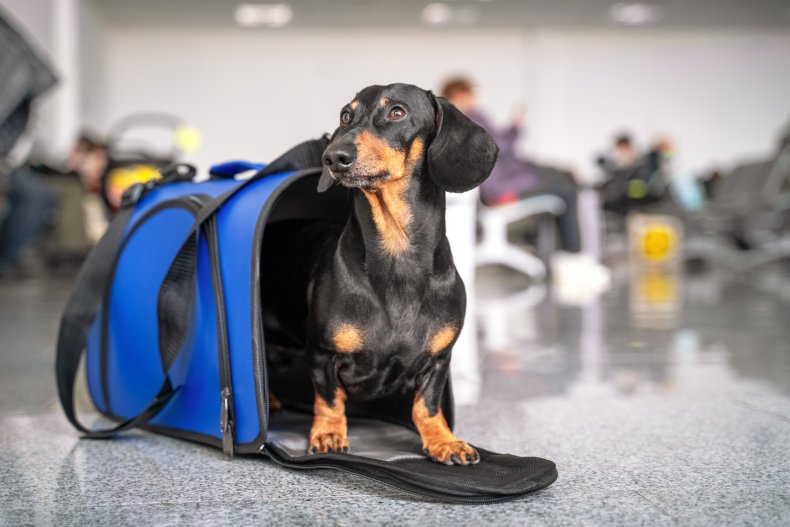 Having a dog is a big responsibility because you might have to sacrifice holidays for vet bills, but sometimes we will have to leave our pets. Many people who are forced to leave their dog for a longer period of time might wonder if their animal will remember them when they return.
Ms. Mimoso spoke to Newsweek about the emotional reunion. "The man in the video is my brother Diogo, 22," she said. "He's studying marketing and in the video he had just come back from a six month exchange semester in Rio de Janeiro.
She explains that despite being a "really needy dog" Rocky was usually OK in her brothers absence, "but actually after Christmas he had a terrible week and no one knew what was going on with him. Always sleeping, no energy, and looked sad. We went to the vet and it was everything perfect with his health so it was a bit weird. Maybe he just missed my brother and was sad about it."
Ms. Mimoso said she was glad the video had gone viral and that it had made people happy.
According to pet-advice website Wag Walking, the answer is: Yes, they will remember you. "In fact," the experts report, "studies have shown that the longer a dog is separated from their owner, the happier the dog will be when they return. So, it's actually true, even for your pups, that time really does make the heart grow fonder.
"Even if you're gone for months, as long as your pup associates you with happy, loving memories, expect to see pure and utter joy from your fluffy BFF. They may jump up on you, give you slobbery kisses, or even whine, bark, or howl, since they can't contain their happiness! Tails will wag, ears will perk up, and an amazing reunion will ensue."
It has been conclusively proven that dogs have memories, but researchers don't quite know the specifics yet.
A study reported in late 2014 in the journal Behavioural Processes found that dogs forget an event within two minutes, while chimpanzees are the worst at around 20 seconds.
TikTok users loved the video, with abby writing, "I've been away from my pup for 3 months and I have three more months to go until I get this."
Traci W commented: "Every single person is happy for this interaction more so tha[n] when you see two people hug lol," while A wrote, "awww everyone smiling in the back."
Do you have funny and adorable videos or pictures of your pet you want to share? We want to see the best ones! Send them in to life@newsweek.com and they could appear on our site.