Dog Has 'Face of Instant Regret' After Being Tricked To Go Out in the Rain
One dog's "instant regret" after being greeted with rain in the backyard has left the internet in stitches this week.
There are a few reasons our canine friends might not be the biggest fans of wet weather, according to Wagwalking.com. Experts suggest that rain can make dogs feel uncomfortable, while also making them scared to get into trouble with you.
If you've ever scolded your dog for tracking mud into the house on a wet day, it is possible they'll remember that and associate the wet weather with being told off.
Of course, some pups are huge fans of all weather—and even if your dog is a little reluctant, it is always possible to teach them that the rain isn't too bad, or offer them a way to stay dry.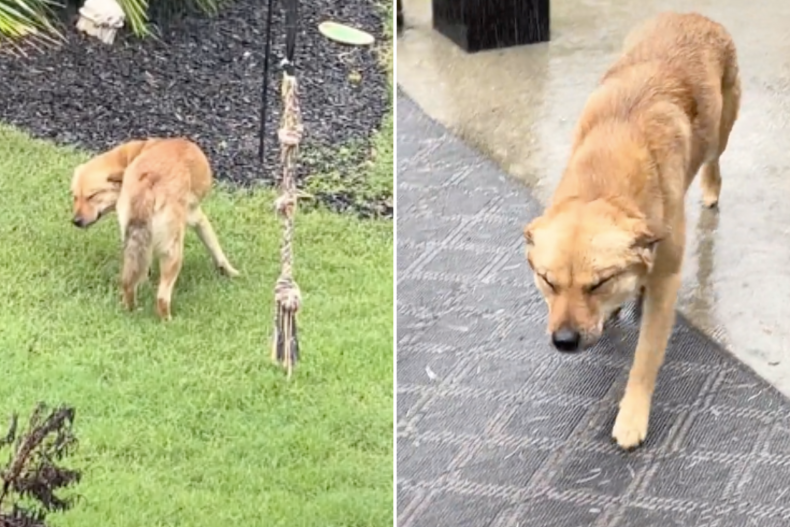 On July 1, dog owner Natasha, from Atlanta—who uses the TikTok handle jindojourney—shared the video of her dog SunMi which has since received more than 6 million views.
In the now-viral video, 3-year-old Korean Jindo dog SunMi runs through the house to the garden before her hilarious reaction to the wet weather is caught on camera when she looks back with ears down. The text overlay on the video reads: "The face of instant regret."
Quickly rushing back into the house, the canine's owner joked that: "She'll never forgive me for this."
Natasha told Newsweek: "There's a squirrel in the backyard that comes to steal seeds from the bird feeder, so SunMi is always antsy to run outside and chase the squirrel out of the yard.
"Anytime she hears the door open she comes running to go out into the backyard. But she doesn't like rain so I decided to play a joke on her."
When greeted with the rain, the dog hilariously squints her eyes, leading commenters to joke: "She became a fox, she's so cute," while another TikTok user said: "She was so mad."
"She always makes the angry squinty face at me whenever she runs out and realizes it's raining," said Natasha. "But I totally wasn't expecting her to look back over her shoulder and glare and me and come stomping back in the way she did."
With more than 19,000 followers on TikTok, Natasha shares her life with Purebred Jindo dog SunMi in the hopes that it will teach people about the rare breed.
"There's a lot of misinformation about the breed on the internet. So my pages share breed information and I like to help boost visibility for Jindos in rescues that need fosters or adopters," Natasha said.
Recognized by the American Kennel Club, the Jindo dog is a medium-sized canine that was originally developed on an island off the coast of South Korea. The dogs lived for years unrestrained on the island and developed hunting skills alongside their owners.
These special dogs have a strong instinct for hunting and are known for their loyal and intelligent personalities.
SunMi is not the only pup to take on the elements and have second thoughts. Earlier this year a Boston Terrier was captured making an abrupt U-turn after being faced with freezing cold rain in Wales, U.K.
Do you have funny and adorable videos or pictures of your pet you want to share? We want to see the best ones! Send them in to life@newsweek.com and they could appear on our site.