Dog Forced To Have Eyes Removed After Being Attacked in Park: 'Heartbroken'
A dog that lost both of his eyes in a brutal attack has made an incredible recovery, and he's already learned how to navigate his home without his eyesight.
Dog owner Jennifer McKinlay was walking her two dogs, Alcott and Kora, on September 2, 2022, in High Park, near the home she shares with her partner in Toronto, Canada. What started off as an ordinary dog walk quickly transpired into a day McKinlay will never forget as Alcott, a Brussels griffon, was attacked by a female mixed-breed dog they encountered.
The dog mauled Alcott and tore both his eyes out before being pulled away by her devastated owner, who apologized profusely. When McKinlay and her partner finally managed to locate a vet available to take Alcott, he spent two days in emergency care.
McKinlay told Newsweek: "The path in the woods crosses back on itself a lot so on our walk we ran into this dog a few times and had no issues. The dog was a female mixed breed about the same size as Kora and was playful with Kora, she gave us no aggressive vibes or red flags.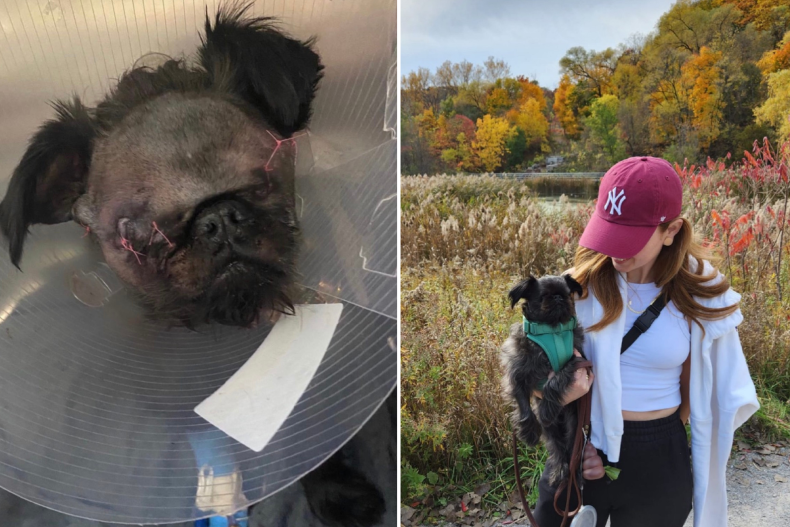 "As we were about to head home, we saw this dog one last time and everything happened so fast. I feel like I blinked and Alcott was on the ground on his back, with his eyeballs out of his head and the other owner was pulling his dog off.
"We called every vet clinic we could find in the area and were shocked that there really isn't much in the way of emergency pet care. We ended up taking him to an emergency vet clinic in Oakville."
Alcott lost both of his eyes due to the nerve damage, and he will be completely blind for the rest of his life. He also had a puncture beneath one of his back legs and a wound on his back thigh that required stitches. Alcott was on painkillers for a week after the attack, and antibiotics for two weeks.
According to the American Veterinary Medical Association (AVMA), there are more than 4.5 million people bitten by a dog each year in the United States, with one in five who get bitten requiring medical attention. The AVMA also notes that children are the most likely to be bitten by a dog, mostly during everyday interactions with dogs.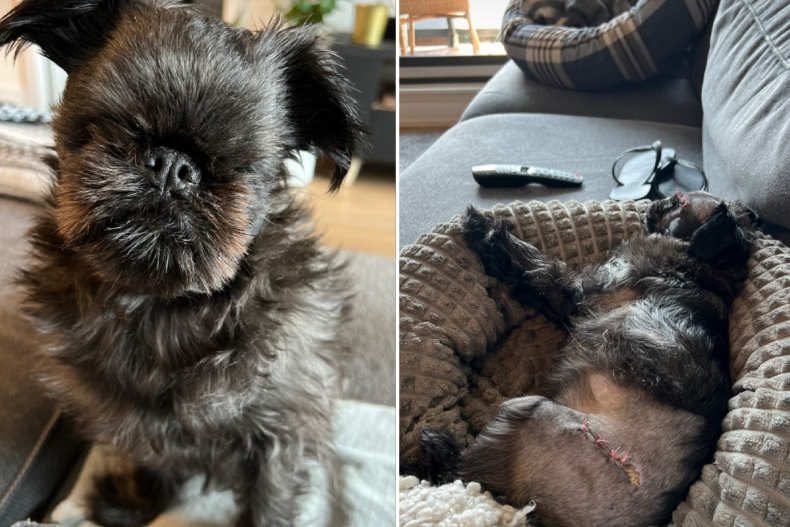 McKinlay said: "He's doing great now. [...] He's getting more independent every day. He follows us around without his halo now, he's pretty much got our place down and can navigate it without issue.
"He is very nervous of other big dogs he doesn't know, people and loud noises like cars and trucks. I think we are more traumatized by his accident than he is, so going back to High Park this summer is a big goal and milestone of ours."
McKinlay referred to the horrifying incident as a "big learning experience," and she is keen to document 5-year-old Alcott's recovery and to show that a blind dog can still accomplish great things. She has been sharing videos on the dog's dedicated Instagram and TikTok accounts, @sir_alcott, allowing them to connect with other pet owners facing similar difficulties.
"We are dog lovers and are devastated about what happened, but we have no bad feelings towards the other dog or owner. This was an accident, and we need to remember they are animals," she added.
Since sharing the video of Alcott's recovery on January 20 where McKinlay said she felt "heartbroken" and "many tears were cried," it has been viewed over 224,000 times on TikTok and received more than 13,000 likes.
Many TikTok users offered their support for McKinlay and Alcott as they embrace this new stage in life. One person wrote: "I can't imagine how you must feel. He's loved and will bounce back sooner than you think", while someone else commented: "That must have been terrifying for him and you. I'm glad he's still conquering life."
Do you have adorable videos or pictures of your pet you want to share? Send them to life@newsweek.com with some details about your best friend and they could appear in our Pet of the Week lineup.