Dog Gives Serious Side Eye to Owners Back From Trip in Hilarious Video
An unimpressed-looking Doberman has been accused of giving his owners some serious side eye after they returned home from a two-day vacation.
Unfortunately, on this occasion, Banks the dog was left at home and, if the video shared to TikTok by bonnieandbanks is anything to go by, he was far from happy about it. The clip can be watched here.
In the clip, which has been viewed 3 million times, Banks's owner, Bonnie, can be heard behind the camera repeatedly trying to get her canine companion's attention.
But Banks, who is sitting on the couch close to her, ignores the calls, preferring to instead stare off into the distance. Eventually, a male voice begins calling Banks's name and demanding he "look here now."
Banks eventually relents, but only just, turning his head slightly and delivering a hilarious dirty look to camera - much to the audible amusement of his owners.
According to the TikTok post, Banks had spent the previous two nights staying with his owner's sister and was seemingly unhappy at being left behind. The side eye on display in the clip is more commonly known as "whale eye" and may actually indicate discomfort rather than any kind of attitude.
"When a dog shows the whites of the eyes, it's a signal they are feeling anxious or stressed in a situation," the American Kennel Club (AKC) said on its website. "You might see them when you make your dog uncomfortable, like when you pat your dog on the head, or when they're afraid someone will steal a bone or toy."
In this context, it would appear Banks was feeling far from comfortable in his new surroundings. If the dog had been in any kind of difficulty it might have been different, but the fact was Banks was probably being well looked after by his owner's sister, which only makes his over-the-top reaction that more hilarious.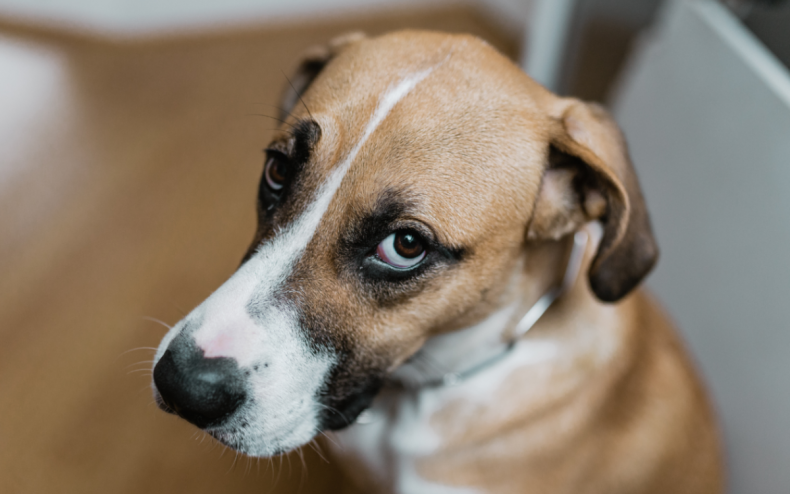 Commenting on social media, lynrandall1 said: "that side eye is precious." Taymarie agreed, commenting: "The side eye screams a teenage 'WHAT.'" Katiebkat, meanwhile, thought it was a look that said: "y'all dead to me."
Altrevbtinternetcom empathized with the situation, writing: "Mine gave me the cold shoulder for nearly a week, even though I saw photos of him having the time of his LIFE" while razza_4x4 loved the fact they "had to bring up dad voice" to get him to respond.
There was similar sympathy from John Doyle199 who had an even trickier situation, writing: "My boxer Vincent does the same when I leave him downstairs to go to bed after a nightshift."
Newsweek has reached out to bonnieandbanks for comment.
Do you have funny and adorable videos or pictures of your pet you want to share? We want to see the best ones! Send them in to life@newsweek.com and they could appear on our site.