Dog Left Heartbroken in Video After Discovering His Sea Lion Friend Died
Heartbreaking footage of a dog discovering that a sea lion he previously befriended had sadly passed away has been shared on social media.
Lindsay Greenberg, from Malibu, California, shared the gut-wrenching video to TikTok, where it has already accumulated 5.2 million views. It chronicled the unique bond her chocolate Labrador, Slim Shady, or Slim for short, managed to strike up with a sea lion who regularly visited the beach located close to where they live.
Dogs are social animals by their very nature and crave interaction, whether it is human or otherwise. According to psychologist Dr. Stanley Coren, much of this can be traced back to the way dogs are bred as pets. "They aren't glommed onto any one species—because we want them to be glommed onto us," he explained to The Dog People. "So they are much more accepting of other animals."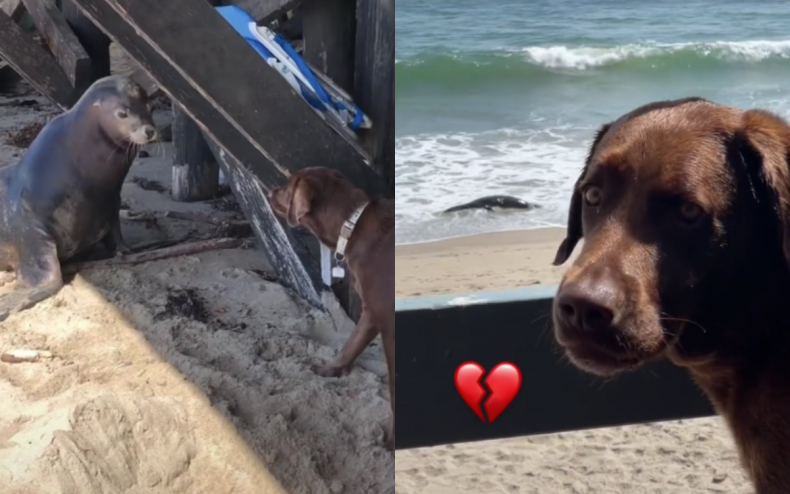 Dr. Coren notes that while dogs would always prefer to socialize with fellow canines, they are socially flexible if no other four-legged friends are available. "Dogs feel very uncomfortable when they're isolated," he said. "So they would much prefer to be with other dogs, but they'll settle. It's a companionship kind of a thing."
As with any friendship, bonding with a fellow animal can also offer a dog a form of support mechanism. "A two or three-year-old child will have a plush toy—a teddy bear, a stuffed bunny, etc.—they will not be without.," Dr. Coren explained . "I think that's the way the bonding occurs...the other animal becomes their support object as their personal plush toy."
All of which only adds to the devastation likely felt by Slim. As Greenberg's video highlights, Slim was initially standoffish around his new sea lion acquaintance, barking in the direction of the friendly pinniped. But over time he warmed to his new beach-based companion.
His sense of loss is palpable with Slim appearing confused as to why his sea lion buddy is no longer walking over to say hello, like they always used to. The video ends with Slim looking out to sea as the waves crash over the lifeless body of his old friend. "R.I.P. to our sea lion friend and all his visits," an onscreen caption reads.
Greenberg's video struck a chord with many on TikTok. "One of the saddest things I've ever seen," amanrobinson_ wrote. "Hurt my heart. to see him just rolling in the water," Jennifer Petersen commented.
Others, meanwhile, were quick to note a devastating detail with Bonsaibritt told Greenberg that Slim's "seal friend was probably on his way to go meet you dog" when they died and that realization has her "sobbing."
Greenberg, evidently realizing this was true, replied: "This just killed me."
However, others like SoundWaveTraveler felt this made the video all the more powerful. "It makes me happy to know he came to visit one more time knowing his time was up," they said. "He just had to let you know. You don't have to wonder."
RenegadeCOD also saw the beauty in Slim's special friendship. "Don't be sad your dog made that seal the happiest seal in the world," they wrote. "He just wanted to be a pup and your Doggo made him feel like he was one."
Greenberg told Newsweek Slim wasn't the most social of dogs until the sea lion came into his life. "He's actually usually very shy, has a couple close doggy friends since he was a pup but for the most part very independent and uninterested in others," she said.
She added: "The sea lion visited pretty much every day since their first meet and greet!! It would come alone and pop its head up from the sea looking for my dog. If we were outside they'd make eyes at each other for a while, sometimes the sea lion would do flips and tricks for us! On one occasion it brought a friend and it seemed like it was introducing them! They were popping up one at a time like whack a mole and not taking their focus off Slim for a second."
According to Greenberg, on the day the sea lion washed ashore she recalled Slim "was barking but it was like a cry."
"I went over to see what all the fuss was about, most of the time it's absolutely nothing, and that's when I noticed its body," she said.
She noted the animal had "bite marks all over" and was told by some construction workers nearby that they had seen "a whale attacking it."
The sea lion's passing has left Slim feeling a little lost. "He still goes out and just sits at the shore looking all around. I don't think he remembers or understands it won't come back," she said.
Update 05/09/22 at 11:34 a.m. ET. This article was updated with quotes and video from Lindsay Greenberg.