Dog Jumping for Joy as Owner Walks for First Time in Years Goes Viral
A mobility-service dog named Piper has melted hearts online for his reaction to seeing his disabled owner walk for the first time in years.
The clip was first shared by the dog's owner earlier in August to celebrate the pup's birthday and has so far received more than 700,000 likes. Piper can be seen excitedly jumping around her, while still avoiding touching or leaning on her.
Piper's owner, Cienna, is affected by a condition called hypokalemic periodic paralysis. According to the National Library of Medicine, this causes episodes of extreme muscle weakness, typically beginning in childhood or adolescence.
Most episodes involve a temporary inability to move muscles in the arms and legs, and the severe weakness or paralysis caused usually lasts from hours to days. Some people may have episodes almost every day, while others experience them weekly, monthly, or only rarely.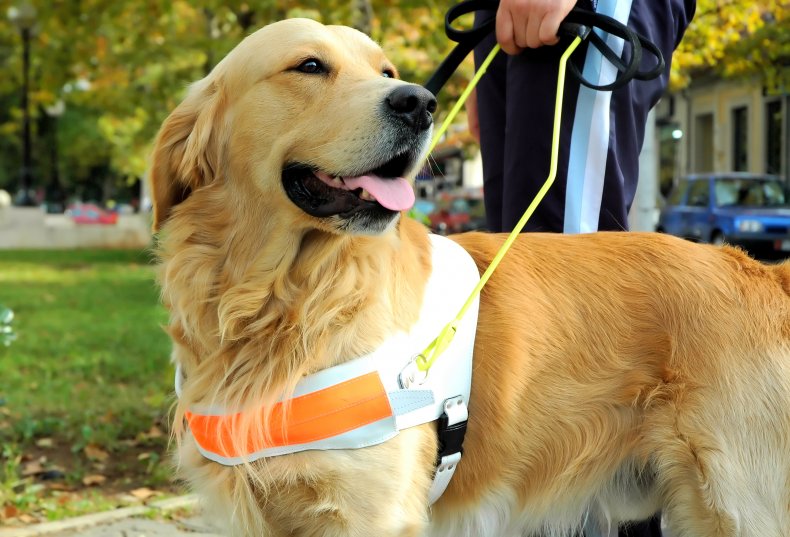 These types of attacks can occur without warning or can be triggered by factors such as rest after exercise, a viral illness, or certain medication. Generally, hypokalemic periodic paralysis is a rare disorder, affecting only 1 in 100,000.
In her post, Cienna, under the username chronicallypersevering, wrote that Piper is a mobility-service dog, who was trained exactly for what she needs to mitigate her disabilities. He has been by her side all through their years of adventures while taking care of her.
"He has been by my side through getting my diaphragm pacemaker, learning to live with it, hiking Arizona and surfing the east coast, alerting to my hypokalemic periodic paralysis... always learning new tasks to mitigate my health, and now seeing me start to take my first few steps! I don't know what I would do without you Pip!"
Among the 2,270 users who left comments on the post, Ktmarieoc wrote: "The joy for both of you!!" while Anniegrace37 added: "[Look] at how excited piper is for you oh my gosh this absolutely melts my heart. So much love between y'all so easy to see!"
Rhomany wrote: "Love how gently she's encouraging you but that tail says she's super excited and really holding back."
Mr_herks added: "love how excited he is but knows not to be rough, super smart and well trained but still a loving friend, awesome."
Another user C.vikk wrote: "He's your biggest fan. This is so great!" while Ghoslty_rob added: "You're incredible! And piper is so adorable!"
And Isanders8021 wrote: "Awww, Piper is so happy for his hooman mommy, he was dancing and he knew better than to jump on you... One of the most incredible gifts a person can have, besides their human kids, is the unconditional love of their furbaby."
Newsweek reached out to chronicallypersevering for comment. We could not verify the details of the case.
Do you have funny and adorable videos or pictures of your pet you want to share? We want to see the best ones! Send them in to life@newsweek.com and they could appear on our site.