Dog Lost For Months Found 2,000 Miles From Home, Volunteers Reunite Him With Family Right Before Christmas
A Butte, Montana are enjoying a Christmas reunion with their stolen dog, after the pup was discovered months later 2,000 miles away in West Virginia.
Zeus, a 9-year-old pit bull mix, was said to be too large to fly on a commercial airplane. He instead embarked on an epic volunteer-driven road trip to reunite with his family in time for Christmas. Zeus was reported to have completed the journey home on December 12 and is expected to ring in Christmas and the New Year with his family.
The trip home was provided by Many Paws Volunteer Transport. It took about 15 kind-hearted volunteers around a week to drive Zeus across nine states before reaching Butte, where he joined owner Cassandra Rasmussen for the first time since late October. A video from KWYB shows Rasmussen and her two young daughters reuniting with the dog. The family also received Christmas gifts brought by some of the volunteers who helped bring the dog home.
"I was expecting my dog home that's it, along the way we got some ornaments slipped into our little goodie bag as well from Kansas with Zeus's name on it which is awesome, the girls love them too," Rasmussen told the outlet.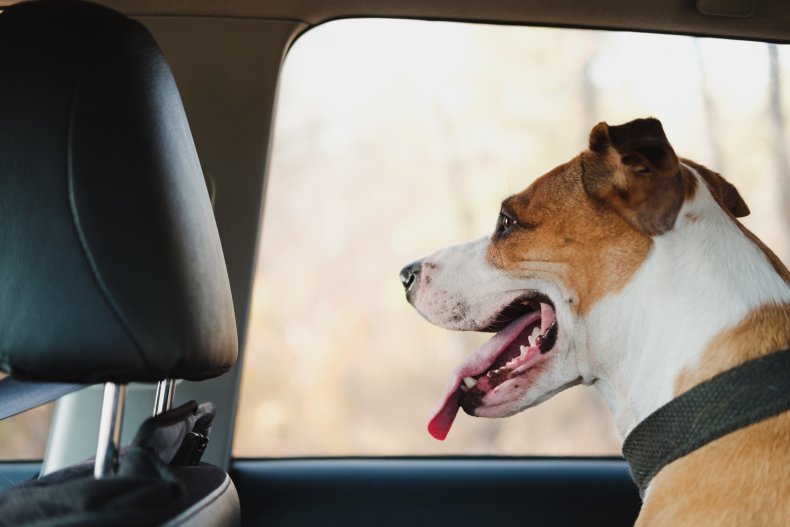 Zeus was allegedly stolen by a man who had been staying with the family before taking the dog and several items and making his way to Charleston, West Virginia. The dog was discovered after the man was arrested in neighboring Nitro.
"It seems Cassandra who is a single mom in Butte, Montana allowed a family friend to come stay with her for a bit. The 'friend' basically robbed her blind; stole her wallet, a number of things while she was at work, including her dog Zeus. The friend was apprehended in Nitro, and when he was arrested Zeus was still with him," Chelsea Staley of the Kanawha Charleston Humane Association told WOWK.
Although authorities took custody of Zeus when the person believed to have taken him was arrested, positively identifying the dog could have been a lot more complicated if not for the microchip id tag he was fitted with.
Microchips often play a role in seemingly unlikely reunions with stolen or missing dogs. In October, a dog missing from a Florida home for 14 years was found more than 1,000 miles away in Pittsburgh, Pennsylvania. The dog was also identified due to a microchip.
Zeus's family hope he won't be needing to go on another long road trip in the near future. They are overjoyed that the volunteers were able to help him make the journey home in time for the holidays. Rasmussen reportedly plans to "spoil" Zeus with new toys for Christmas.