Dog 'Loving Her New Life' After Being Adopted by Assisted Living Facility
Dogs have been referred to as man's best friend since King Frederick of Prussia coined the term back in 1789, and our canine companions never cease to show their unwavering loyalty and love to humans.
Our pups are often hailed for their everyday support, like Diesel the service dog, who helped his owner combat depression, and Bailey the service dog, who came to the aid of his owner in distress in footage viewed more than 11 million times.
One dog recently cemented her good girl status when she moved into her new forever home at an assisted living facility.
Rescue pup Ellie Mae was taken in by Last Chance Animal Rescue (LCAR), based in Waldorf, Maryland. Transferred from one of the shelter's partners in Mississippi, it's not known how she came to be in the shelter.
Over 23 years, LCAR has rescued and re-homed about 10,000 animals each year.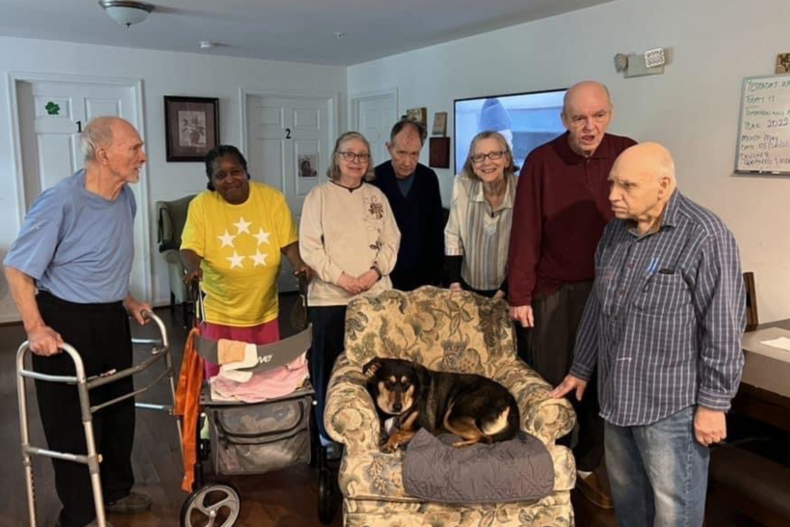 When she arrived at the non-profit organization that's dedicated to saving homeless pets from unnecessary euthanasia due to overpopulation, Ellie Mae was suffering from heartworms and had several puppies that she was still nursing.
Executive Director and Founder of Last Chance Animal Rescue Cindy Sharpley told Newsweek: "She arrived in July of 2021, very sick, she was taken care of in a foster home where she was treated for heartworms and nursed back to health. It took 8 months to get this gal ready for adoption."
Fostered by an older couple, Ellie Mae quickly proved her gentle nature and good manners. In May 2022, the shelter held a national adoption event, and a woman who owned an assisted living home stopped by to meet some of the dogs.
"Not long after the meeting, this woman knew that Ellie Mae was the perfect fit," said the shelter: "She would get tons of love from the residents and provide emotional support for them as well."
In a study by the University of York and the University of Lincoln in the U.K., having a pet was linked to maintaining better mental health and reducing loneliness. Of 6,000 participants, 90 percent said that their pet helped them cope emotionally with the COVID lockdown, while 96 percent said their pet helped keep them fit and active.
While it's clear that pets can have a positive impact on all of us, there is evidence that animal support for those with additional needs is invaluable. In 2019, London-based animal welfare charity Mayhew worked with the Department of Mental Health and Social Work at Middlesex University to examine the benefits of animal-assisted therapy (AAT) on people in a care home.
Since 2012, Mayhew has pioneered their TheraPaws program, designed to promote the emotional and mental health benefits derived from interacting with a dog. Researchers gathered evidence around the TheraPaws program and observed what they referred to as "clearly evidenced therapeutic value," and said that animals "play a proactive role in meeting the emotional needs" of those receiving AAT.
They also noted positive results including time with animals reducing loneliness, improving mood, inspiring communication, bridging gaps, and building better relationships between residents and their friends, family, and carers, and providing a general sense of community and companionship.
"Like all of our dogs, Ellie Mae was fostered first to ensure she was a great match before she was made a permanent family member," explained Sharpley: "She settled in great, the residents—including the resident cat—love her. She is the 'best dog ever.'"
According to her new family at the assisted living facility, Ellie Mae now has a great sense of purpose and even tucks her new friends into bed every night.