Dog Owner's Home Filled With Pet Memorial Boxes Moved Internet To Tears
The thought of losing any pet is devastating and something most pet owners won't want to consider, but this woman was amazed by the beautiful way her client keeps all their previous pets close to home.
Madison Cervantes, a pastry chef from Dallas, Texas, was recently catering an event at a client's home when she saw a bookshelf full of small boxes, which she soon realized were the ashes of the owner's beloved dogs.
The American Kennel Club (AKC) highlights the profound loss a person can feel when they mourn a pet, as it points out how difficult it can be to grieve properly as many of our loved ones can view losing a pet as a minor event since it's an animal rather than a person.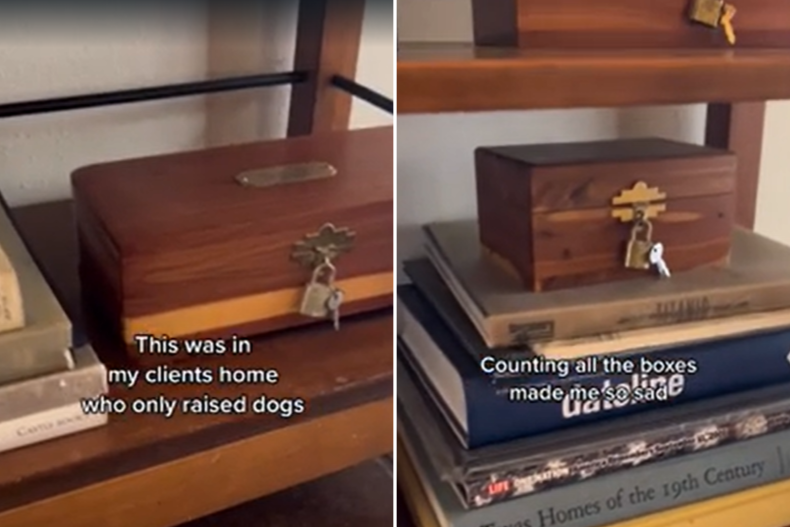 The AKC offers ways that people can channel their grief, including joining a pet loss support group, creating a pet memorial to celebrate the dog's life and start new traditions to reflect.
Cervantes, 28, was terribly moved by what she found as she has six pets herself, so the closeness of an owner and their pet is something she knows all too well.
Speaking to Newsweek about the video, Cervantes said: "I was restocking the bar and I came across a shelf, but not just an ordinary shelf, because when I looked close I realized that there were decorative wooden boxes with engraved name tags.
"At a glance you wouldn't have known that this was a pet sanctuary dedicated to their passed pets. I recognized this box from my childhood dog which contained her cremated remains. I counted seven boxes and couldn't help but want to break out in tears."
Explaining why she filmed the pet boxes, Cervantes said she wanted to show her husband the incredibly moving shelf she'd stumbled across because she dreads having to say goodbye to her own pets one day.
"As I am a pet mom of six, I know this kind of day will come for me, but hopefully that day is far from now! I thought this was something sweet to have in their home to visit every day," she continued.
"It's also nice to know that so many animals were loved. I wanted to cry counting every box, and it made me think of all my passed pets and future pets."
After sharing the video with her husband, Cervantes posted it on her TikTok account, @littlemiss_madison on February 2 and it quickly gathered plenty of attention. The video has over 750,000 views at time of writing and more than 60,000 likes. The content creator captioned the video saying: "My friend's pet memorial has me in tears! Hold your fur babies close because you're all they have."
With hundreds of comments, many TikTok users have opened up about the difficulties they faced when losing a much-loved pet and created a supportive community for one another.
Cervantes told Newsweek how much the positive reaction meant to her: "I was hesitant to post the video because it is a tearjerker, but the reaction I received was so loving. Many people who commented shared their own personal stories and showed how supportive the community can be.
"I was surprised at how popular and relatable the video was to some of the viewers, based on their own personal pet situations, which can be really hard to talk about. I'm happy I could share this with others and for them to share their story back is so amazing to me."
While many might not appreciate the pain of losing a pet, Cervantes wanted to give people a place to share their own grief with others who understand the devastating loss, as she said it "helps with grieving and moving forward."
Among the hundreds of supportive comments, people shared how they have memorialized their pets and others shared how they plan to do so. One user wrote: "I fully intend to have the ashes of all my pets buried with either myself or my husband—they'll be with us forever."
Another TikTok user commented on the choice to have the pet's ashes in the home: "Loved until and beyond the end of time. How beautiful."
Do you have any videos or pictures of your pet you want to share? Send them to life@newsweek.com with some details about your best friend and they could appear in our Pet of the Week lineup.