Spouse Not Letting Mom-in-Law Have Labrador's Ashes When He Dies Blasted
A woman has been blasted online for rejecting her mother-in-law's request to have the family dog's ashes when he dies.
The disgruntled parent shared the odd request to Mumsnet, under username budgiegirl, revealing her in-laws had always loved the family's Labrador.
The post, which can be read here, has amassed more than 131 responses since being shared on Tuesday.
The parent explained her family's dog is "elderly," saying: "He's advancing in years, and has recently been so ill that we expected that we might have to have him put to sleep.
"Happily he recovered well, and is back with us for at least a while longer, although I am aware he has limited time left."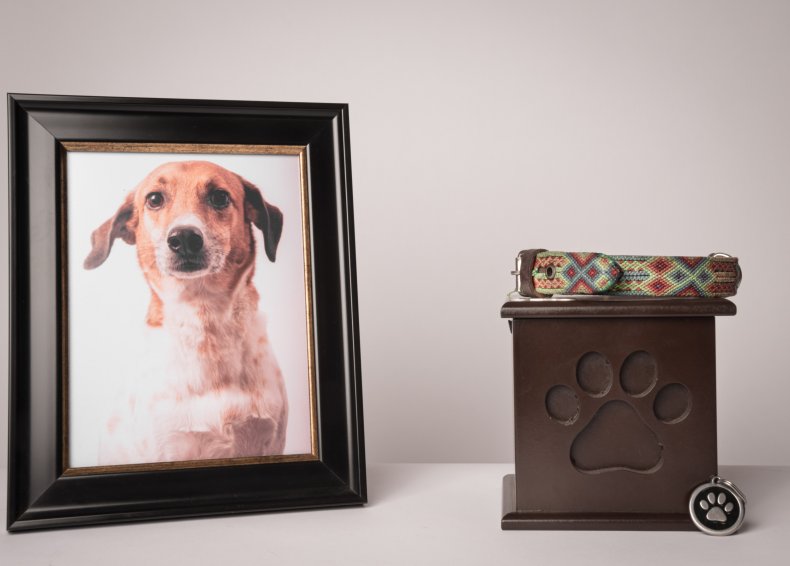 Losing a pet is part of an owner's life, owing to the shorter lifespans of our furry friends.
The Labrador retriever is the most popular breed in America, as they're "famously friendly," according to the American Kennel Club (AKC.)
These "friendly, outgoing, and high-spirited companions" live for around 11 to 13 years.
There are many ways to commemorate a pet, as the AKC noted owners can decide to get paw print casts, while they stated some people choose to turn their pets ashes into diamonds, ink for tattoos and even put them into a bullet.
The price of cremation varies; at one location in the U.K., where the family is thought to be based, the cost was £155 ($176) for a medium dog, £120 ($136) for a small dog, and £190 ($216) for a large one.
Additional services, such as a wooden casket, cost £30 ($34), same-day cremation is £50 ($56) and collection or delivery of the ashes costs £55 ($62).
Barnsley Metropolitan Borough Council assured owners that "following the cremation, your pet's ashes will be carefully placed into a casket or urn of your choice."
On Mumsnet, the poster explained her husband's dad was "utterly obsessed" with the dog, saying: "He absolutely adored him, and would often dogsit for us (along with MIL). It was a standing joke that FIL preferred the dog to anyone else in our family.
"We also found over the years that my in-laws would sometimes let people think the dog was theirs, and make the odd comment that the dog preferred them to us, that he wanted to stay with them, that he didn't want to return home when they had looked after him etc (not true but we would just smile and nod, and say what a good job they had done looking after him.)"
Sadly, the father-in-law passed away a few months ago, and the mother-in-law had her husband cremated, displaying his ashes in a glass cabinet in the house.
Understandably it has been a "difficult" time for her, and outwardly she's been coping well, but "struggling" when alone, the poster said.
In her grief, the mother-in-law requested she have the Labrador's ashes when he dies, to be displayed alongside her husband.
The Mumsnetter wrote: "When the dog was ill, MIL told me that she hoped that when the dog eventually did pass away, we would let her have his ashes, to place on the shelf next to her late husbands.
"My immediate reaction was to say no. I have absolutely no intention of having my dogs ashes back, I think I would find it too emotionally upsetting, and I certainly don't want to have to see them sitting next to FIL ashes when we visit."
After denying the request, the woman admitted she felt "guilty," adding: "MIL face really fell when I said no, and although we moved the conversation on quickly, she was really quite upset. I appreciate she is grieving for her husband, and this would probably bring her some comfort, but I really, really hate the idea.
"AIBU [am I being unreasonable] to say no to her, or should I let her have the ashes when the time comes?"
Numerous people queried why she wouldn't grant her mother-in-law's wish, as it would bring her comfort, while pointing out the family didn't want to keep the ashes themselves.
WaffleIron asked: "Why wouldn't you just split the ashes? Strange..."
Redtshirt50 commented: "I would give them to her if you have no intention of keeping them—sounds like it would give her a nice bit of comfort to think of your FIL and the dog together wherever they are."
Primeoflife replied: "We have our dogs ashes because the children didn't want to get rid! They've become a bit of a fixture now. I'd let her face then if it makes her happy."
Porcupineintherough added: "Well it's up to you of course but would it really cause you such distress to grant her her wish? You could even give her just a small portion of the ashes and scatter/bury the rest," although Pixiedust1234 said: "I wouldn't let anybody else have control of my pets ashes. If you don't want them then let the vet deal with it all."
Newsweek was not able to verify the details of the case.
The chart below, provided by Statista, shows popular dog breeds in the U.S.
Do you have funny and adorable videos or pictures of your pet you want to share? Send them to life@newsweek.com with some details about your best friend and they could appear in our Pet of the Week lineup.