A viral video of a dog struggling to find his forever home in Orlando, Florida has captured hearts this week after being viewed more than 3 million times.
Photographer Albert Harris has been working for Orange County Animal Services for the last five years as a government photographer and content creator. He often posts video updates about animals from the shelter on the popular video-sharing app TikTok.
The American Society for the Prevention of Cruelty to Animals reports that around 6.3 million companion animals enter U.S. animal shelters each year, including around 3.1 million dogs.
An estimated 2 million dogs are adopted each year, while around 390,000 dogs in shelters are euthanized.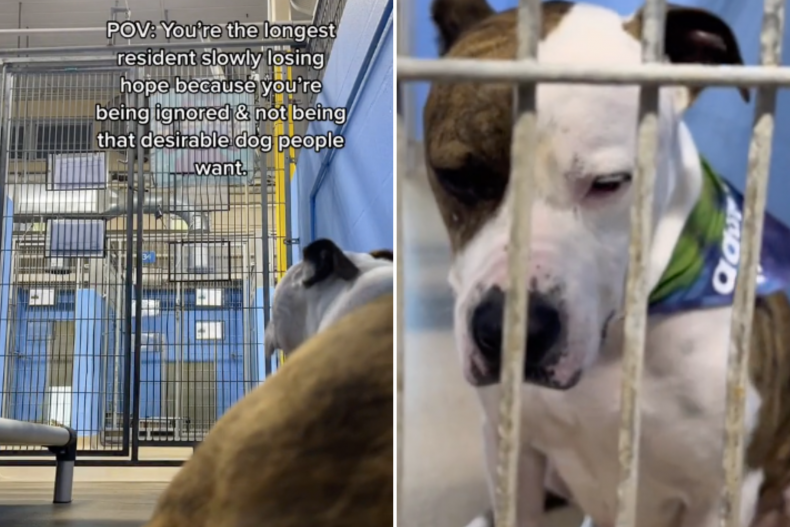 On Thursday, Harris shared a video of older pup Sarge—aka "Five Star General." Approximately 7 years old, he has been in the shelter since July 3 and is their longest-serving resident.
In the heartbreaking video that has captured hearts online, Sarge is seen in his kennel and the text overlay reads: "POV: You're the longest resident slowly losing hope because you're being ignored and not being that desirable dog people want."
Harris told Newsweek: "Sarge is our longest resident at over 70 days. A year ago, our average animal was struggling to get adopted at 150-200 days. [With] TikTok and Instagram reels [we] have truly been pushing our hardest to adopt animals out to families that care."
"Oh no his sad face," said one heartbroken viewer on TikTok. "Hoping you find a loving forever home soon sweet doggie."
Meanwhile, another reply said: "No dog deserves this."
"While it is not a perfect platform, it is a tool to show our community we care about our animals," explained Harris discussing the social media videos he creates. "Our responses have been awesome. However, the video does go to a broad audience all over the world. It was worked in our favor so far, getting every animal we have featured adopted."
Just weeks after National Dog Day, Sarge's story has captured hearts and the video now has over 703,000 likes and more than 7,000 comments.
One TikTok user wrote: "I pray this angel finds a home. They're all so deserving," while another viewer said: "Oh sweet Sarge! Rooting for you buddy."
Many viewers were quick to share that they would adopt Sarge in a heartbeat but did not live nearby or were unable to take on a dog.Since this article was published, Sarge has now been adopted and is living in his "furever" home.
Update 09/20/22, 05:00 a.m. ET: This article was updated to include a link to a follow-up.