Rescue Dog's Reaction to Seeing Owner Warms Hearts: 'She Is the Sunshine'
The moment a senior rescue dog has seen her owner has made people cry on TikTok.
User Cogs Dogs, who goes by the username @cogs_dogs, posted the adorable clip, with the caption "She is the sunshine of my life every day," which has been viewed over half a million times. In the video, Bonnie the senior rescue dog can be seen recognizing her owner from across a yard, walking over to her, tail wagging while the text reads: "The love of a senior dog is like no other."
User Flame1977 said: "OMG this got me crying. Miss my golden retriever every day and it's been years...Love borrowed..." while simeonthomas492 agreed: "A dog will love you until it's last day. I make every day precious with mine. This made me cry."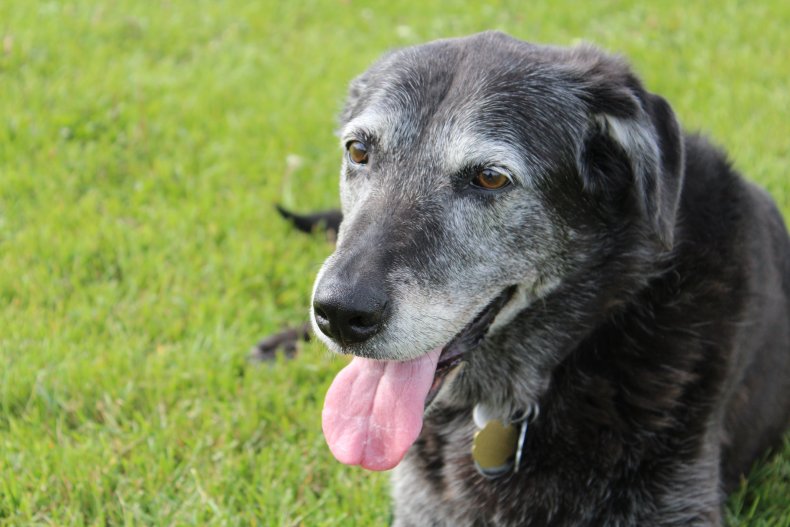 Cogs Dogs is a small family-run business based in Omaha, Nebraska, that aims helping to get senior dogs adopted, according to the website, "through donations, volunteering, and giving visibility to dogs that need adoption. The shelter is a stressful place for these pups, so the sooner they get a furever home the better."
When adopting cats and dogs, people tend to opt for kittens and puppies, especially if it's a first or a family pet. According to the American Society for the Prevention of Cruelty to Animals (ASPCA), "[t]he decision to adopt an older animal can also take on lifesaving importance because they are usually the last to be adopted—senior dogs, for example, have a 25% adoption rate, compared to the 60% adoption rate of younger dogs and puppies."
"Older dogs have often grown out of habits that a puppy has not, including teething, destructive behavior and accidents in the house," said the ASPCA, adding that while a puppy might take some time to settle down, possibly requiring you to take time off work or disrupting your social life, mature animals are more likely to settle into a home more quickly.
"All animals deserve loving homes, but some cases are more urgent than others, and surprising matches can be made if adopters simply check their expectations at the shelter door," wrote the ASPCA.
Users in the comments section agreed with the post with one user writing: "100 % accurate! Sr dogs are the best!!" Another user said: "Lost our senior lab 2 years ago. He was everything to me. I miss him so much. Enjoy every day with that sweet pup."
Some users shared their own experiences of adopting a senior dog. "Completely !!!! I adopted a 14 year old dog who had spent his whole life in shelter because I wanted him to have a home for his last years," wrote one user. Another agreed: "Senior Dogs are the best, It Means you've done your best looking after them. Obviously they teach us more than we should have from unconditional love."
Do you have funny and adorable videos or pictures of your pet you want to share? We want to see the best ones! Send them in to life@newsweek.com and they could appear on our site.