Golden Retriever Rottweiler Mix Stuns Internet With His Fluffy Features
A dog named Bear has stunned the internet with its unique looks, the result of mixed breeding between a golden retriever and a rottweiler.
A video shared on TikTok by the dog's owner, under the username jackson.and.bear, shows the "golden rottie" pup, and a caption that reads: "Have you ever seen a golden retriever x rottweiler?
The post, first shared on the platform last Tuesday, has gained a lot of popularity on the internet, receiving over 731,600 views and 134,700 likes.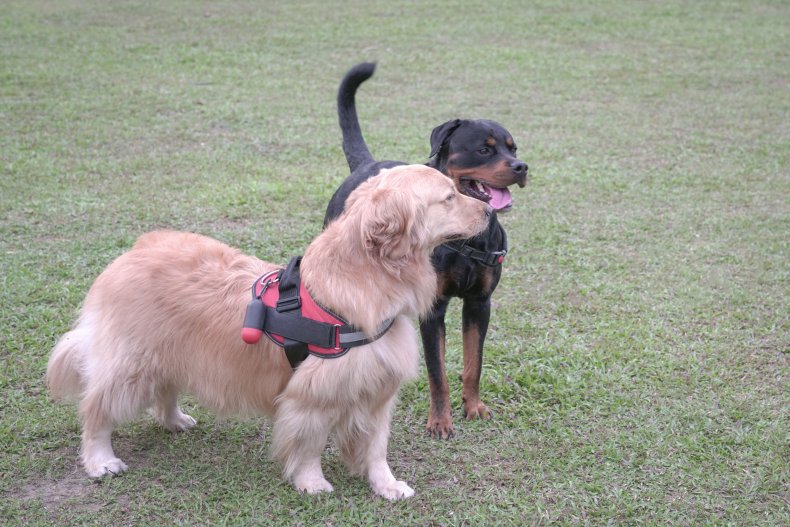 According to PetKeen, mixed dog breeds are believed to be more genetically healthy than pure breeds, and they come with a range of characteristics that make them desirable.
Of the most common mixed-breed dogs in the United States, the cock-a-poo is the most popular. They're a mix between a cocker spaniel and a poodle and have the cocker spaniel's slightly grouchy habits and the small size of the miniature poodle.
In second place is the Siberian retriever, a mix between a Labrador retriever and a husky. They are very energetic and clever, and it's not uncommon for them to have multi-colored eyes.
The Chug comes in third place. The Chug is a mixture of two small dog breeds, the pug and the Chihuahua. They are affectionate and adventurous, but they can also be quite vocal and bark a lot, especially if they feel they are not getting enough attention.
Most users who left comments on the video loved the dog and couldn't get enough of him. One user, Erin C, commented: "I'm gonna need 10 of them." And glasgobhoy added: "absolutely gorgeous."
Another user, kuromi, said: "every golden mix I've ever seen looks like a golden dressed up as the other breed." And Alexa Jones added: "hmm it's almost as if some genes are dominant."
Gracie said: "Praying mass breeding doesn't start but omg I need to cuddle him." And canmomz said: "now that's cute [AsF***]."
Another user, Il.sassolino, wrote: "It looks like an undercover Golden in mission lmao." And Hugh.g.rexion said: "it's like someone just painted a golden retriever in rottie colours."
Alexandra Schipper added: "perfectly mixed. love it! beautiful dog."
Newsweek reached out to jackson.and.bear for comment. We could not verify the details of the case.
Do you have funny and adorable videos or pictures of your pet you want to share? We want to see the best ones! Send them in to life@newsweek.com and they could appear on our site.