Shelter's Longest-Serving Dog Adopted After Viral Clip Shows He's 'Ignored'
On September 12, Newsweek reported on the story of a rescue shelter's longest-serving canine resident, and, since his story captured attention online, Sarge the dog has now found a home.
Photographer Albert Harris, who works for Orange County Animal Services in Orlando, Florida, shared a video of Sarge in his kennel on TikTok, where it received more than 3 million views.
Sarge had been at the rescue center for over 70 days and was still being overlooked, but thousands of readers wrote in to support the dog.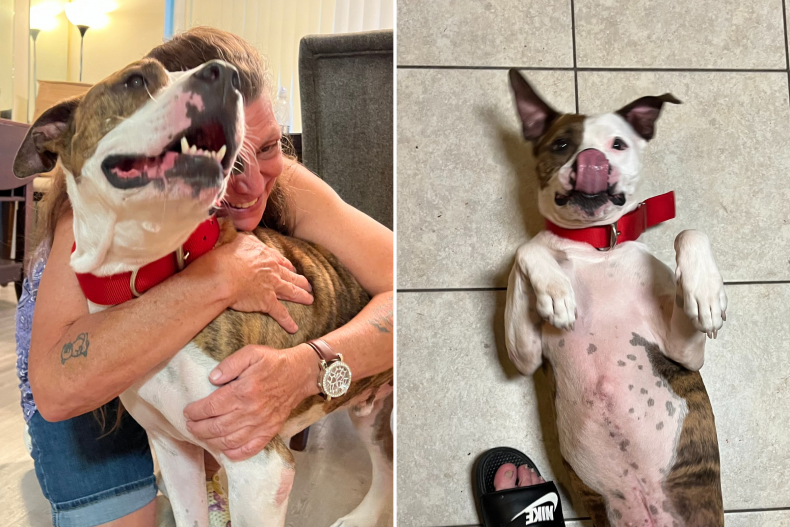 ​​Data compiled by Rainwalk Pet Insurance in 2022 revealed that 4.1 million animals are adopted in the U.S. each year, including 2 million dogs and 2.1 million cats.
While 90.5 million households in America own at least one pet, there are still 920,000 animals euthanized in shelters every year.
Senior cats and dogs are least likely to find their forever homes and be adopted from shelters, while puppies and kittens are most likely to be snapped up for adoption.
Since the story, Sarge has been adopted by his new family, and owner Christy Ditto told Newsweek: "It was 100 percent meant to be. I am an animal lover, and about a month ago, I was scrolling the shelter's page and saw him. He drew my attention right away. He was gorgeous and looked super sad."
As an older dog, Ditto felt that Sarge would be calm and a great canine companion: "I thought to myself no way my hubby will let me bring home this old guy and went about my business.
"Then your story came, and there is his beautiful face," said Ditto. "My hubby texted me a picture and I was like, 'I can't believe no one wanted this poor guy. He's been there forever.'"
As soon as the couple discussed Sarge, they immediately contacted Orange County Animal Services to let them know they were on the way.
Before long, Sarge was home with his new family where he is making himself comfortable: "He has absolutely settled in," said Ditto.
With millions of viewers on TikTok and readers of the first story about Sarge, thousands of people have come forward to share their good wishes.
"I think it's amazing how many people have reached out, and I respect and appreciate so many people who wanted to help but were unable to," said Ditto.
Now spending his days showered in cuddles and playtime, Sarge has delighted his new family: "He is like having a best friend with you all the time and he is the most loving," said Ditto. "He has stolen our hearts for sure."
Do you have funny and adorable videos or pictures of your pet you want to share? Send them to life@newsweek.com with some details about your best friend and they could appear in our Pet of the Week lineup.