Internet Loses Its Mind After Man Puts Pedometer on 'Lazy' Bulldog: 'Goals'
How often do you actually reach your 10,000 steps per day? Sure, there are occasional days where it's easy but most of the time that goal seems unreachable. And for one dog, who's become a Tiktok sensation, that goal is unreachable every day of the week.
Pablo, the bulldog star of Tiktok account @bulldogpabs, entertained the internet in a recent viral video, in which his owner attaches a pedometer to the pooch to see how many steps the dog takes while home alone during the day.
The video begins with a man putting the pedometer on one of the dog's legs and announcing that the time is 9:15 a.m.
"I'm going to give you… until before the kids get home, until half two—I'm gonna check on you," the man says to the dog. "I expect at least 1,000 steps today. Do you understand me?"
The video then cuts to later in the day, when the man says: "He's in the spare room."
He finds the dog lying splayed out on a bed. The man checks the pedometer before exclaiming: "Why are you so lazy? 108 steps in five hours!? Do you think 108 steps is acceptable?"
The hilarious video has attracted more than 2.2 million views, 178,000 likes, and more than 1,400 comments. Most TikTokers responded with humorous quips, including @neshika1230 who wrote: "That includes 18 attempts to get up on the bed."
"Never been able to relate to a dog so much in my life," @over_rated87 commented, while @clairelouise80 wrote: "It was more then I was expecting pablo so I'm proud of ya."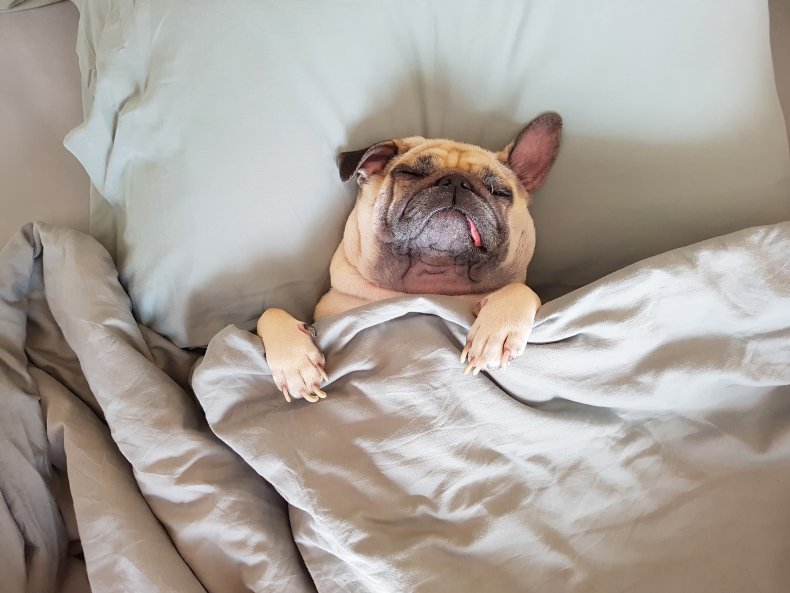 In fact, Pablo probably struggles more than other dogs to hit his step-count goal because of his size, according to research published by the British Journal of Nutrition. The study aimed to assess the relationship between the physiological condition of dogs and their activity levels. After putting pedometers on 77 dogs, researchers monitored their activity over a 10-week period. They found that daily step counts ranged from 5,555 to 39,970 and concluded that the larger the dogs were, the fewer steps they tended to take.
Some Tiktok users who saw the video were more sympathetic to Pablo, including @p31f who commented: "Why did you start so high? Next time let's start at 10 steps and work us towards 100 steps lol."
Likewise, Tiktoker @nicnacpaddywac3 responded, "Oh god me and pablo are step buddies," while @kellyhawt commented, "Goals."
@ixnaye said, "that is one round trip to check the food bowl and back to bed," and @crystalclearcoaching noted, "Pablo is literally the reason I open tik tok."
Summing up how most felt watching the video, @masieramirez simply wrote, "Pablo is my spirit animal."
Newsweek reached out to @bulldogpabs.