Dog Who Really 'Misses His Daddy' When He's Away Has Internet in Tears
A video of one dog's heartbroken reaction to learning their "daddy" won't be home that night has got viewers welling up.
In the footage, Tyson the cane corso can be seen slumping to the floor after being told one of his human parents would be "coming home tomorrow."
The clip, which was posted to TikTok under the handle Tyson_Corso, can be watched here.
At the time of writing, the clip had accumulated 7.1 million views—and with good reason. For many pet owners, the relationship they have with their dog is on a par with that of a parent and their child.
A survey of 2,000 American pet owners conducted by pet food company I and Love and You, found that 78 percent of respondents considered their pets as much a part of their family as any other member.
The survey also found that 34 percent of parents surveyed considered their pet to be their favorite "child." To see these kinds of feelings seemingly reciprocated by a dog like Tyson only adds to the emotional punch that this particular clip packs.
At the beginning of the clip, Tyson can be seen standing near the front door, evidently eagerly awaiting his "dad's" return. But after being told he won't make it back that night, the dog's demeanor quickly changes with a sad expression playing across his face as he sits down.
The camera zooms in on Tyson, capturing his apparent heartbreak at learning this news. "I'm sorry, baby," his human "mom" tells him, but her words offer little consolation for the saddened canine, who looks about as close to tears as a dog can possibly get.
Even the promise that "you get to sleep with mommy in the bed" does little to stir him out of his mood, with Tyson shown looking wistfully off into the distance as the clip ends.
The video clearly struck a chord with fellow pet lovers who felt compelled to comment on the video. Elsa Maldonado45 commented: "He misses his daddy" with Scott Frecko adding they are "not called man's best friend for no reason." MichelleEricT said: "That sad look is killing me!" while xxkingclawzyjr agreed: "it's killing me."
Otniel1234 sympathized with the pet owners on the video, writing: "My dogs stay by the window till I'm back home, there is no better loyalty and love in this world, they are family, wish they live forever." Faldoma, meanwhile, concluded: "If we loved each other the way dogs love the world would be a better place."
Eager to placate some of those viewers desperate to see Tyson reunited with his "daddy" a follow-up video was duly posted to TikTok showcasing the happy embrace between man and dog.
Newsweek has contacted tyson_corso for comment.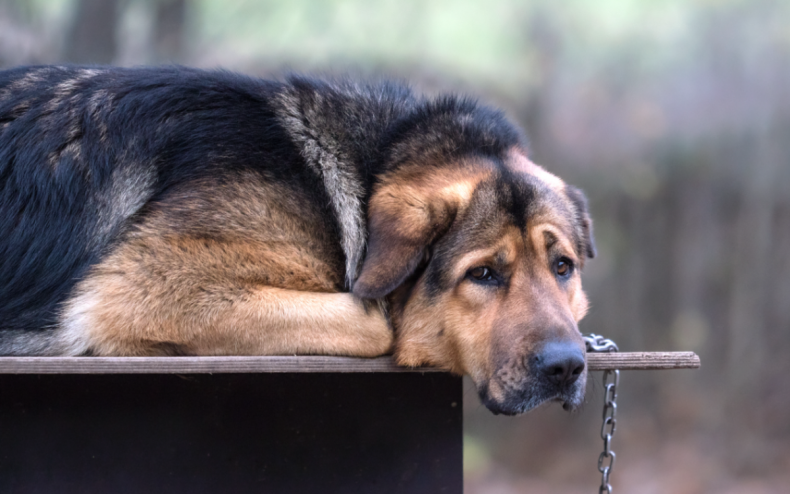 Do you have funny and adorable videos or pictures of your pet you want to share? We want to see the best ones! Send them in to life@newsweek.com and they could appear on our site.