Dog Rescues Drowning Puppy From Swimming Pool in Incredible Video
They say dogs are a man's best friend, but if this recent viral video is anything to go by they are also pretty good to each other.
In the clip, shared to Twitter by @RexChapman, we can see a small white puppy falls into a swimming pool and is rescued from drowning by a larger black dog.
The footage, which was captured on CCTV, first shows the heart-stopping moment that the little puppy topples into the water, then their subsequent panic as they fight to keep from being submerged.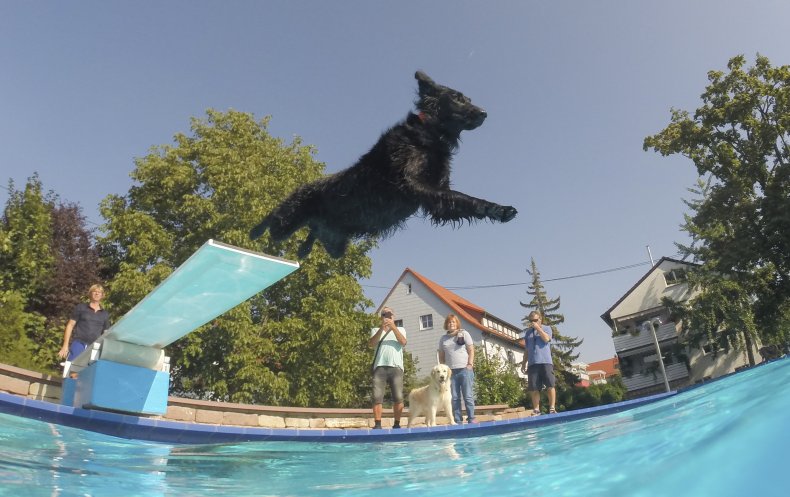 Luckily, however, the black dog was in the vicinity and ran to the help of their fluffy friend.
At first they bark loudly, attempting to raise the alarm.
When no-one comes to the puppy's aid the dog then manages to drag them to safety by the ear.
The post's caption reads: "Security cameras caught something pretty amazing. We don't deserve dogs."
Naturally the video has gone viral, having been liked over 296,000 times and retweeted more than 50,200.
One Twitter user, @darcelle424, commented: "I need someone to look out for me like that because I'd be the one falling into the pool because I was looking the wring way [sic]."
Another, @dagnyfan, added: "It took the big dog 38 minutes, but he did it. The family watched once they got home and could tell something had happened.
"They also said the dogs go swimming WITH the family regularly, but this was definitely not a good situation for the little guy-he was clearly in trouble."
A third, @nicole9099woof, revealed the breed of the hero pooch, writing: "It's a Staffie. I have two of them and I can confirm they are the most loyal and protective dogs."
Meanwhile a fourth, @buitengebieden_, agreed with the sentiment of the video's original sharer, and wrote: "He even trying not to hurt his little buddy..
"We really don't deserve them.."
However, if you are a fan of dog-related videos, why not also have a peek at this hilarious clip of a dog being chased around a garden by a chicken?
The heart-warming footage shows the unlikeliest of play partners, as the bird appears hot on the tail of their furry pal.
At one point the dog even manages to dodge the bird, who leaps up into the air in a comical fashion just like a scene out of cartoon.
The warm-hearted video was shared on Twitter by user @StrictlyChristo, alongside the caption: "Best game of chase, ever".