In a small town in Greece, a dog waits patiently for his master to come home every day. While this is common for canines, in this case, his master won't be coming home—he was killed a year and a half ago.
The unnamed white dog waits every day by a roadside shrine in Nafpaktos, TK. The monument stands where his owner, a man named Haris, collided with a cement mixer on November 9, 2017. Haris' death surprised the community as his brother had died nearby only a few years before.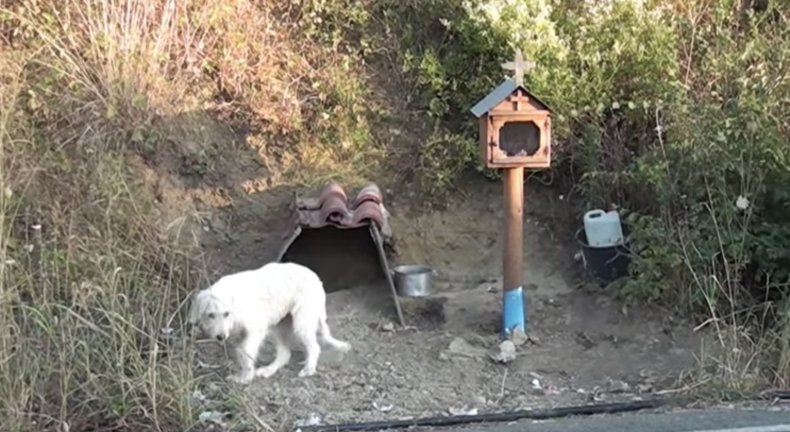 The community erected a roadside shrine at the site of the accident, about seven-and-a-half miles from his home. And ever since, Haris's dog stays at the shrine all day, waiting for his owner to come home.
Various Nafpaktos residents have tried giving the dog a new home, but he always returns to his master's monument. They've since given up and set up a little shelter with a blanket for him, and give him food and water.
Though the dog's name was not reported, some are calling him the "Hachiko of Nefpaktia," after the famous real-life dog from Japan.
Hachiko, a purebred Akita born in 1923, was owned by Hidesaburō Ueno, a professor at Tokyo University. The two were inseparable—people claimed Ueno treated the dog like his own son. Every day Hachiko would walk to Shibuya Station when Ueno was due back home from work.
Sadly Ueno died of a cerebral hemorrhage in 1925, when Hachiko was only 2. But that didn't stop the loyal companion from waiting for his master. Until his death some nine months later, Hachiko would walk to the station and wait for Ueno.
After Hachiko died, he was buried next to Ueno. His fur was preserved, stuffed, mounted and put on permanent display in the National Museum of Nature and Science. A bronze statue of Hachiko was erected at Shibuya Station in 1934.
There have been other tales of dogs loyal beyond death: Last year, a woman in China died on a road in Inner Mongolia. For months afterward, her dog kept wandering the street she perished on.
During World War II, an Italian factory worker took home an injured dog he found by the roadside. After he nursing the pup back to health the dog, now named Fido, starting following his owner to the bus station every day. Even after the factory was bombed and his owner killed, Fido returned to the bus station everyday.
In the 1860s, a Skye terrier known as Greyfriars Bobby guarded his owner's gravesite in Scotland for 14 years. Shortly after the Bobby's death in 1872, a statue of was erected at the corner of Edinburgh's Candlemaker Row and George IV Bridge.