Dog Looking Concerned While Waiting for His Puppuccino Delights Viewers
A hilarious video of a dog waiting for his Puppuccino has gone viral on TikTok, with over 800,000 views.
In the video, the adorable pup stares intently through the window while their owner waits patiently at a Starbucks drive-through.
User Alejandro filmed the clip from the other side of the counter, captioning it: "Wonder if he shares tho."
The Puppuccino is essentially an espresso cup filled with whipped cream and is reportedly part of the "Starbucks secret menu," a phenomenon that has an almost cult following, and the corresponding hashtag has over 420 million views on TikTok.
The menu is comprised of creative drinks inventions, and according to Good Housekeeping magazine, "offers tons of iced, frozen and hot coffee options crafted by local baristas," including some recipes from TikTok.
According to an article in Glamour magazine online, there's a knack to getting your hands on these unique drinks, and it's all in the ordering. "Simply asking for 'the Purple Drink' won't cut it (and will probably bug your barista)—you have to be specific when it comes to what's in them," according to Glamour.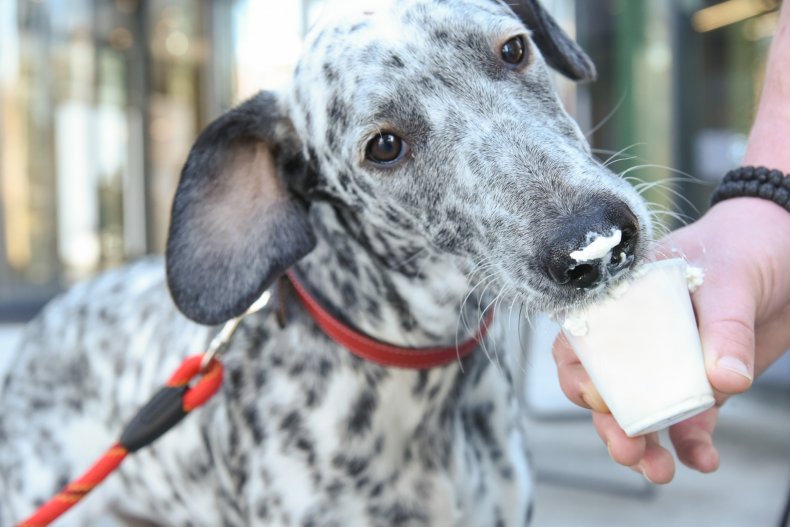 If the mood takes you and you simply can't resist a "Blackberry Cobbler Frappuccino," then, according to Glamour, you need to order "a Vanilla Bean Crème Starbucks Frappuccino (from the regular menu, not the Starbucks secret menu). Add white mocha syrup (2 pumps for a venti, 1½ for a grande, and 1 pump for tall). Add blackberries."
As fall is now upon us, you may want to get your hands on an Apple Pie Frappuccino, according to Glamour you need to ask for, "½ cup milk combined with ½ cup apple juice. Add 2 pumps each cinnamon syrup and caramel syrup. Add ice and blend."
The ever-popular theme of mermaid can be manifested into a drink if you order "a Vanilla Bean Crème Frappuccino. Add freeze-dried blackberries. Line the cup with green mixed drizzle (white mocha sauce, toasted coconut syrup, and matcha powder). Top with whipped cream and additional drizzle or matcha powder."
TikTok users were delighted by the dog in the viral video, with user Gustav Paragas commenting: "He will call corporate if he doesn't get his pup cup."
user2697096993539 said: "Why y'all making him wait, make it a double and chop chop."
weratedogs commented: "Listen he is waiting VERY patiently. Get him his pup cup!!"
Arely Hernandez joked: "The most adorable Karen."
Do you have funny and adorable videos or pictures of your pet you want to share? Send them to life@newsweek.com with some details about your best friend and they could appear in our Pet of the Week lineup.