Dogecoin Hits All-Time High As Fans Hope Crypto Will Climb Past $1
Dogecoin has become the No. 1 trending topic on Twitter in the U.S. after the cryptocurrency's price surged by more than 50 percent in 24 hours.
The token reached an all-time high of $0.69 before dipping slightly. This brought Dogecoin's market capitalisation—the total value of all tokens in circulation—to $87.3 billion, according to the website Coindesk.
After Dogecoin passed $0.50 for the first time on Tuesday, many investors and fans began talking about it on social media, expressing their hope that it would hit the dollar mark.
The digital currency, which was set up as a joke in 2013, has recorded a huge price rise this year. Its seven-day average price is up 7,555 percent since December 2020, as the Statista chart below shows.
A significant portion of this increase has taken place in the past few weeks, driven in part by celebrity endorsements from Snoop Dogg, Kiss bassist Gene Simmons, investor Mark Cuban—and particularly SpaceX and Tesla CEO Elon Musk.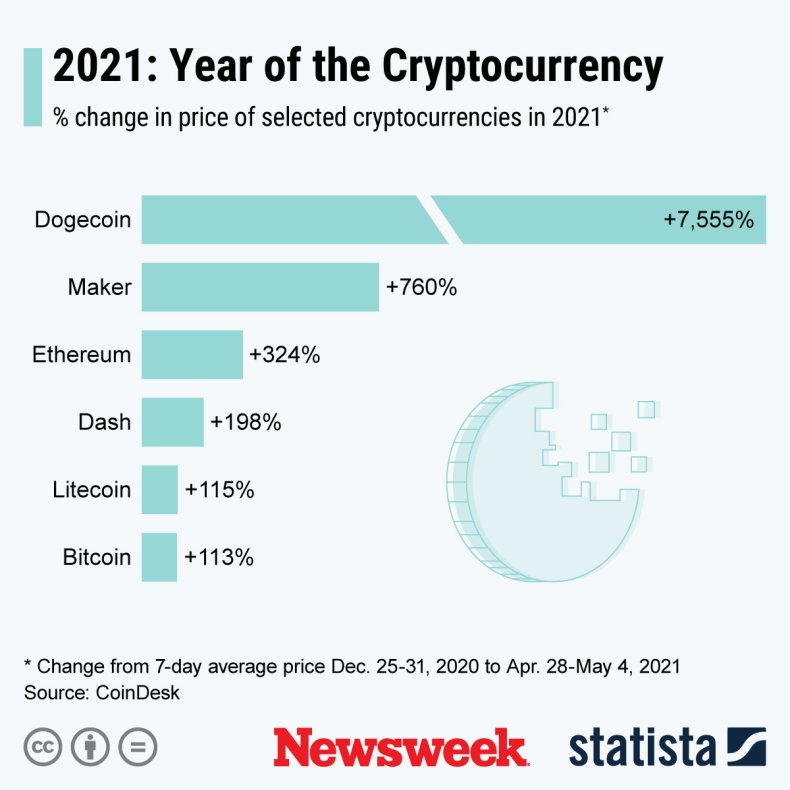 Ed Moya, a market analyst at trading platform Oanda, attributed Dogecoin's latest surge to Musk's upcoming appearance on Saturday Night Live.
Moya wrote on MarketPulse that digital currency traders "do not want to miss out on any buzz" that results from the billionaire's turn as SNL host on May 8.
Musk often posts about cryptocurrencies—even claiming he will use his rocket company to put "a literal Dogecoin on the literal moon"—and he is widely expected to refer to Dogecoin on SNL.
On April 28, the crypto's price rose by 20 percent after he tweeted, "The Dogefather, SNL May 8."
Despite Dogecoin's surge, financial experts have warned people to invest carefully. pointing to the volatility of cryptocurrencies.
Ben Weiss, co-founder of bitcoin ATM company Coinflip, told CNBC: "If any part of your brain goes, 'This is a way to make a quick buck,' that's when you should think twice."
The UK's Financial Conduct Authority has issued a number of warnings about high-risk investments such as cryptocurrencies.
In January, the FCA said investing in crypto "involves taking very high risks." It added: "If consumers invest in these types of product, they should be prepared to lose all their money."
Two months later the FCA warned that younger people were taking on big financial risks, "potentially prompted in part by the accessibility offered by new investment apps."
Sheldon Mills, executive director of consumers and competition at the FCA, said: "We are worried that some investors are being tempted—often through online adverts or high-pressure sales tactics—into buying higher-risk products that are very unlikely to be suitable for them."
Dogecoin also had a price surge last month, rising to a high of $0.42 on April 19. Four days later, the price had tumbled to $0.19.