Dogecoin Joke Cryptocurrency Spikes As r/WallStreetBets Redditors Troll Hedge Funds
The value of a meme cryptocurrency called Dogecoin rose on Thursday morning amid speculation on Reddit that it could benefit from a surge of interest in financial trading sparked by the r/WallStreetBets community this week.
Price trackers logged a sudden upwards trajectory between January 27 and January 28 as Dogecoin's value increased by more than 70 percent, reaching a peak of $0.0138 before falling to approximately $0.01, in the space of about two hours.
According to CoinMarketCap—which monitors cryptocurrency values—Dogecoin was up by over 60 percent in the last 24 hours at the time of writing, and it appeared to be rising again. Trading volume in the last 24 hours was up by over 1,000 percent.
Dogecoin, listed as DOGE on the crypto markets, was launched in December 2013 and takes its branding from an internet meme focused on the Shiba Inu dog breed.
It was created by two software engineers—Billy Markus and Jackson Palmer—as a fork of the cryptocurrency Litecoin. Unlike Bitcoin, which remains the dominant force in the industry, Dogecoin's website says it is pitched as a "fun and friendly" alternative that has fostered a community of fans, many gathering on a dedicated Reddit page.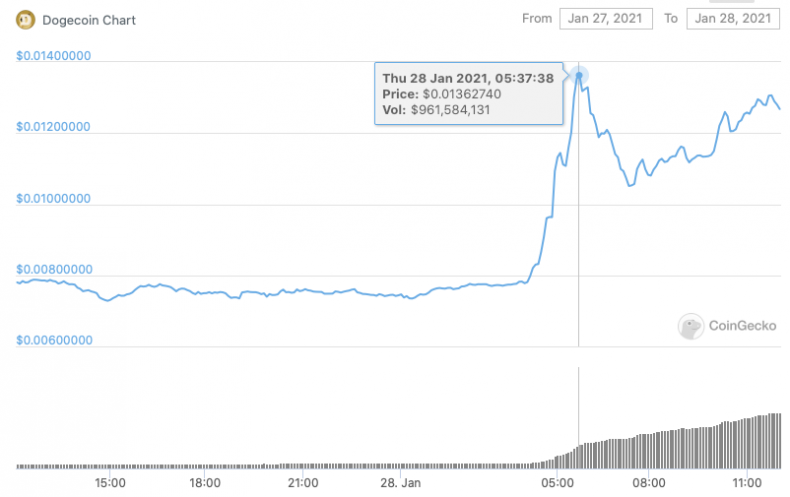 While it capitalized on jokey internet culture, its low values mean that it's been used for "tipping" on websites, providing a small reward for sharing good content.
DOGE was previously embraced and promoted by Tesla and SpaceX CEO Elon Musk, who is known for sharing or referencing internet memes on Twitter. Last December, he wrote: "One word: Doge," a post that caused the value to rise by 20 percent.
The small rise of Dogecoin this week appears tied to heightened activity on social media and Reddit, with users seeking to capitalize on U.S. stock trading disruption.
As previously reported, the r/WallStreetBets subreddit and its Discord server have made headlines by pouring money into GameStop stock with the intention of pushing back against hedge fund short sellers betting that the gaming retailer would fail.
On Tuesday, Musk tweeted a link to r/WallStreetBets with the caption "Gamestonk!!" GameStop stock rose by around 50 percent in extended trading.
As of Thursday morning, GameStop stock was up by over 1,000 percent since January, and members of the subreddit SatoshiStreetBets—which describes itself as "the crypto version of WallStreetBets" and takes its title from the name associated with Bitcoin's creator Satoshi Nakamoto—were trying to replicate the epic price movements.
"It's go DOGE! Another $1,500 bought let's get to $1. We can do this guys!" one person wrote. Another post said: "DON'T LET IT FALL!!! BUY BUY BUY! LET'S GET IT TO $1. A third person said: "First crypto buy ever. ALL HAIL DOGE. $1 COMING UP."
Members of both r/SatoshiStreetBets and r/dogecoin have said they are hoping to pour funds into the cryptocurrency and force its value up to at least $1 per coin.
In a post on r/dogecoin that attracted over 170 comments, one user wrote: "After seeing this whole GameStop stuff I'm pretty sure we're aware of the power of the internet and the power in numbers, we all should rally for doge and drive the price up."
One Reddit user replied: "I missed the waves on GME and won't make the AMC train but I've got a few thousand DOGE that I wanna ride to the moon!"
The push has also extended to Twitter, where some users have been calling for Musk's support to boost DOGE's value while spreading memes about the cryptocurrency.
Another possible catalyst for the small rise in Dogecoin's value overnight came from a joke exchange on Twitter between professional esports commentator Alex "Goldenboy" Mendez and a profile posing as the chairman of r/WallStreetBets.
The @WSBChairman account wrote in a post that attracted thousands of comments and likes: "A lot of you are talking about Dogecoin. What's that? A meme crypto?" Mendez, who had been tweeting about the stock market, replied: "Get $DOGE to the moon Mr. Chairman person man." In another tweet, Mendez later added: "Go $DOGE Go!"