Dogs Adopted After Joint 301 Days in Shelter Thanks to 'Magical' Campaign
A "magical" campaign has helped two dogs finally find their forever homes after they spent a combined 301 days in a shelter.
The Animal Foundation shared an extra special appeal on its Instagram page on February 28 with a Harry Potter inspired theme.
Titled "Our longest residents are magical," the rescue team sorted some of their longest-serving pups into Hogwarts houses including Gryffindor and Slytherin.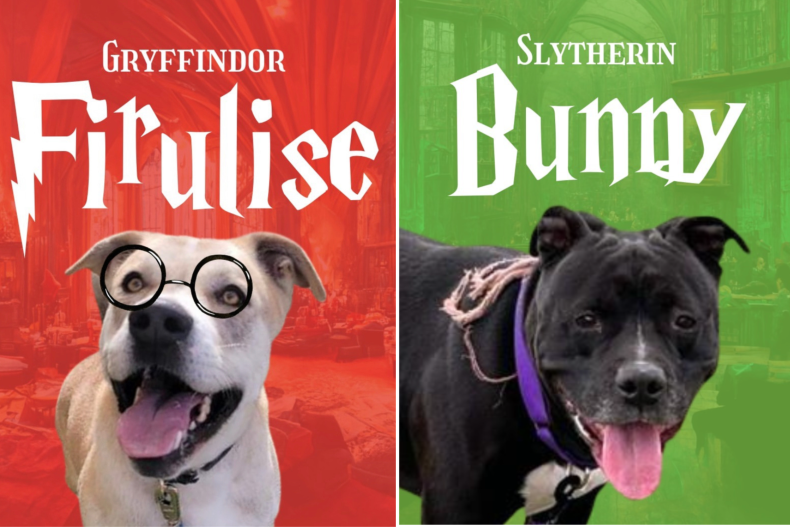 After sharing the post, The Animal Foundation was excited to announce that two of its longest-serving residents were now adopted and heading to their new homes.
The non-profit organization based in Las Vegas was founded in 1978 as a low-cost spay and neuter clinic, and today is one of the highest volume single-site animal shelters in the U.S.
Taking on animals in need from dogs and cats to rabbits, pigs, chickens and even exotic animals, the shelter aims to give animals a happy home and future.
In the U.S., more than 6 million companion animals enter shelters each year. While many animals will go on to find their forever home, some have a longer journey than others.
Recently a shelter dog who had zero adoption inquiries finally found her forever home after gaining viral attention, while another rescue pup proved just how special they were when they saved their owner's life just one month after being adopted.
Firulise and Bunny are two of the shelter's recent success stories, proving just how important the work they do is.
"The day Firulise was adopted, he was with us for 197 days," Allison Ford from The Animal Foundation told Newsweek. "Firulise originally came to us as a stray. He was actually adopted one time during his almost six-month stay with us, but the owner wasn't prepared for his energy levels, so they returned him shortly after."
A 2020 study examined the frequency of and reasons for shelter animals being returned. In the U.S., the number of adopted companion animals returned to shelters is estimated to be anywhere between seven and 20 percent.
Following adoption at one shelter in Austin, Texas, statistics revealed dogs are most commonly returned for behavior issues related to aggression (38 percent), and cats are most commonly returned due to the adopter's personal reasons (56 percent). More than half of the animals returned following adoption were owned for more than 60 days before coming back to the shelter.
"Firulise is an adorable, friendly dog, but he has a LOT of energy. He needed some time and a lot of extra effort on our part to find him the perfect family," explained Ford.
But Firulise finally found his perfect home and after almost 200 days at the shelter, is enjoying settling in with his new family.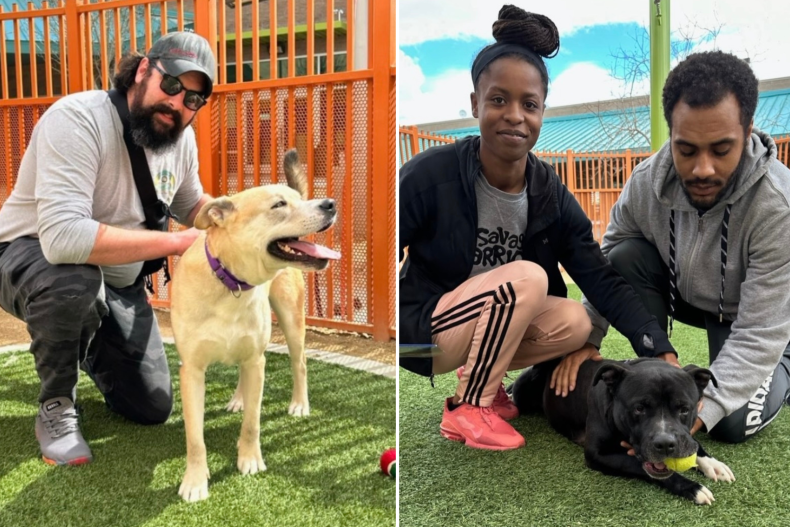 "Firulise has gone to his new home—he now has a loving family that will play with him and get his zoomies out of his system," said Ford. "Watching his new dad, Austin, play with him in one of our play yards, you could see they had an instant connection. Austin said he was drawn to Firulise because he reminds him of a dog he grew up with. We're so excited for them."
Another shelter success story is Bunny, who also recently found his forever home after 104 days at The Animal Foundation.
"Bunny also came to us as a stray, and after going unclaimed, he moved to our adoption center," said Ford. "Bunny is a beautiful dog with great manners, but unfortunately, pit bulls have a bad reputation, so they're often harder to get adopted."
Pit bull dogs often see a lot of bad press, but they aren't actually a specific breed. Often referring to bulldogs and terrier breeds, "pit bull" is a generalized term for dogs with medium to large stature, short hair, wide heads and strong jawlines.
These dogs were bred for strength and were capable of biting the head or neck of a bull, bear, lion, or other large game mammals. Dog bite incidents often cite pit bulls as the offending party, and the breed is even banned in many cities across the world.
But dog behavior experts and rescue teams agree that any dog has the potential to be aggressive and bite when they haven't been properly socialized and trained, and properly cared for a pit bulls can definitely be as loving and adorable as any other dog.
"Bunny's new adopters, Taliyah and Dallas, are so grateful to have found him," said Ford. "They actually came in to look at another dog, but after passing Bunny's kennel, they knew he was the one meant for them. Bunny is already in his new home, and his new family is happy to have a new snuggle bug with them."
Do you have funny and adorable videos or pictures of your pet you want to share? Send them to life@newsweek.com with some details about your best friend and they could appear in our Pet of the Week lineup.