Shelter Dog With 0 Adoption Inquiries for Months Finally Gets Forever Home
A shelter dog who had received no potential interest for months has been adopted by a family from Virginia.
Sky had been a resident at Stafford County Animal Shelter since November 2022, and until last week had not received one inquiry about adoption.
The shelter asked the public for help finding Sky a home in a post on its Facebook page that was re-shared on Twitter on February 27. Viewed by millions, the shelter shared a picture of Sky and details of her predicament.
She came to the shelter because she was not getting along with other dogs in her home, but since being there not one person had called or emailed about Sky or asked to visit her.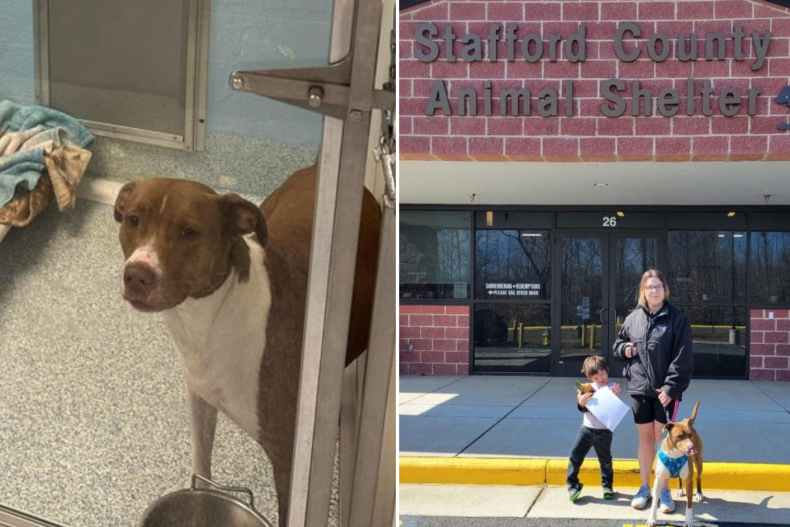 Introducing two dogs isn't always easy, and care must always be taken when putting dogs together to avoid any issues.
"It's not common for dogs to have absolutely zero inquiries," Stafford County Animal Shelter told Newsweek. "We at least see a few people interested in the animals. Unfortunately, because of her breed—Pit bull mix—and her requirements—no other animals—we think this may have played a role in the fact she received no inquiries."
The Stafford County Animal shelter in Virginia has been operating for over 50 years as a county facility, and currently has 31 animals available for adoption and 17 animals in their foster care.
Data from the American Society for the Prevention of Cruelty to Animals (ASPCA) reported that 6.3 million companion animals will enter shelters every year in the U.S., including around 3.1 million dogs and 3.2 million cats.
In 2022, data from animal welfare organization The Best Friends Animal Society revealed that the number of pets euthanized in shelters had increased for the first time in five years in 2021. This followed a historic low of animals entering shelters in 2020 due to staff shortages and shelter closures.
Asking for people to come forward if they could be a match for Sky, the viral post read: "She is a wonderful companion. She does great with all people and loves going for walks with our volunteers. We are confident she will make someone very happy, she just needs a chance."
But when the post went viral, the calls began flooding in to Stafford County Animal shelter.
"We had over 200 inquiries after the post was made and three different news channels reach out to us," they said. "It was very overwhelming but in the best way possible."
The shelter were even forced to apologize to potential adopters as they had so many inquiries about Sky they could not answer them all.
But on March 1, the shelter shared the happy news that Sky was going to a new home.
"She went to a family with children. She did very well with the kids and the family that met her," said the shelter. "They are located in Virginia, two hours away from our shelter."
Sky's new owners made the journey to collect her and was ready to head to her new house where she will be the only dog and have a fully fenced backyard for her safety.
"She will be the only dog in the home and very spoiled," the shelter explained. "The family plans on making up for lost time that she deserved."
Do you have funny and adorable videos or pictures of your pet you want to share? Send them to life@newsweek.com with some details about your best friend and they could appear in our Pet of the Week lineup.