Doorbell Camera Captures Bernedoodle's Epic Fall Up The Stairs: 'He's Okay'
TikTok users have rushed to express their concern for a Bernedoodle pup captured on camera falling down a flight of steps.
In a now-viral social media video, which can be seen here, the adorable dog appears to comically fall over a large step while running to greet his owner.
The Bernedoodle looked to be trying to get up the steps, but ended up falling all the way down.
While his owners frantically ran to check if he's feeling OK, the pup appeared to have been left unscathed by the sudden fall.
The social media video seems to have been a spontaneous and unplanned moment that had been captured on a front door security camera.
The video was captioned: "Oh the things you catch on the ring camera! Promise he's okay!"
The TikTok clip, which had been shared to the social media platform by @KTrotts on February 4, has been viewed over 2 million times to date, making it Kelsey Trotter's most popular post. The video has also been liked more than 140,000 times.
How Can You Help Your Dog After A Fall?
Although cats are notorious for possessing 9 lives, 8 of which they can discard by falling at extreme heights, dogs are less resilient and more prone to serious injuries when dropped.
This risk of injury is more prominent for pups with sensitive bone structures and backs, such as Dachshunds.
"Even though they have four feet, it only takes a stumble on one foot to make a dog come tumbling down. Dogs that fall from heights can suffer sprains, broken bones, head trauma, and chest or abdominal injuries. Small dogs can incur the same degree of injury falling from much smaller distances," VCA Animal Hospitals had previously wrote.
The animal hospital firm advised owners who spot their dog falling from a height to immediately take them to a veterinary clinic, where they can be evaluated and treated by a professional.
However, there are steps that paw-rents can follow if they wish to soothe their pups at home before taking them to see a vet.
What Should You Do If Your Dog Falls From A Height?
1. Monitor their breathing. If your dog struggles to breathe then they will need emergency veterinary care. Some dogs, like the Bernedoodle, appear normal after a fall. To be on the safe side, owners should monitor their pet for the next 24 hours. Warning signs to look out for include the dog becoming lethargic or struggling to breathe.
2. Transporting the pup to an animal hospital can be difficult if the pup has broken a limb. VCA Animal Hospitals advises owners to gently carry smaller breeds into the car, and to make a sling out of a towel or blanket to help larger breeds into the car.
3. Dogs with potentially broken limbs need to stay as still as possible to avoid fracturing their lungs. The animal hospital firm adds that owners should not let their pup struggle. "If the dog prefers to lie down or sit up, let them do it," VCA Animal Hospitals writes.
4. If your dog stops breathing during the car journey, owners should ventilate their pup to keep their oxygen levels up. This can be done by creating a funnel by wrapping your hands around your dog's muzzle. Owners must then keep their pup's mouth closed and breathe into their nose. "Give 15-20 breaths per minute until the dog starts breathing on their own or until you have reached the emergency hospital," VCA Animal Hospitals concludes.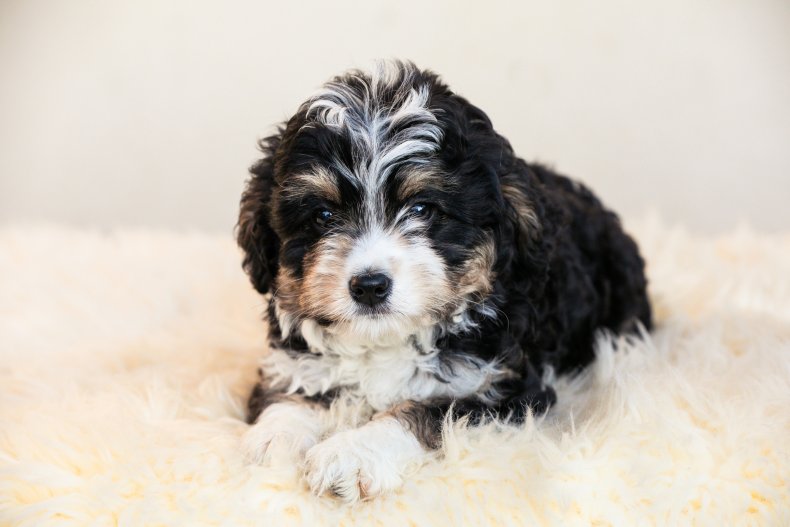 What Do The Comments Say?
Concerned TikTokers rushed to express their sympathy for the Bernedoodle, and praised how attentively his owners checked on him afterwards.
"The dad going to check her immediately," one user wrote.
Another user commented: "The reaction from the parents shows how loved the fur baby is."
Trotter responded to the worried commenters by sharing underneath the post that the pup is "doing fine."
Do you have funny and adorable videos or pictures of your pet you want to share? Send them to life@newsweek.com with some details about your best friend and they could appear in our Pet of the Week lineup.