DOJ Files for Restraining Order to Halt Ban on Tear Gas Use by Seattle Cops
On Friday, the U.S. Department of Justice (DOJ) filed a motion in a U.S. District Court for a temporary restraining order against a Seattle City Council directive requiring the Seattle Police Department (SPD) not to use tear gas against protesters. The directive was set to go into effect on Saturday, July 25.
The DOJ's filing aligns with the views of SPD Chief Carmen Best. Best expects this weekend's protests to have more attendees in response to Seattle Mayor Jenny Durkan's Friday announcement that federal law enforcement agents will be entering the city over the weekend to protect federal buildings.
The presence of federal agents in Portland, Oregon intensified racial justice protests there as demonstrators rallied against the agents' presence and use of force.
Best has said that banning tear gas as a crowd-control measure will impede the SPD's ability to prevent looting, property destruction and violence during weekend protests.
"While City Council may have intended the ban on these less-lethal implements to prevent the use of excessive force," the DOJ's court filing said, "the Directive ... removes them without providing training or alternative mechanisms to de-escalate or resolve the danger situations officers routinely find themselves in."
As such, the filing continues, banning tear gas increases the likelihood that officers will resort to use of hands-on force—like punches, kicks, batons and potentially deadly force—to stop any potential violence by unruly citizens.
"There is no reason not to assume we will continue to experience property destruction, arson, looting, and attempts to injure additional officers throughout the weekend and beyond," Best said. "As City Council's legislation goes into effect, it will create even more dangerous circumstances for our officers to intervene using what they have left—riot shields and riot batons."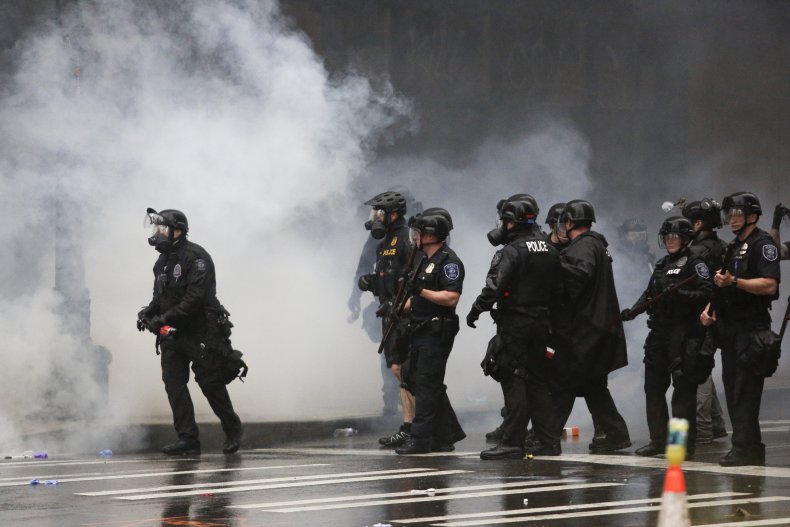 The DOJ's filing also alleges that the directive violates a 2012 Consent Decree agreement between the U.S. and the SPD which was meant to examine the SPD's alleged use of unconstitutional policing and excessive force during 2011. The Consent Decree requires any change in SPD's use-of-force policies to be reviewed by the United States and a federal monitor before being implemented.
Mayor Durkan initially said that the Department of Homeland Security (DHS) Acting Secretary Chad Wolf had told her on Thursday that the DHS had no plans to send federal agents into Seattle.
She later said at a Friday press conference, "I don't want to say I was lied to, but I think there was maybe semantics that weren't forthcoming."
Durkan and Washington state Governor Jay Inslee have expressed concerns that federal agents may escalate violence against racial justice protesters.
Federal agents in Portland, Oregon have conducted arrests in unmarked vehicles and used blunt impact munitions, flashbangs and tear gas, a chemical agent banned in war zones by the Geneva Conventions, against the city's protesters.