DOJ Files Statement of Interest In Case Against Gov. Whitmer, Calling Lockdowns 'Arbitrary and Irrational'
The U.S. Department of Justice (DOJ) has filed a Statement of Interest in a civil lawsuit challenging the COVID-19 shutdown orders of Democratic Michigan Governor Gretchen Whitmer. The statement, made on behalf of seven businesses, calls Whitmer's orders "arbitrary and irrational."
On March 23, Whitmer issued an executive order shutting down all nonessential businesses to help slow down the potential spread of coronavirus. Violating the order is a misdemeanor penalty with up to six months in prison and $1,700 in fines.
The DOJ's statement says that Whitmer's shutdown of non-essential businesses to protect public health doesn't "justify government restrictions imposed upon its citizens without legal authority." Such restrictions will "erode public confidence" in governmental efforts to control the spread of COVID-19, the statement claims.
"The facts alleged suggest that Michigan has imposed arbitrary and irrational limits on Plaintiffs," the statement reads, proclaiming that Whitmer's order and Gordon's enforcement of it "could violate the Equal Protection Clause of the Fourteenth Amendment" by designating certain businesses as "essential" and thus worth remaining open while it labels others as "nonessential" and worthy of closing.
The statement says that Whitmer's shutdown has caused "harm to interstate commerce" that may violate the U.S. Constitution's Commerce Clause which "prevents States from impairing interstate commerce."
"As the President and many States have recognized, the onerous restrictions on civil liberty that Americans have tolerated to slow the spread of COVID-19 cannot continue forever, and the Constitution will not allow them to do so," the statement reads.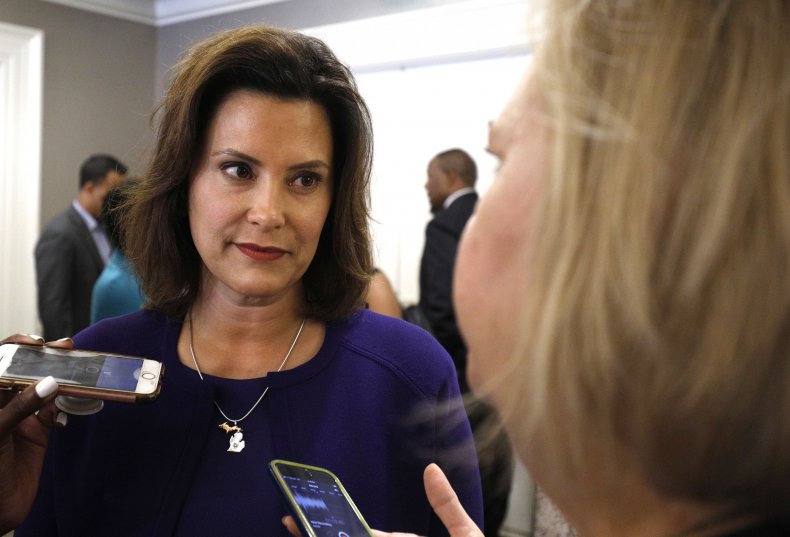 The statement says Whitmer's shutdown order is "arbitrary and irrational" because the businesses who filed a lawsuit against it claim they can safely operate without endangering the safety of their employees or clients.
In contrast, the statement says, in-person cannabis dispensaries have been allowed to continue operating during the epidemic while other in-person businesses have been forced to close. Other governors and mayors have attested that cannabis dispensaries serve an essential medical need during the pandemic.
While Whitmer's current orders have placed limitations on the number of customers allowed in certain businesses, like jewelers and realtor offices, forcing some of these businesses to only meet clients "by appointment," these restrictions don't apply to bicycle or auto repair shops, pet supply stores, garden stores or hardware stores, the statement claims.
"Consequently, the Orders permit an individual to go to a bicycle shop to repair a bike without an appointment; however, they criminalize going to a jewelry store without an appointment," the statement reads.
In another example, the statement says the governor's orders currently forbid 10 employees from operating a car wash business, but they allow 10 public citizens to host a community car wash.
"The burden imposed on such commerce is clearly excessive in relation to the [supposed] local benefits," the statement says. It also claims that the state effectively "flattened the curve" of new coronavirus outbreaks in April. However, the state has continued to average about 522 new cases each day in May.
The case in question was filed against Case brought by the residential brokerage company, Signature Sotheby's International Realty, Inc.; the Executive Property Maintenance company; the automotive product exporters, Intraco Corporation, Inc. and Casite Intraco; jewelry repair shop, Hillsdale Jewelers; Shortt Dental and the Midwest Carwash Association.
It's just one of several cases against Whitmer's orders currently making their way through the courts. A lawyer in one of the cases told Newsweek that the state supreme court may decide to consolidate the cases into one case to help expedite the judicial process, helping everyone to know how to proceed.
Newsweek reached out to Whitmer's office for comment. This story will be updated with any response.