DOJ Warns Los Angeles Mayor Over Lockdown, Says Extending Order May Be 'Arbitrary and Unlawful'
On Friday, the Trump administration wrote a letter to Los Angeles Mayor Eric Garcetti warning that his plans to extended his citywide Safer at Home orders cold be "arbitrary and unlawful." A Garcetti spokesperson has said they're still reviewing the letter.
"Reports of your recent public statements indicate that you suggested the possibility of long-term lockdown of the residents in the city and county of Los Angeles, regardless of the legal justification for such restrictions," wrote Eric S. Dreiband, assistant attorney general for the department's Civil Rights Division. "Any such approach may be both arbitrary and unlawful."
Dreiband pointed to recent comments from Garcetti and Los Angeles County's director of public health, Barbara Ferrer, which implied that the twice-extended March 19 orders could be prolonged to stay in effect until mid-August.
On May 12, Garcetti released a statement clarifying "While the city's Safer at Home order will remain in place beyond May 15, we will also continue to adjust the order gradually—to safely allow more activities, more businesses to operate, and more Angelenos to get back to work."
Newsweek reached out to Garcetti's office for comment. This story will be updated with any response.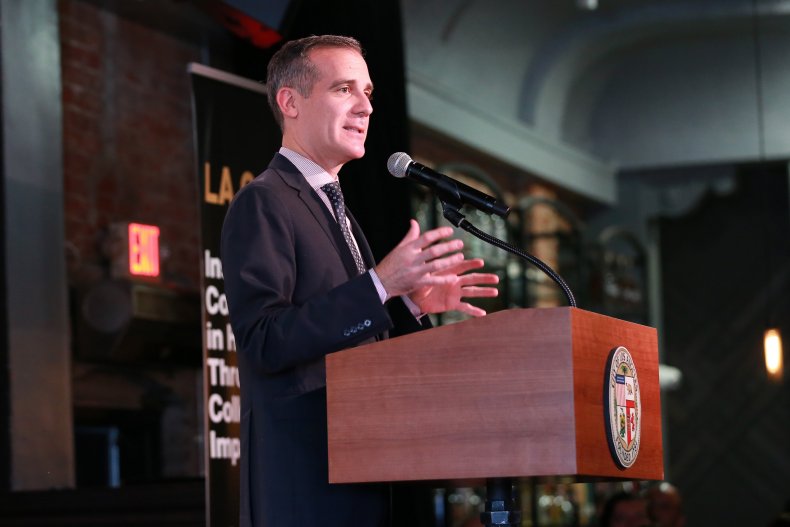 The Trump administration has generally pushed in favor of states and cities reopening their economies, even going so far as to voice support for anti-lockdown protesters who call statewide shutdowns fascism and violations of their constitutional rights.
On Friday, Dr. Deborah Birx, the White House's coronavirus response coordinator, identified Los Angeles a region experiencing a concerning and ongoing spread of COVID-19.
As of May 22, Los Angeles County has had 39,573 confirmed coronavirus cases and 1,193 related deaths—it remains the part of California most affected by the ongoing coronavirus epidemic. Tuesday, May 19 marked California's fourth-highest daily toll of new cases with 2,262 reported.
Los Angeles County reopened its beaches on May 15 and has also reopened its hiking trails and other public recreation areas including golf courses and tennis courts. Small retail shops have also been allowed to reopen for curbside pickup orders.
On April 29, Garcetti announced that his city would be the first major U.S. city to offer free coronavirus testing for residents regardless of whether or not they're showing symptoms. Tests were previously only available for those experiencing symptoms or people in essential high-risk occupations, like healthcare workers.
"We know the coronavirus is a silent killer that moves quietly through the population and many of the people who have the disease don't know that they have it," Garcetti said. "This illustrates why making testing available to anyone who wants it is essential."
Testing is available by appointment only.