Democratic Michigan Governor Gretchen Whitmer has asked Vice President Mike Pence to discourage the ongoing anti-lockdown protests that have occurred in her state out of fear the demonstrations might cause an outbreak in rural areas.
Michigan is currently the U.S. state with the seventh-largest number of COVID-19 cases in the country—46,756 as of May 11.
"We have seen from initial protests here is that we've got COVID-19 spreading in rural parts of our state, from which people traveled," Whitmer told Pence, according to ABC News. "And, and so, our ability to move on to the next phase and keep re-engaging our economy. I'm just concerned about it. We're going to keep watching those numbers and doing the tests."
"If discouraging protests is something you could consider doing," she added, "I'd really be grateful."
While Pence reportedly didn't address the protests, he later said "[The Trump administration] will continue to emphasize to people the safe and responsible practices while we'll move toward re-opening."
Newsweek reached out to Pence's office for comment. This story will be updated with any response.
On April 29, President Donald Trump offered support for anti-lockdown protestors by tweeting, "LIBERATE MICHIGAN." On May 1, Trump wrote on Twitter, "The Governor of Michigan should give a little, and put out the fire. These are very good people, but they are angry. They want their lives back again, safely! See them, talk to them, make a deal."
While Trump defended the tweets, saying that some state's social distancing policies are "too tough," Mary McCord, a former acting assistant attorney general for national security at the U.S. Department of Justice, accused Trump of inciting insurrection against elected governors and called his tweets "dangerous."
"What he's saying, when he has a Twitter following of millions and millions of people and gets instant coverage in the U.S. and all over the world, it's very very dangerous," McCord told Newsweek. "There are people, armed people out there who listen to what he says and they act up on it in ways that are not always peaceful."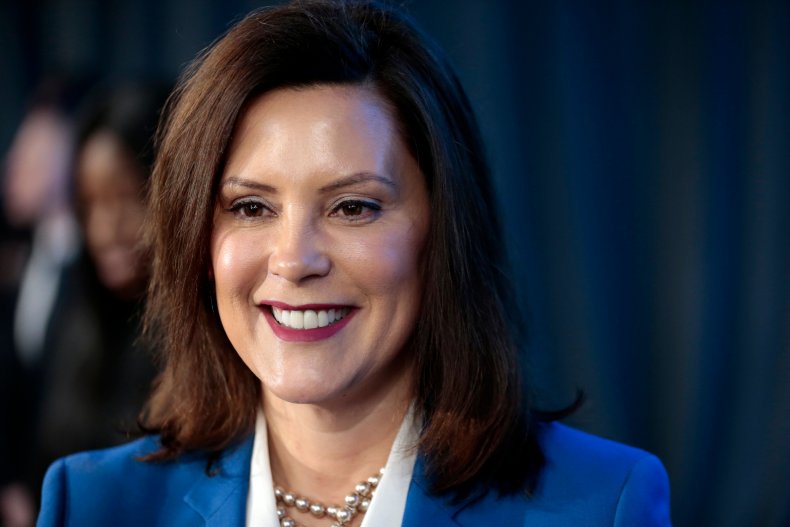 Dr. Deborah Birx, the White House Coronavirus Response Coordinator, called the anti-lockdown protests "devastatingly worrisome" earlier this month, saying that the crowd of protesters—including many who didn't wear face masks—could potentially infect their elderly relatives.
The same day, Whitmer said the protests "depicted some of the worst racism and awful parts of our history in this country," adding, "You know the Confederate flags and nooses, the swastikas... The behavior that you've seen in all of the clips is not representative of who we are in Michigan."
Many protestors also brandished firearms.
Protesters demonstrated outside of Whitmer's personal residence on April 23 in an event titled "Operation Queen's Castle." Some of the protesters also participated in the April 15 "Operation Gridlock" protest, which blocked traffic around the Michigan Capitol Building.
Whitmer has instated the nation's strictest social distancing measures. It is illegal for Michigan residents to cross the street visit neighbors and big-box stores have been forced to close any sections "dedicated to carpeting, flooring, furniture, garden centers, plant nurseries or paint."
Despite the demonstrations, polling has shown that a majority of Michigan residents support the strict lockdown measures put in place by Whitmer.