For a solid month, the rapturous reviews for Michigan Governor Gretchen Whitmer's leadership during the coronavirus outbreak made her ascent to a plum role on the national political stage look like a very sure bet in an otherwise uncertain world. There was escalating buzz about her prospects of becoming Joe Biden's running mate. Admiring testimonials from long-time political opponents. An appearance on The Daily Show with Trevor Noah. Skyrocketing approval ratings. Even barbs from President Donald Trump, one of her few detractors at the time, only served to solidify her image as a rising star in the political universe.
That was then and this is now.
Whitmer vaulted to national attention largely because of her bold, early actions to combat the coronavirus in hard-hit Michigan—the state has the fourth-largest number of COVID-19 cases in the country (29,263, as of April 16) after New York, New Jersey and Massachusetts and the third-highest death toll (2,093)—along with her public demands for more federal resources. But where those initial efforts met with wide approval from citizens and broad bipartisan support, her latest, toughest-in-the-nation social distancing restrictions have elicited a very different response. Michiganders across the state are chafing over edicts that, among other things, make it illegal for residents to visit neighbors and require big-box stores to close sections "dedicated to carpeting, flooring, furniture, garden centers, plant nurseries, or paint."
Whitmer says the purpose of these latest measures is to slow the spread of infection by reducing the reasons people venture outside for items or interactions that don't involve life or death. But good intentions haven't stopped the growing backlash since the restrictions went into effect on April 10. Outraged critics took to social media (a Facebook group called "Michiganders Against Excessive Quarantine" now has some 350,000 members); a lawsuit has been filed; and a protest outside the statehouse organized by conservatives in mid-April saw demonstrators defiantly clustered in violation of social-distancing requirements who were flying Trump 2020 flags and toting signs comparing Whitmer to Hitler.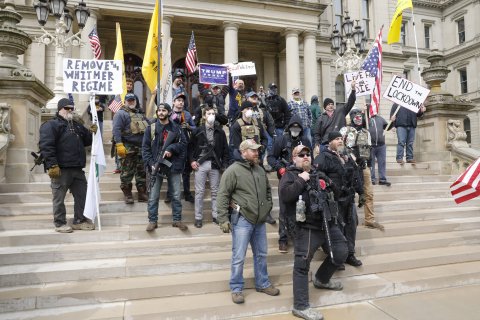 In a Michigan minute, the perception of Whitmer went, at least in some circles, from a surefooted steward at a time of unprecedented crisis to a nanny-state warden who has blocked a shut-in populace's ability to enliven the tedium by planting their spring flowers. And another battle looms: Later this month the governor must ask the Republican-controlled state legislature to extend her emergency powers, which enable her to unilaterally issue social and economic restrictions to protect the public health. They've already pushed back once, granting Whitmer a 23-day extension to April 30, when she'd asked for 70 days to empower her into June—and that was before her latest rules became pithy talking points on Democratic overreach from Lansing to 1600 Pennsylvania Avenue.
"It's the risk of leadership in a pandemic or any crisis: You look great one day and may play the fool the next, and people are more likely to remember the governor in the fool's costume," says political analyst Larry Sabato, director of the University of Virginia's Center for Politics. "I will remember [Whitmer's] garden implement thing long after I've forgotten the other things she's done."
It's too soon to tell whether this recent flap will subside quickly or come to define Whitmer and, perhaps, derail her shot at national office. The fact is her stay-at-home initiatives may be working: New reported COVID-19 cases in Michigan fell below 1,000 for two days in a row on April 12 and 13—the first time that had happened in more than two weeks—and remained below the peak of 1,900 new cases recorded on April 3 for the next few days as well. It's a make-or-break moment both for the governor and for Michigan, with a central question: Will Whitmer save the state but do so at the expense of her own political ambitions?
The Path to Here
That Whitmer is being talked about as a potential vice presidential candidate, or as any kind of player in national politics, isn't something anyone would have predicted before the coronavirus outbreak came to define life in the U.S. and around the world.
The other bold-face names of the pandemic—Democratic Governors Andrew Cuomo of New York and Gavin Newsom of California, Republican Governor Mike DeWine of Ohio and infectious disease expert Dr. Anthony Fauci—all have been prominent for various reasons over long public careers. Whitmer, by contrast, came to the governorship 16 months ago after a frustrating, often unproductive stint as minority leader in the Michigan Senate. Her profile was raised a bit in January when she became a surprise selection to give the Democratic response to President Donald Trump's State of the Union address, delivering an adequate, if unmemorable, speech.
None of that could portend how the transformative events of recent months would thrust Whitmer into the national spotlight as a governor pleading publicly for more personal protective equipment and ventilators for a rapidly overmatched Detroit-area health system facing a crush of COVID-19 patients. For some perspective: The Wolverine State has suffered more than double the coronavirus deaths as California, a state with four times its population.
It's unclear exactly why Michigan's situation is so dire, but there are clues. Experts note, for instance, that Detroit's bridge and tunnel to Canada comprise the busiest land crossings on the northern U.S. border. The local airport is an international hub for Delta Air Lines that until February saw 28 direct flights each week to and from China alone. Then too, some 80 percent of the state's cases are clustered around Detroit and three surrounding counties, and the Motor City's population is more than 80 percent African American, a demographic group that has had a far higher-than-average rate of infection and death by COVID-19 than other segments of the population.
Whitmer has been overseeing the hasty construction of COVID-19 field hospitals inside a major convention center in Detroit and a suburban mall to cope with an overrun regional hospital system. But federal assistance to do that was slow in coming and supplies of PPE ordered by Michigan were inexplicably diverted by the federal government, so the governor publicly complained via the news media and in private conference calls with the White House.
That, in turn, put Whitmer squarely in Trump's crosshairs. In late March, the president referred to the 48-year-old on Fox News as "the young, a woman governor, you know who I'm talking about, from Michigan" and nicknamed her "Gretchen Half-Whitmer" on Twitter. At a March 27 news conference, he said he had told Vice President Mike Pence, "Don't call the woman in Michigan" because she hadn't been sufficiently "appreciative" of the administration's efforts. (Pence and Whitmer say they have spoken and worked together regardless, and Pence, head of the White House Coronavirus Task Force and former governor of neighboring Indiana, has praised her as "leading her state through all of this with great energy.")
"People might not appreciate how dire the situation here in Michigan is and understand why I'm being so persistent," Whitmer said in an interview with Newsweek. "But at the end of the day, I'm pulling out all the stops to try to get the help for the people that I represent. That's all I'm doing."
Far from diminishing her, Trump's slights and sobriquets—and the governor's deft handling of them—instantly turned Whitmer into something of a feminist folk hero. She replied to the president via Twitter, saying: "I've asked repeatedly and respectfully for help. We need it. No more political attacks, just PPEs, ventilators, N95 masks, test kits. You said you stand with Michigan—prove it."
That earned her the invitation to The Daily Show, where she appeared with host Trevor Noah wearing a Trump-trolling "That Woman In Michigan" T-shirt, sent to her by a constituent, under her blazer—the only light-hearted allusion to all that background noise in an otherwise serious interview.
The sparring with Trump also bolstered Whitmer's dark-horse status in the Biden veepstakes, with the presumptive Democratic nominee confirming in an MSNBC interview on March 31 that the Michigan governor is on his short list. Biden then hosted Whitmer on his podcast in early April to sing her praises but also hedged. "You're not the only governor with whom I've spoken," the former vice president said. "You just happen to be doing it as well as anybody who's doing it."
Pundits believe Whitmer would firm up Biden's ability to win Michigan and that her Midwest bonafides might also help do the same for Wisconsin—two states that went for Trump in 2016 by a margin of less than one percentage point and which the Democrat must flip in 2020 to win. She'd also appeal to moderate suburban, educated white women since, essentially, she is one; she opposes Medicare For All in favor of a Bidenesque public option and was slammed by Bernie Sanders-endorsed 2018 gubernatorial primary rival Abdul El-Sayed as a sellout for taking health insurance industry donations.
Yet her positions may be too similar to Biden, for whom she is a national campaign co-chair, to unify the party. Her pick also would inevitably draw comparisons to Republican Sarah Palin of Alaska, another half-term governor tapped for the vice presidency, in her case by John McCain in 2008. "[Whitmer] makes sense in terms of geography," says Sabato, "but she doesn't make sense in terms of experience, being white, frankly, [or] having the ability to stir minority voters."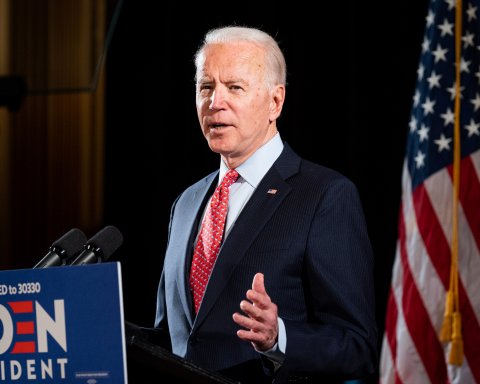 From Whitmer's perspective, accepting a spot on the ticket, if offered, would mean she'd have to step away from the very thing that has brought her so many accolades—and do so while her state continues to struggle in the pandemic's wake. That could make the proposition a non-starter for both sides.
Bipartisanship Takes a Hit
Until Whitmer's latest round of social distancing restrictions, even many Republicans were singing the governor's praises for her forceful advocacy and willingness to make tough choices to slow the path of the virus. "I am rooting for Governor Whitmer," Republican National Committee Chair Ronna Romney McDaniel, a native Michigander, told the Associated Press on April 2. "I think she's done good things."
Michigan was among the first states to impose a stay-at-home order on March 23, when the number of deaths was just 15, vs. more than 2,000 now. At the time, the decision dismayed the business community but, helped by a ubiquitous public education campaign and constant media appearances explaining Whitmer's actions, it seems to have helped. Much of the state outside of the Detroit region has, thus far, been relatively unscathed.
"The governor's actions are definitely slowing the spread in the out-county areas," GOP political consultant Dan McMaster, a Shiawassee County commissioner in rural, central Michigan told Newsweek. "I'm no fan of hers. I've worked against her [and] her caucus. But for whatever reason, thankfully, she's risen to the occasion."
A poll by Hart Research Associates, taken just before Whitmer imposed her new, controversial executive orders, showed widespread support until recently for her management of the crisis: Some 71 percent of Michiganders said they approved of how she was handling the coronavirus outbreak. By contrast, 51 percent of the respondents felt similarly about Trump's performance.
But the new rules, which will be in place at least through the end of the month unless she rescinds them, have changed that calculus. El-Sayed, an epidemiologist and former 2020 Sanders campaign surrogate, applauds Whitmer's latest restrictions while acknowledging they are fraught with political risk.
"She's doing the right thing with respect to these stay-at-home orders," says El-Sayed, Detroit's former director of public health. "I also know as a public health professional that when you succeed in public health, there is always going to be a group of naysayers who say we didn't have to go that far. The best thing a politician can do is deal with the circumstances. It's more important to save lives than to worry about what people think about you."
The response from Republicans, however, is no longer as charitable. Referring to a rumor—false, as it turns out—that the new orders prevent parents from buying car seats for their offspring, The View co-host Meghan McCain, daughter of the late Republican senator, asked Whitmer via Twitter, "Are you going to ban cribs next?" and scolded her for making pregnancy harder for women. Whitmer responded with the facts, also via Twitter: "Hi Meghan! Our Stay Home, Stay Safe executive order does not ban the purchasing of car seats for children. Wishing your family well, and happy Easter!" (McCain did not reply or remove her original tweet.)
McDaniel of the RNC is now also a naysayer, calling out Whitmer on social media for turning Michigan into a "police state." Backing off her previous words of support for Whitmer's coronavirus management, McDaniel tweeted, "From delayed-aid requests to VP auditioning, her handling of this crisis has been a complete disaster." In a subsequent tweet McDaniel added, "Under Gretchen Whitmer's power grab, you can't mow your grass but you can smoke it. We all want safety, but her authoritarian measures have gone way too far."
A Style Decades In the Making
Whitmer became familiar with dealing with both sides of the political aisle growing up. Her father ran the Michigan Commerce Department under Republican Governor William Milliken while her mother was an assistant attorney general under Democratic AG Frank J. Kelley. After briefly considering a career as a sportscaster, Whitmer earned a law degree at Michigan State in 1998 and won her first elected office, representing a Lansing-area district in the state House, at age 29. After two terms in the House, she won the first of three terms in the Senate, and in 2011 became the leader of the smallest minority caucus in modern times with 11 Democrats filling the chamber's 38 seats.
Her parents divorced when she was 10 and Whitmer spent her adolescence in Grand Rapids with her mother and two younger siblings. Her mom, Sherry Whitmer, remains a huge influence nearly two decades after her death from brain cancer. "Gretchen always took charge and figured out how to get things done," her sister Liz Gereghty recalls, noting how Whitmer, who at the time was a freshman legislator running for re-election with a newborn daughter, took a primary role in their mother's end-of-life care in 2002. "My mother was such a good role model for us because nothing stopped her. She could do anything she set her mind to."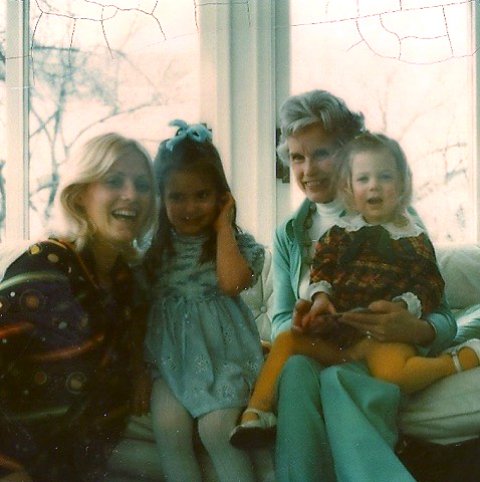 Attorney General Dana Nessel, a fellow Democrat and political ally also elected in 2018, sees that as a formative experience that has helped prepare Whitmer for the massive task she faces now: "She's used to juggling a lot of really important things all at the same time. This steps it up to a whole other level, but in a way, those types of things have prepared her for what she's doing now."
The governor, who invoked her mother's memory frequently on the campaign trail in 2018 when advocating for women's rights or expanded access to health care, says she's been "dreaming about her like every night" during the COVID-19 crisis. "Maybe it's the touching stories I hear about people losing loved ones or the stories of people saying goodbye over an iPad, but this has really hit a nerve," Whitmer says. "My mom was kind of a trailblazer, and when her back was up against the wall, she smiled through it. I'm hopeful that I'm teaching my daughters the same, that you gotta be tough, you gotta get through the hard times, and if you can, do it with grace."
Nessel says Whitmer holds her fire in dealing with Trump to avoid riling him further and risking him retaliating against the state, costing it aid and support. "I can't imagine how hard it must be for her to restrain herself when Trump makes these asinine statements and not to retort back with some smart-ass comments," Nessel says. "Privately, the governor swears like a sailor. That's nothing that you'll ever see on her Twitter feed, but she's hilarious, a really funny person. I'm sure there are things that she would like to say out loud [but] she's just too smart for that."
Whitmer is used to deflecting derisive remarks, particularly of the sexist variety. As the Democratic leader in the Michigan Senate about six years ago, the married mother of two had to rebuke a fellow senator who invited her out on his boat to "sin or swim." And more than a decade ago, the self-amused (male) wags of Lansing mockingly nicknamed her "The Ocho" because Maxim magazine had listed her as the world's eighth sexiest politician. "She currently serves in four standing committees—Judiciary, Finance, Education, and Agriculture—and could very well add more as soon as we get our Leering Committee finalized," the laddie magazine sniggered.
Virg Bernero, whose state Senate seat Whitmer won in 2006 after he vacated it to run for Lansing mayor, says her ability to choose her moments to disarm her opponents with humor or candor is her greatest political talent. He pointed to her handling of derisive social media reaction to a tight-fitting dress she wore for her first State of the State address. In a series of tweets at the time, she used it as a teachable moment, writing, "Boys have teased me about my curves since 5th grade. My mom said 'hold your head high and don't let it bother you.' " Then, a year later, she opened her second State of the State by saying, "This year, I want to get one thing straight—this is not the red carpet. So please, I urge you—focus on the substance of my speech. It's about issues, not appearances." She then added, "I mean, I don't care how distracting Senator Shirkey's outfit is. Cut him a break." All eyes then turned to Mike Shirkey, the GOP Senate leader seated in a dark suit behind her.
"She put them on their heels right from the very start and said, 'You don't like what I'm wearing? Up yours!'" Bernero says.
Whitmer says she can't respond to every slight, nor should she have to. "It's a reality for a lot of women that people get distracted by non-substantive things," she says "It's a distraction, especially for someone who is focused on issues. Every woman who's been in that position has to always do the calculation. Do I take it on? Do I educate this person about the flaw in their behavior? Do I pretend that I didn't hear it? Do I laugh it off like a joke? All of these mental gymnastics, it's exhausting."
She chooses her confrontations with care. Her most significant one, perhaps, came as a legislator came in 2013 when she revealed that she'd been victim of sexual assault, a disclosure made in an unsuccessful attempt to persuade the Republican Senate to drop a measure that requires Michigan women to buy a health insurance rider to be covered to terminate pregnancies even in cases of rape or incest.
"There are people in this chamber who have lived through things you can't even imagine," Whitmer said at the time, veering from prepared remarks. "Over 20 years ago, I was a victim of rape. Thank God it didn't result in a pregnancy because I can't imagine going through what I went through and then having to consider what to do about an unwanted pregnancy from an attacker. [This is] something I've hidden for a long time. But I think you need to see the face of the women that you are impacting by this vote."
She also went to battle over her main 2018 campaign pledge to "fix the damn roads," an appealing slogan as Michigan's highways are notoriously pocked with craters and cracks. Early in 2019 she pitched a dead-on-arrival 45-cent-a-gallon gas tax proposal to raise $2.5 billion a year. Whitmer expected Republicans to counteroffer, but they let her and her idea flounder instead. In October, she retaliated by issuing 147 line-item vetoes that cut nearly $1 billion out of the GOP-passed state budget, an unprecedented move that forced Republicans to negotiate for a restoration of spending increases.
Then, in January, she stunned the legislature during her State of the State by announcing that she would deploy a little-used executive authority to issue billions of dollars in state bonds for road construction. "I am not here to play games," she said. "That's why it's time for Plan B. I'm going to use the power of my office to do what I said I was going to do. Believe me, the people of Michigan don't want more ceremony, they want concrete action. And sometimes, they just want concrete." Even Shirkey grinned admiringly at that line, mouthing "good one" as he sat on the dais.
The Future Is Now
On the Monday after Easter, with the kerfuffle over the ban on buying gardening supplies picking up steam, Whitmer went on the offensive, knocking down a few of the more outrageous claims about the new restrictions she'd just put in place. "Nothing in the stay-at-home order prohibits people from buying a car seat for your children," she said at the top of a press briefing. "You can buy bug spray. You can buy American flags. I have not banned home-schooling. These are a few of the falsehoods that have been disseminated on social media that I wanted to clear up."
Then she reiterated the necessity of preventing the public from making shopping trips for items that are not life or death. "I recognize that there are a lot of passionate gardeners here in Michigan and I've heard from a lot of you," she said. "I want to acknowledge that it's OK to be frustrated, it's OK to be angry and, if it makes it better to direct it at me, that's OK, too. I've got thick skin." She added, "Every decision we're making is based on the best science, the facts that we are confronting at this stage. I understand the frustrations people have. I'm frustrated too. This is hard."
Meanwhile, the swirl of rumors about her national prospects continues. Whitmer, for her part, has not ruled out accepting the nomination if offered it, giving the idea a disclaimer. "Honestly, I am completely inundated with COVID-19," she says. "Going to Washington D.C. has not been something that I've pursued over the course of my 20-some years in politics. But I do care a great deal about where we are headed as a country. I'm very interested in making sure that we've got leadership in this nation that people can count on."
Whitmer's sister, like most observers, expects her sibling will take a stab at national politics, if not now, then later—and relishes the prospect both as a family member and as a woman. "[Gretchen] knows instinctively how important our mom was to us as a role model and how important it is for every community to have representation, to show them that you can be what you want to do," Gereghty says. "And I really desperately want a woman president soon. It would be that much sweeter if that woman was my sister."
Steve Friess is a Newsweek contributor based in Ann Arbor, Michigan. Follow him on Twitter at @SteveFriess.