Michigan Protesters Gather Outside Governor Gretchen Whitmer's House With MAGA Signs to Demand Reopening of State
Anti-lockdown protesters in Michigan opposing Governor Gretchen Whitmer's statewide shutdown demonstrated outside of her home in Lansing on Thursday in a gathering dubbed "Operation Queen's Castle." Some of Thursday's protesters also participated in the "Operation Gridlock" protest which blocked traffic around the Michigan Capitol Building on April 15.
Whitmer, whose state has the fourth-largest number of Covid-19 cases in the country (35,291 as of April 23), instated the nation's strictest social distancing measures. It is illegal for Michigan residents to cross the street visit neighbors and big-box stores have been forced to close any sections "dedicated to carpeting, flooring, furniture, garden centers, plant nurseries or paint."
During the Thursday protest at Whitmer's home, Michigan resident Rob Cortis drove a sports utility vehicle adorned with American flags, a loudspeaker, towing a trailer carrying the "Trump Unity Bridge."
The bridge is a float decorated with six-foot-tall letters spelling "Trump," carvings of a bald eagle and the Statue of Liberty and stickers with slogans like "All Lives Matter", "Build the Wall" and "Secure America's borders." Cortis has displayed the float at various events like Trump's 2016 inauguration, the 2017 Women's March and the 2019 Boston Straight Pride Parade.
"We want to open Michigan... We want to let our fishermen fish. We want to let our farmers farm," Cortis said on the loudspeaker while wearing a face mask and blaring "God Bless the U.S.A." on his stereo.
"We want to open it safely," Cortis continued. "Governor Whitmer said that she'll talk to anybody to get the state back open. Well, I'm here and I'm with people and others and we want the state open. So you can call me to reach out to me. The police have my number... I'll work together to make Michigan great again."
Several other cars followed Cortis' vehicle, many honking their horns and some flying Trump flags from their rooftops.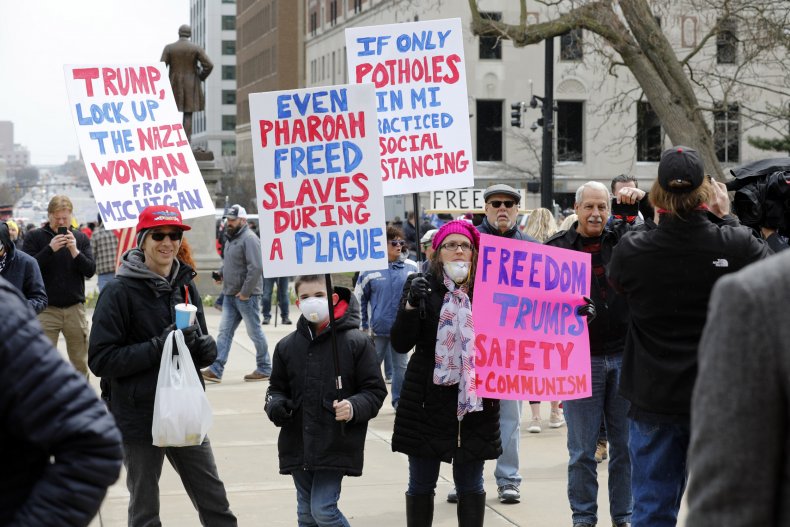 While Whitmer says she understands that state residents feel anger about her stay-at-home orders, she also commented her feelings that the April 15 "Operation Gridlock" protest was "essentially a political rally" that endangered lives. Many of the 4,000 protesters at that event neither wore facial coverings nor stood more than six feet apart from fellow protesters.
"It wasn't really about the stay-at-home order at all," Whitmer said. "It was essentially a political rally, a political statement that flies in the face of all of the science, all of the best practices in the stay-at-home order that was issued. This was a political rally.... that is going to endanger people's lives because this is precisely how Covid-19 spreads."
Nevertheless, Whitmer's measures have compelled four Michigan residents to sue, arguing that her restrictions violate their constitutional rights.
Newsweek reached out to Governor Whitmer's office for comment. It had not responded by the time of publication.
A survey released on Monday by the Detroit Regional Chamber found 57 percent of respondents approved of Whitmer's coronavirus response and just 37 percent disapproved.
A poll released on Tuesday by Yahoo! News and YouGov found that 60 percent of the U.S. public opposes protests demanding an immediate end to social distancing and stay-at-home orders.