Doja Cat Calls Out Noah Schnapp For 'Weasel S***' Move Sharing Private DMs
Doja Cat hasn't seen the funny side of Noah Schnapp's TikTok that exposed their DMs and her crush on his Stranger Things colleague, Joseph Quinn.
Schnapp, 17, went viral on TikTok yesterday for sharing a private conversation with Doja Cat in which she expressed a romantic interest in the Eddie Munson actor. Prior to the TikTok revelation, Doja Cat had tweeted multiple times about her appreciation for the British actor.
Late on Thursday night, Doja Cat took to social media to express her dissatisfaction with the situation, and with Schnapp in particular.
"The fact that this person, that Noah did that, went and posted a private conversation between me and him is so unbelievably socially unaware, and wack," Doja Cat told her thousands of viewers as she spoke live on her TikTok account.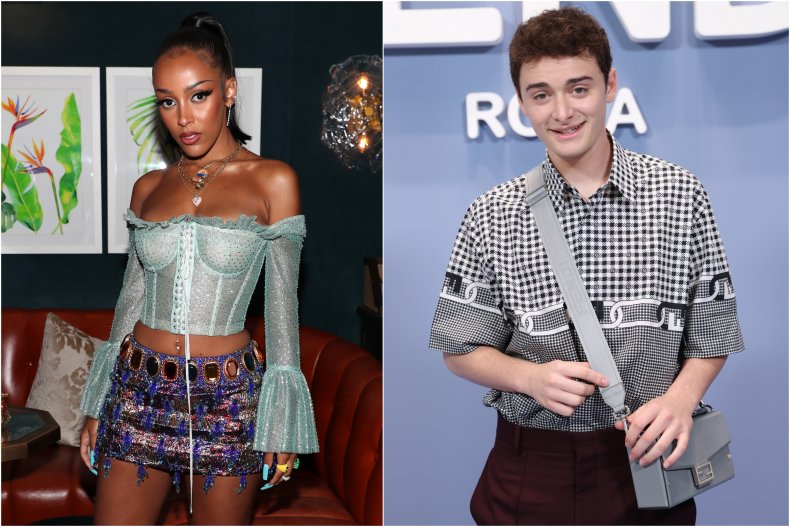 "Like, that's like borderline snake s***. That's like, weasel s***. And like, I'm not saying that encapsulates his entire personality. Noah is not like the definition, like I wouldn't imagine he is. Maybe he is?" Doja Cat said.
She asked her fans to record the live session so that they could post it online, after she admitted she'd failed three times to record a TikTok response video. Doja Cat started the live by saying she was "bummed" and "disappointed" by the situation.
The singer mitigated her rant about Schnapp, who plays Will Byers in Stranger Things, by considering his age. "First let's try to be chill about it. To be fair. This is like a kid." Schnapp is 17 years old, while Doja Cat is 26.
"When you're that young, you make mistakes. You do dumb s***. I'm trying to be super fair." She continued: "You f*** up relationships with people you make mistakes like you're supposed to so that you know not to do it in the future. I did my share of f***** up so that I don't f*** up again."
Social media reacted to the feud with a series of jokes and memes. The Season 4 villain from Stranger Things, Vecna, has become a popular internet meme, and @Dustibvn used a backstage image to explain their reaction to the feud.
"honestly doja cat x noah schnapp beef is the last thing i was expecting this year," wrote @LETSRIOT. Meanwhile @Planetseulgi played with the facts to piece together a pun-filled explanation of events. "Noah may be ELEVEN years younger than doja, but that really was a STRANGE(R) THING(S) to do. i wonder how he WILL respond to this," they wrote, gaining 13,000 likes in the process.
The TikTok community reacted to Doja Cat's live video by capturing the moment and commenting on it. Millions of people viewed the video across various accounts within hours of it being posted.
The comments section within TikTok suggested that they thought Doja Cat was "overreacting" or sharing their surprise as they thought the singer would "think it was funny."
Schnapp has yet to respond to Doja Cat's comments on social media. Quinn, who was the subject of the original exchange, has also yet to respond on social media.