Doja Cat Mocks Amber Heard's Testimony About Dog Being Stung by a Bee
Doja Cat is facing some backlash on social media on Tuesday after the singer mocked Amber Heard's testimony from the defamation trial brought by Johnny Depp.
Taking to TikTok, the "Kiss Me More" hitmaker poked fun at a viral moment from the trial in which the Aquaman actress told the courtroom that her dog got stung by a bee.
"It's honestly hella sad 'cause like, she's a puppy, my dog. And I've had her for like a week and a half, maybe two weeks now. And she like, was just running around in the grass, and she steps on a bee," Doja, 26, said in the now-viral TikTok video.
The artist—whose real name is Amala Ratna Zandile Dlamini—then decided to roast Heard and began: "So ya'll know what time it is. Ya'll know what f****** time it is. you know what time it is!"
She then proceeded to repeat the line: "My dog stepped on a bee," and squinted her eyes and jerked her head, mimicking Heard's testimony against Depp earlier this year.
"My dog stepped on a bee," Doja said with a flinch. "She stepped on a f****** bee. My dog stepped on a bee!"
She captioned the video: "I, as a dog owner, can finally say it with sincerity..," citing Heard's comments about her dog's bee sting.
The TikTok post has now been deleted but the clip is being widely shared on Twitter.
During the trial in May, Heard, while delivering her testimony, told the jury how her dog stepped on a bee and she twitched while recalling the situation.
"We walked out of the trailer at some point, my dog stepped on a bee," Heard said, while flinching and blinking hard;
"We went to the vet," she added, shaking her head, continuing, "and went on with our you know, vacation."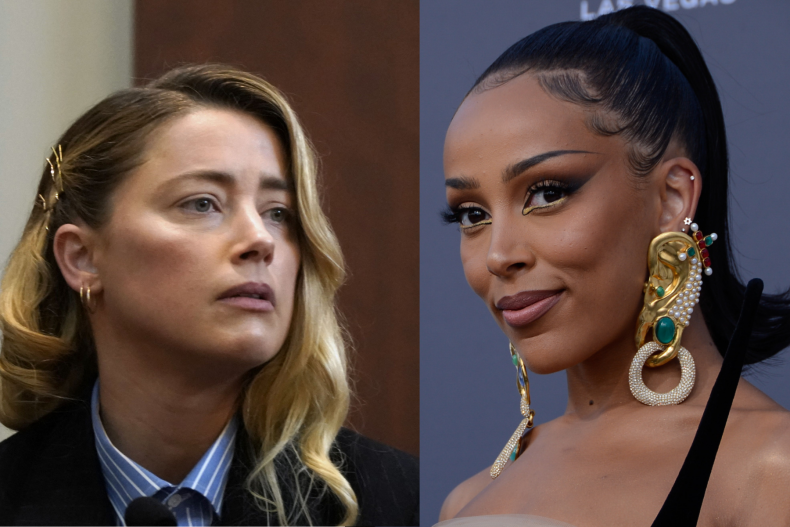 The moment was one of the dozens of viral moments from the trial held in Fairfax, Virginia, that ended with a jury finding she had defamed Depp with malice.
Doja's fans are less than impressed at her mimicking Heard on social media with one tweet reading: "doja cat mocking amber heard talking about the sexual assault she went through is so disgusting like she knows she has a platform that many young women follow her on and this is what she does with it? i am literally so disappointed."
While another added: "doja cat mocking amber heard isnt funny and it never was when yall did it months ago too."
Last week, the rapper made headlines when she became embroiled in a public spat with 17-year-old Noah Schnapp of Stranger Things fame for sharing her private DMs.