Dollar Tree Employee Calls It 'Worst Place To Work,' Says She Was Denied Restroom Breaks
A former Dollar Tree employee has gone viral after posting a video detailing the working conditions she allegedly faced on the job.
In a video first posted to YouTube, 30-year-old South Florida resident Da Leigh accused the discount chain of denying her bathroom breaks and regular access to water.
The clip, titled "Worst Job I've Ever Had - Dollar Tree," was streamed live on June 18, a day after Leigh quit her job with the company.
In the video, she details her experience of working at a Florida branch of Dollar Tree where, she claims, a lack of staffing also made life difficult for employees.
She says: "They have one manager and one associate in the store so you are checking things out, while you are picking things up, while you are putting things away. There's no time to go to the restroom and there's no time to drink water."
According to Leigh, she was also denied access to a readily available water source while on shift in hot conditions.
The YouTuber alleges: "They don't let you have water there. You can have a water bottle and keep it in the manager's office and you can ask permission to take a sip of your water, that's what I was told."
The 15-minute video sees her go on to describe how, despite feeling dehydrated on a previous shift, she was not allowed to keep a water bottle under the cash register she was working at.
"He [the manager] told me: 'No we cannot have a water bottle out on the floor. If you want a sip of your water you can ask permission to come into the office and take a sip.'"
"I'm a 30-year-old woman. I'm not going to ask permission to come into your office and take a sip of my water."
Having her water stored away in an office created another problem too.
Leigh explains: "If he's not at the office I can't go in there and ask him for a sip of my water."
She also alleges to have gone "three-and-a-half, maybe four hours" without a drink.
"People are not getting treated right there. That's not right to tell someone they cannot have water or if they want water they have to ask permission... We're not slaves."
Leigh ultimately describes how she quit the job as she was being paid an hourly wage of $8.80 "to not have any water, to not be able to go to the bathroom and do the work of three people."
She also claims that staff are not allowed to leave the premises during their designated 10-minute break and that there is no break room or lunch area for staff on site.
The video has racked up more than 160,000 views on YouTube but came to light again after being posted on Reddit by working_class_pride.
"A woman talks about what it is like to work for Dollar Tree," the caption reads.
"This is what some people deal with- for just a measly $8.00 an hour. And these employers wonder why they can't find employees."
The video has amassed nearly 20,000 likes and over 3,000 comments on the site.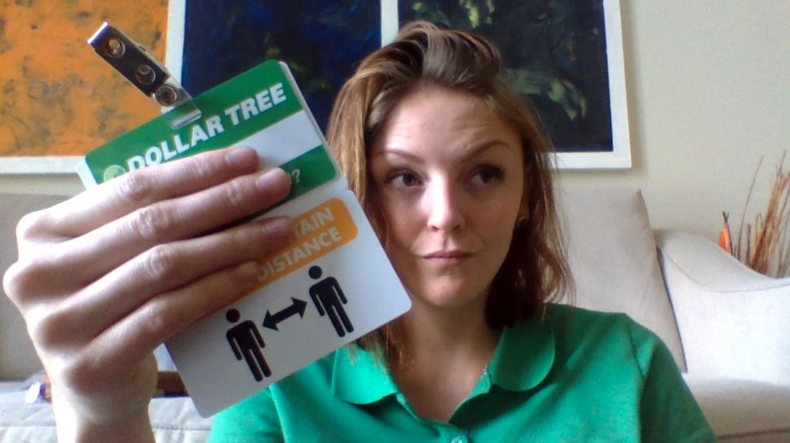 Speaking to Newsweek, Leigh said that she left her role with Dollar Tree after a day and a half "after being severely dehydrated and feeling dizzy."
"The biggest issues I faced while being there was just being denied basic human rights, like water. I would hope that we would have moved past issues like this with it being 2021, but sadly, that is not the case."
Leigh also offered some advice to anyone considering taking a job with Dollar Tree.
"There is an arbitration agreement you will have to sign before they will employ you," she said.
"Make sure you clearly ask and get a straight answer from the hiring manager that you will be able to access water and a restroom at any point you may need to."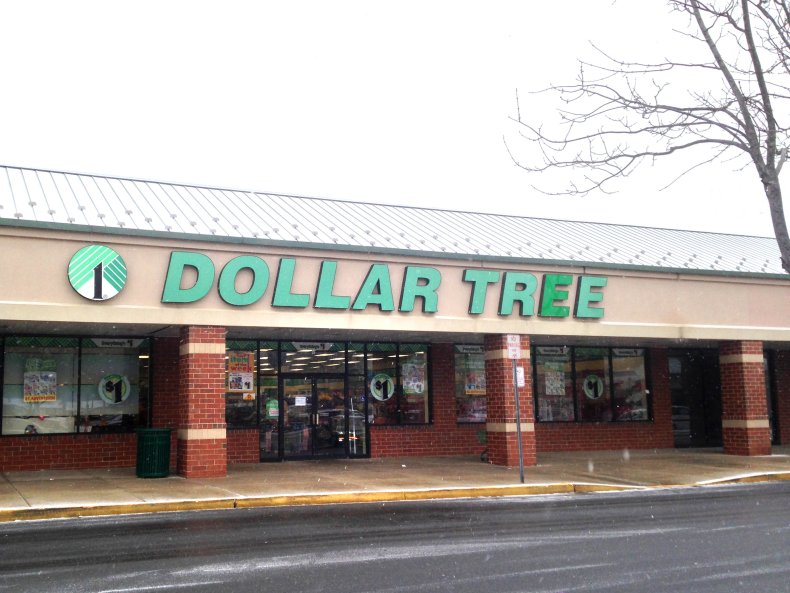 She said that her story was just one of a growing number coming from disgruntled employees no longer willing to work in unsatisfactory conditions.
"People are realizing that they do not have to put up with this kind of treatment from employers anymore and if companies don't get their act together... they aren't going to have anyone left to work their stores."
Responding to the claims in a statement issued to Newsweek, Dollar Tree media relations manager Kayleigh Painter said: "It is our policy to accommodate our associates' need to hydrate or use the restroom."