'Dolly Parton's Heartstrings' Songs: All the Songs the Netflix Series is Based On
Dolly Parton has teamed with Netflix to make Dolly Parton's Heartstrings, an anthology series where each episode is based on a different song from the country legend's 50-year career. The first eight episodes of the show combine iconic Dolly tracks like "Jolene" with deeper cuts including 2014's "If I Had Wings" and early hit "Down From Dover."
All the songs Dolly Parton's Heartstrings is based on
"These Old Bones"
"These Old Bones," taken from Dolly's 2002 album Halos & Horns, is based on a true story in which the young singer visited an old woman who the Los Angeles Times described as "a rumored witch who told a young Parton she was 'anointed.'"
In Heartstrings, this woman is played by Kathleen Turner, the Oscar-winning actress who also recently made an appearance in another Netflix series, The Kominsky Method. According to the actress, Parton personally called her to ask her to play the role, which Turner accepted as: "I have such admiration for this woman and what she's made of her life."
"If I Had Wings"
Deadline offered the following synopsis for the episode, based on a song from 2014 album Blue Smoke: "After receiving invitations to the 70th birthday party of their decades-long estranged father Tom Freeman (Gerald McRaney), three disparate siblings, Clay (Ben Lawson), Nancy (Brooke Elliott) and Phyllis (Michelle Weaver) converge on a Mississippi farm where they test the bonds of blood and issues of faith, all to confront the sins of their father."
This is a much more concrete story than the one found in the song, which sees an unnamed woman wishing to God to escape her troubles.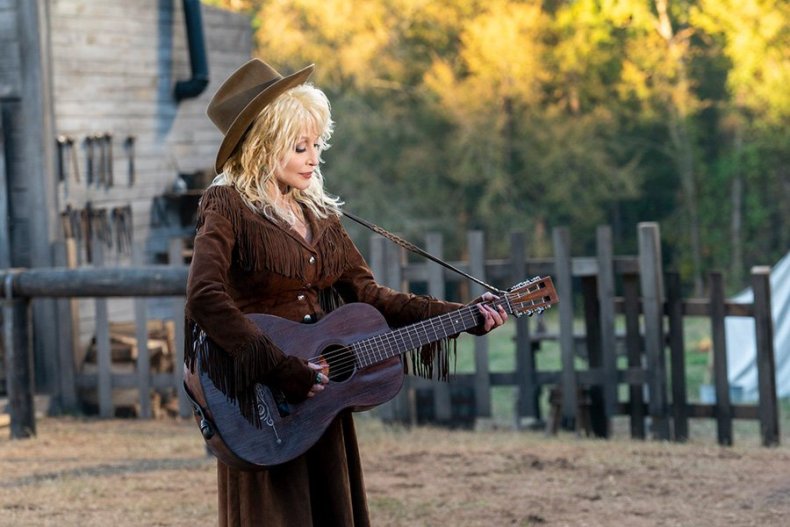 "JJ Sneed"
"JJ Sneed," taken from the singer's 1971 album Joshua, is the story of a bank-robbing woman in the Wild West who is betrayed by the former "outlaw lover" who gives the song its title. In the Heartstrings version, Once Upon a Time's Colin O'Donoghue is the title character, while his lover and the song's protagonist is portrayed by Willa Fitzgerald of the TV version of Scream.
"I love westerns," Parton said in a Netflix featurette about the series, "I grew up watching that stuff when we first got a television and I thought 'all these westerns they never really have any great female heroes.' So I thought there ought to be a story where the women are as rough and tumble as the men."
"Jolene"
"Jolene had to be in the show," Parton said, "that is the most recorded song that I have ever written." In the song, which leads the 1974 album of the same name, a woman pleads an auburn-haired woman to not steal away her boyfriend. In Heartstrings, that woman is played by Julianne Hough, who works as a waitress in a honky-tonk bar, while her boss Babe is played by Parton herself.
The Hollywood Reporter said of the episode: "Julianne Hough (Grease Live, Footloose) will play the title character in "Jolene," a flirtatious free spirit who wants to escape her hometown of Coventry, Georgia, and become a singer-songwriter...The cast also features Kimberly Williams-Paisley (Nashville) as Emily, a mother and wife starting a new chapter in life and who gets pulled into Jolene's orbit; and Dallas Roberts (Insatiable) as Aaron, a loving husband and father on the verge of a midlife crisis."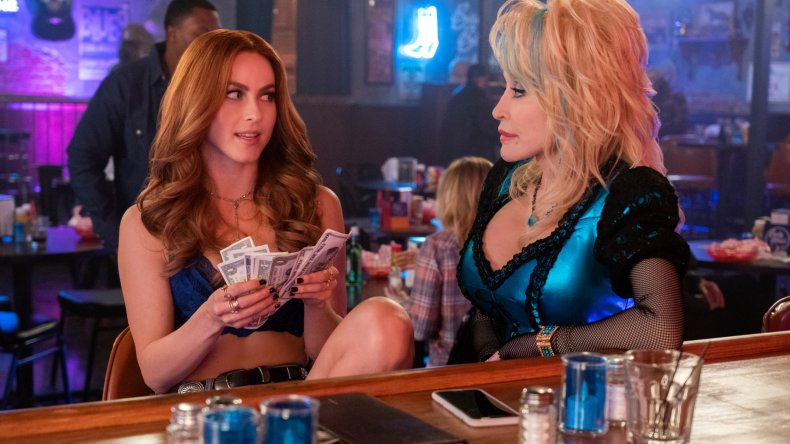 "Cracker Jack"
The song from the CD reissue of 1974's Jolene suggests the episode may be one for animal lovers, telling as it does the story of the love between a young girl and a dog she names Cracker Jack that she found "by the river bank."
The synopsis for the episode confirms this: "Two stories — one past, one present — about the power of unconditional love between a girl and her dog, and that same girl, now grown, who questions what her life means and who she can truly count on when faced with her greatest fear."
"Sugar Hill"
Halos & Horns also features "Sugar Hill," a song that sees a woman looking back to her younger days where she and her partner used to go and swim naked in the millpond of the titular location.
This has translated into an episode that sees "a married couple in their twilight embarks on a road trip back to the place where they first fell in love, along the way revisiting the history of their love story," with Patricia Wettig and Timothy Busfield playing the couple in the present Virginia Gardner and Tom Brittney playing them in their younger days.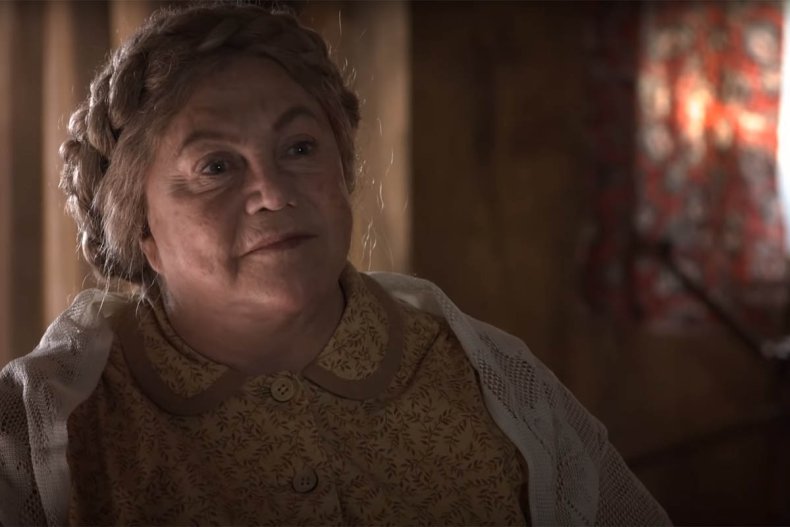 "Down from Dover"
Speaking to ABC about why she chose to include this song, she said: "A song like "Down from Dover," I've become famous for through the years, even though it was only in an album [1970's The Fairest of Them All]. But it just told such a good story."
That story is a sad one, telling the tale of a pregnant teen abandoned by her family. In the Netflix version, this teen is waiting for the baby's father to return from the Vietnam War.
"Two Doors Down"
1978 album Here You Come Again features "Two Doors Down," a song about a woman who finds herself heartbroken while her neighbors have a party, which she decides to go to to make herself feel better. In the Netflix version, that party is on New Year's Eve, with guests including Oscar-winner Melissa Leo.
However, Parton has updated the story of the song, which she called "one of her favorite songs ever," for the series to include a gay romance. Speaking to NewNowNext about why she felt it was important to include this, she said: "It's important that I touched on everything that all families go through. Everyone has gays in their family."
Dolly Parton's Heartstrings is released on Netflix on November 22