Dolphin Death Spike Sparks More Worries
Another dead dolphin has washed ashore in New Jersey, sparking more concerns over the increased number of marine mammal deaths in the area.
The dolphin was found dead at 6 p.m. on March 15 in the Leonardo State Marina. It is the sixth dead dolphin to be found in this area since the middle of February.
The New Jersey Department of Environmental Protection was called to the scene, the Mayor of Middletown, Tony Perry told local media.
The cause of death is still not clear, but this is not the first marine mammal to wash up on New Jersey shores recently.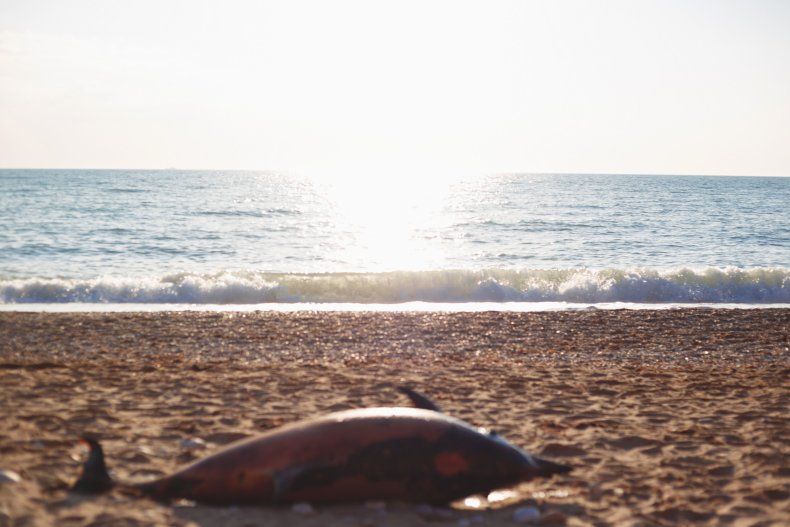 In the past few weeks, five other dolphins were found washed ashore in Sandy Hook, Avalon and Atlantic Highlands.
A necropsy determined that one of these dolphins had died from pneumonia, according to the Marine Mammal Stranding Center, but it is not clear how the others died.
As well as dolphins, nearly a dozen dead whales have washed ashore off the coast of New Jersey and New York since December.
There has been an "unusual mortality event" happening in the area since 2016, according to NOAA Fisheries.
Large whales have been washing ashore more frequently ever since, particularly humpback whales.
There have been nearly 200 humpback whales involved in this unusual mortality event, 40 percent of which displayed signs of injury from humans, in the form of either a ship strike or fishing line entanglement, NOAA Fisheries said on its website. For the rest, scientists say more research is needed.
Patrick Miller, a professor at the School of Biology at the University of St Andrews in Scotland, told Newsweek: "Strandings do occur for natural reasons—any whale that dies at sea might wash up on shore. As there are increasingly more humpback whales off the east coast of the U.S. (which is good news), an increased number of strandings for natural reasons would be expected. According to the National Oceanic and Atmospheric Administration, many of the stranded whales, around 40 percent, had evidence of a direct human interaction with ship collision or entanglement in fishing gear. Such interactions are clearly harmful to animals, and the high rate of association with those interactions should therefore be an ongoing focus of attention."
Environmentalists and some political groups have claimed that offshore wind development in the area could be contributing to the deaths, but there is no evidence to support this and NOAA has reiterated that the work should not be harming marine life.
These groups have claimed that noise during the survey works could impact the whales' sonars, which they use to navigate, and subsequently cause them to strand.
Although this has been the case occasionally with marine life, it is not usually with humpback whales.
"Whales make use of underwater sound, and have sensitive hearing that has evolved to enable them to make use of acoustic signals in the oceans," Miller said. "Human noise sources range from continuous background noise from shipping – that can mask how whales use the acoustic information they would receive in a quitter ocean, to loud impulsive sounds like airguns, sonar, and noises from pile-driving commonly used to install windfarms—that can cause whales to respond by moving away from the noises and/or cease feeding and other natural activities. Some species of whales, particularly beaked whales, are documented to strand when they hear intense sounds like sonar, but humpback whales have not been documented to strand in response to underwater noise."
Do you have an animal or nature story to share with Newsweek? Do you have a question about whale strandings? Let us know via nature@newsweek.com.