John Kerry Calls Out 'Disinformation Campaign' on Wind Turbines
Offshore wind farms are a key part of reducing the effects of climate change, but there is controversy surrounding their impact on wildlife.
Donald Trump, Ted Kennedy and Mitt Romney have all publicly opposed offshore wind farms in the past due to issues such as visual impact and potential harm to animals.
Allegations have been made that offshore wind farms are causing an increase in whale strandings, but scientists and independent agencies say there is no evidence to support this.
Talking to Newsweek, John Kerry has spoken out against this disinformation campaign in his call for more renewable energy. He said while caution is justified, the climate crisis is more pressing.
Offshore wind farms are essential to reducing the effects of climate change, despite a recent rise in controversy regarding their impact on wildlife, U.S. climate envoy John Kerry has told Newsweek.
"When you talk about wildlife, the creatures below sea and creatures above the sea, can a bird wind up becoming the victim of that blade? Yes, I think we know that that can happen. But on the other hand, birds are also highly receptive in flight, and their radar is significantly capable of shying away from both noise as well as visual," Kerry said, speaking ahead of the 2023 Our Ocean Conference to be held in Panama from March 2.
"Look at the average highway in any country in the world. Cars hit birds. I don't hear anybody complaining about that or trains or airplanes. It's a balance. And I think it is not a crisis in my judgment."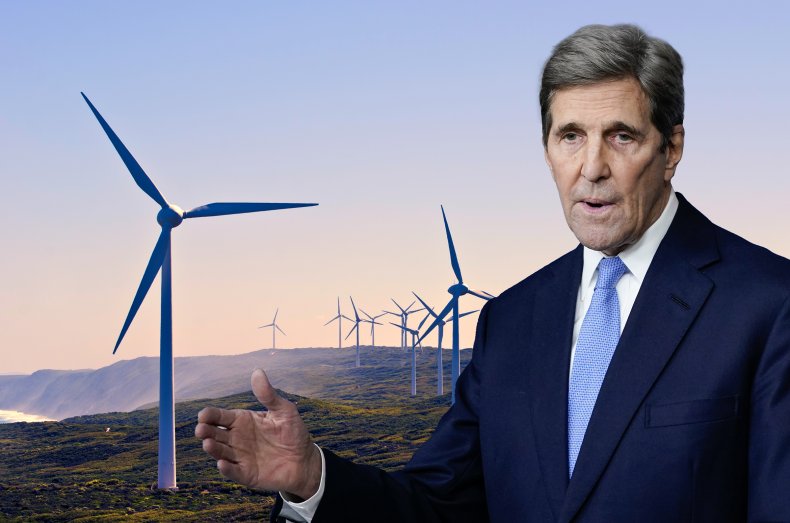 Offshore wind power is generated by turbines, usually constructed at sea to take advantage of high wind speeds. The Biden Administration has a goal of installing 30 gigawatts of offshore wind farms by 2030. This would be enough to power 10 million homes. Currently, the U.S. has two operational offshore wind farms off the coasts of Rhode Island and Virgina. But there are many more plans in the pipeline.
Survey and preparatory work for an offshore wind farm off the coast of New Jersey is currently underway.
Although offshore wind farms present an opportunity for renewable energy during the climate crisis, many advocate against it.
Ocean conservation group Clean Ocean Action is actively campaigning for more responsible offshore wind development. It claims that every year thousands of whales are harassed by offshore wind companies.
Wildlife protection groups claim that the development and operations of offshore wind can affect animals in the surrounding area by disrupting their habitat. Some fear that birds may be hurt by the turbines or displaced from areas where they usually look for food.
In 2013, former Republican senator David Vitter pushed back against a rule from the Obama Administration that allowed eagles to be accidentally killed by the farms, under a 30-year permit. The rule was proposed to ensure wind farms could operate for decades, but the senator said at the time it would allow them to acquire a "high death rate."
During a recent rally in South Carolina, Donald Trump reiterated his stance on offshore wind and claimed the turbines kill "all our eagles and our birds."
Opposition to offshore wind farms is not new. For years, people have campaigned against them for multiple reasons, citing them as a danger to wildlife and an eyesore. One example of this was Cape Wind, an offshore wind farm proposed in 2001. The project never happened following a decade of opposition from stakeholders. Opponents were concerned that the project would be unsightly for the area, and negatively affect tourism. Opponents included former senator Ted Kennedy and former Massachusetts governor Mitt Romney.
In more recent months, local mayors and politicians such as Marjorie Taylor Greene have called for offshore wind development in the East Coast to be halted, amid a recent spate of whale strandings in the area. But there is no evidence to suggest surveying work is harming the whales.
"I think people are trying to make something out of a wind turbine floating in the ocean, that's now capable of producing a significant amount of power. And I think it is one of the available solutions to the problems that we face. I think a lot of bad information is being made up," Kerry, a former secretary of state, said.
Scientists believe that the current debate surrounding East Coast offshore wind operations, and the deaths of whales in the same area, are not linked. But that does not mean caution is not needed.
Since the beginning of December, 23 whales of multiple species have washed up dead along the coast of New York and New Jersey. This is part of an ongoing trend in the area. Since 2016, the National Oceanic and Atmospheric Administration (NOAA) has reported an "unusual mortality event" along the eastern coastline, as more large whales—in particular humpbacks—have washed ashore over these years.
Talking on the Sean Hannity show in February, Greene claimed that the offshore wind operations were killing the whales.
"People are calling the alarms over how [wind farms] are not only killing unknown thousands of birds species but also causing whales to beach themselves at record numbers," Greene said on the show.
But there is no evidence that the recent whale deaths are linked to offshore wind development, Graeme Shannon, a professor in zoology at the School of Natural Sciences at the U.K.'s Bangor University, told Newsweek.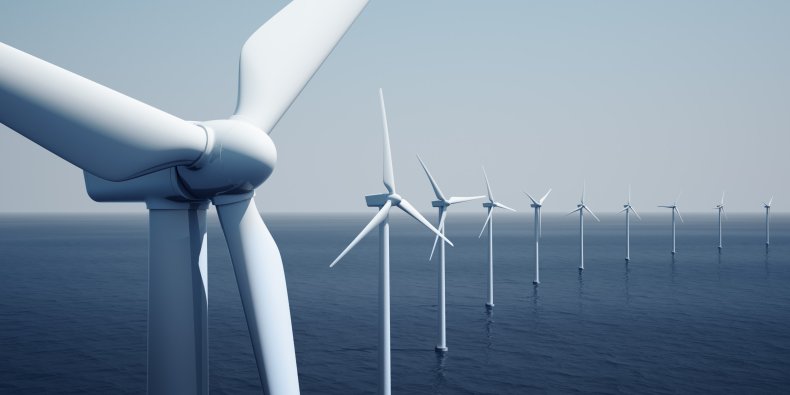 "Indeed, there are a number of very large offshore windfarms that have been constructed in the coastal waters of Europe, and I am not aware of any reports that these windfarms have been directly associated with the mortality of whales in the region," Shannon said.
"However, it is important to state that noise produced by offshore construction can have a behavioral and physiological cost to animals in the vicinity of these developments, but it is unlikely to be the direct cause of mortality. Nevertheless, it is crucial that scientists are supported in their attempts to explore the evidence and understand what has led to an increased number of strandings in this region."
Kerry believes there is a lot of disinformation circling the topic of offshore wind as a whole.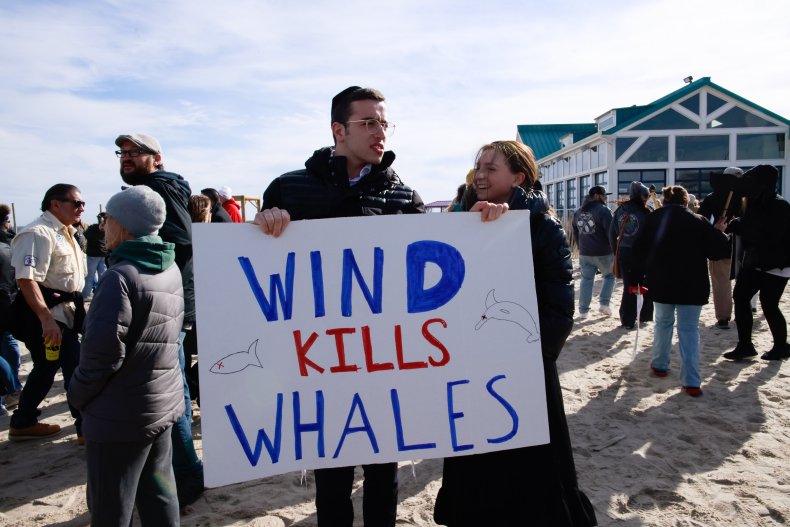 In February, a group of Senate Republicans intensified campaigns to end New Jersey wind farm development due to these whale deaths. Steven Oroho, a Senate Republican leader based in New Jersey's Sparta Township, said in a statement that offshore wind development was the "only change in our waters" when whales began washing up.
However, scientists and independent agencies remain steadfast that there is no evidence to back this up. The Marine Mammal Commission, an independent government agency, has reiterated this point and noted that strandings are not exclusive to this area—they occur worldwide, and can be caused by a multitude of reasons, such as injuries from vessel strikes.
"It's part of the disinformation campaign of certain political entities in the world," Kerry said. "They need to do what they're doing based on science and facts and they're not. In some cases, they're arguing on behalf of an existing industry that doesn't want to change or they're arguing as a matter of anti-wokeness ... The fact is, there are those out there who are just opposed to renewables, opposed to the energy transition, opposed to the acceptance of the idea of a climate crisis."
The placement of offshore wind activities should be kept into account, Kerry said, but "by and large" this needs to be balanced with the climate crisis the planet is currently facing.
"Fifteen million people a year are dying from the quality of the air that comes from the coal and oil and gas that is unabated, and you know, that's a pretty compelling issue. And 10 million people a year are now dying, because of extreme heat. That's doubled in the last year," Kerry said.
"I'm for being measured here and how we approach these things. And I think on balance that is much more mandatory and compelling that we move to clean energy and not use a phony excuse for not deploying clean power sources that we need."
Do you have a tip on a science story that Newsweek should be covering? Do you have a question about offshore wind? Let us know via science@newsweek.com.