Dolphin Impaled in Head in Florida Leaves Officials Scrambling
Investigators are looking for answers after finding an impaled dead dolphin on Fort Myers Beach, Florida.
Officials with the National Oceanic and Atmospheric Administration (NOAA) announced earlier this week that the dead bottlenose dolphin was reported on March 24 and recovered by the Florida Fish and Wildlife Conservation Commission. Alarming images attached to the administration's press release showed a deep gash in the animal's head. A necropsy, or non-human autopsy, revealed that the dolphin was impaled with a "spear-like object" while still alive.
The dolphin was an adult lactating female. She appeared to have died from the impalement, which left a wound above her right eye, officials said.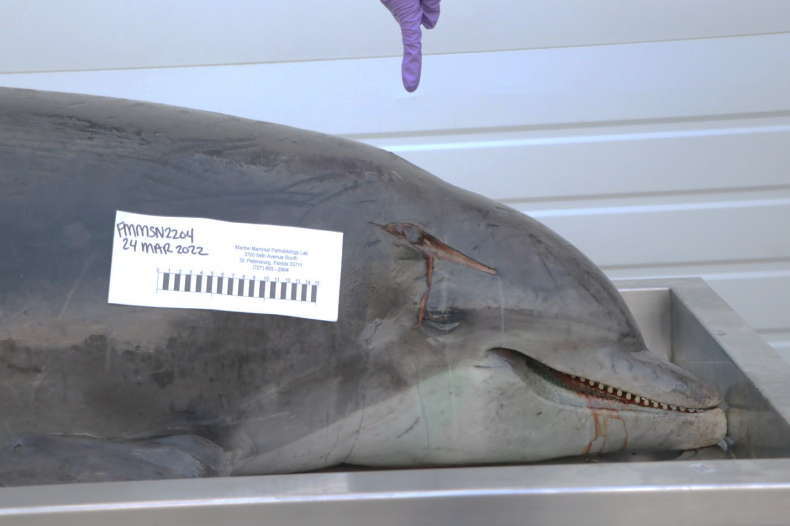 Based on the shape and size of her wound, investigators said she was likely impaled while in a begging position. "Begging is not a natural behavior for dolphins and is frequently associated with illegal feeding," the NOAA said.
Feeding marine mammals is illegal because it alters their natural behavior patterns, according to the NOAA website. When the animals associate people with food, they can lose their natural wariness of humans, boats and fishing gear, putting them in dangerous situations. They may also rely on handouts and lose their ability to find food on their own. Contaminated or inappropriate food could also jeopardize their health. Finally, marine mammals expecting to receive food may become aggressive with humans.
Since 2002, at least 27 dolphins in the Gulf of Mexico—including this latest one—have been found stranded with evidence of injuries from guns or arrows or impalement with sharp objects, the NOAA said.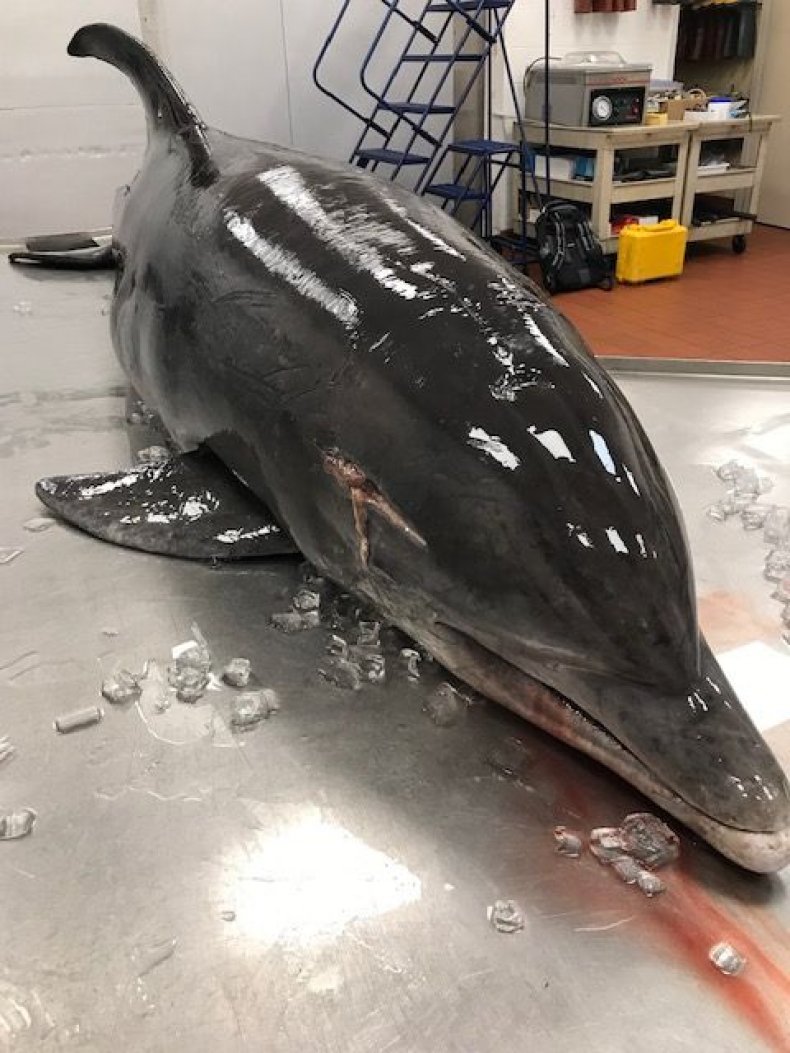 The Marine Mammal Protection Act (MMPA) prohibits harming, killing, harassing or feeding wild dolphins. Those who violate the law can be prosecuted civilly or criminally and face up to $100,000 in fines and up to one year in jail per violation.
Law enforcement officials are urging anyone who may have details on the impaled dolphin to call the NOAA Enforcement Hotline at (800) 853-1964. Beachgoers who find a dead or injured marine mammal are advised not to intervene, but to call trained responders at 877-942-5343.
Although some well-meaning people may believe they should push a stranded dolphin back into the water, Heidi Whitehead of the Texas Marine Mammal Stranding Network told Newsweek that is the wrong course of action. She added that the animals become stranded because they are sick or injured, so if they are returned to sea, they will likely drown or get stranded again in worse condition.
Earlier this week, Newsweek reported on a stranded dolphin who died on Quintana Beach, Texas, after beachgoers pushed her back to sea and attempted to ride and swim with her.