Dolphins in Black Sea Dying by the Thousands During Russia-Ukraine War
Scientists and conservation groups say dolphins in the Black Sea are dying at an alarming rate as Russian warships and submarines are creating constant noise pollution that's proving deadly to the marine mammals.
Thousands of dolphins in the Black Sea have died every month since Russia launched its invasion against Ukraine in February, the Kyiv Independent reported Wednesday. The most recent estimates follow months of reports from government agencies and marine biologists documenting the decimating toll the conflict has had on the Black Sea's dolphin population.
Ivan Rusev, an environmental scientist at Ukraine's Tuzly Estuaries National Nature Park, told the news outlet that at minimum 5,000 dolphins have perished in the sea between March and July. He said that's three times more than figures from before the conflict and an entire ecosystem is now at risk.
"I have never seen this before," Rusev told the Kyiv Independent. "This is something absolutely new and terrifying for scientists."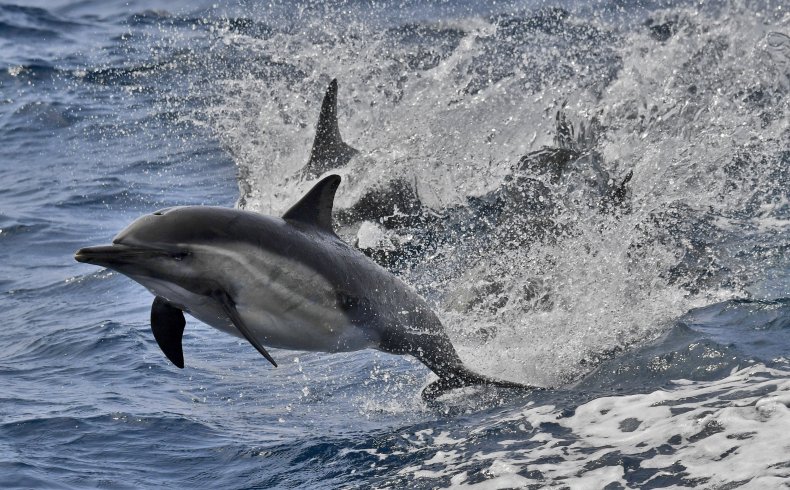 A group of international scientists prior to the war carried out the most comprehensive survey to date of the Black Sea's population of cetaceans, a group of aquatic mammals that includes whales, dolphins and porpoises.
The survey, released last year, spelled good news for the Black Sea's cetacean population, which hadn't declined over the last two decades, according to The Odessa Journal. There are at least 253,000 dolphins in the Black Sea, including common dolphins, bottlenose dolphins and mereswine, according to the survey.
Turkish Marine Research Foundation (TUDAV) in March reported an "extraordinary increase" in the deaths of common dolphins in the western Black Sea coasts of Turkey. The conservation group found that since February, 80 of the dolphins had washed ashore on beaches.
TUDAV initially attributed the deaths to fishing activities, but in April it raised alarms about leaked oil and gases from warships on the habitat of coastal fish species and dolphins. It also pointed to mines, missiles and munitions now polluting the Black Sea.
Ukraine's coast along the Black Sea has seen some of the conflict's earliest and heaviest fighting, with Russian forces capturing Snake Island on February 24 before Ukraine retook the Black Sea island earlier in July. Ukrainian forces also claim to have successfully struck Russia's Black Sea flagship vessel and are preparing for more counterattacks in the region.
Ukraine's Ministry of Ecology and Natural Resources said in May that the military sonar used by Russian warships is damaging the hearing of dolphins. Military sonar also disrupts the echo signals used by dolphins to navigate the waters, which can cause dolphins to panic and beach themselves, according to the ministry.
The U.K. based Whale and Dolphin Conservation said in a report released in June that there are six areas bordering Ukraine that are vital for marine mammals. Those areas are now threatened, in addition to three porpoise and dolphin subspecies on the International Union for Conservation of Nature's (IUCN) Red List of Threatened Species.
Rusev told the Kyiv Independent that the acoustic trauma is making dolphins more susceptible to disease and infections from parasites.
"A healthy dolphin is a very powerful creature and is rarely affected by such diseases," he said. "It's definitely acoustic trauma."
Newsweek reached out to Ukraine's Ministry of Ecology and Natural Resources for comment.